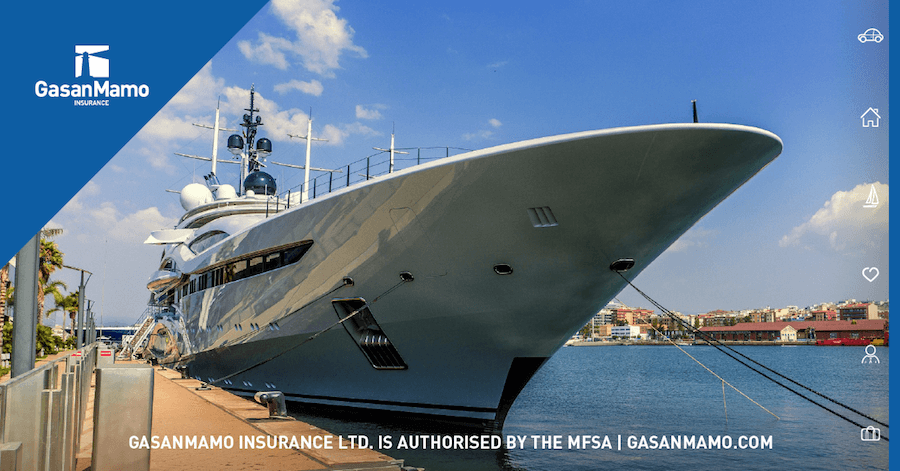 Malta is an archipelago renowned for its azure waters, stunning sea views and of course, its culture of boats of all shapes and sizes.
From super yachts to smaller fishing boats, visitor's trips to Malta are never complete without experiencing a must-see boat trip, water sports, or some of the unmissable sailing for which Malta is so famous.
The range and variety on the Maltese boat scene is something to be admired, but what are some of the biggest visitors which the island can boast?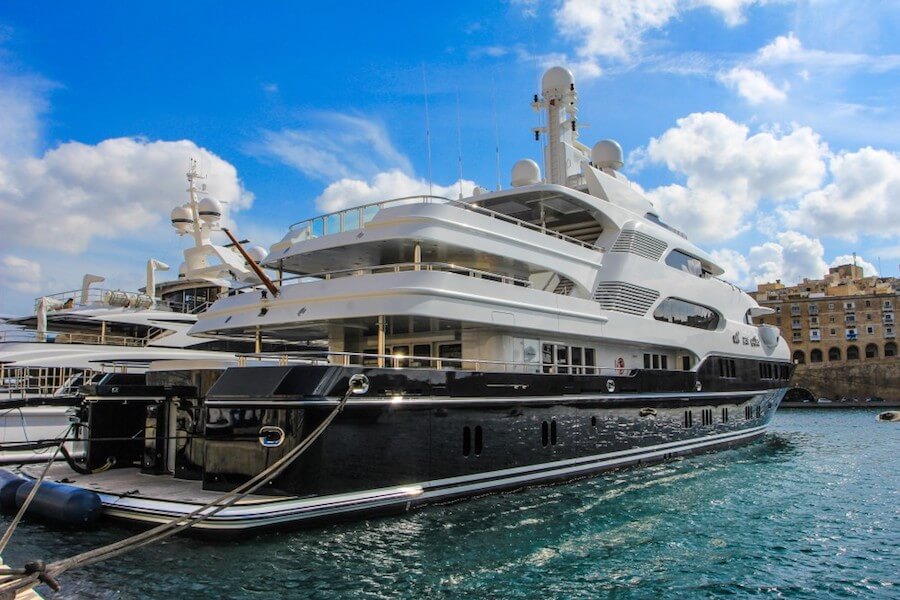 Image Source: superyachttimes.com
1. The Serene
Heads were turned in 2015 when the Serene, the worlds twelfth largest superyacht, docked in Malta, ready for a luxurious refit.
The unique 134m craft, created in 2011, shows clear examples of its sophisticated Italian roots.
Created by the Italian shipyard Fincantieri, the craft displays exterior design and architecture from renowned designer Espen Oeino and an interior re-modelling from Reymond Langton Design.
With an impressive 2700 square metres of interior living space, the Serene boasts a modern aluminum superstructure with a steel hull to ensure support and strength, as well as the ability to sleep 24 guests in any of its 15 staterooms, which include a master suite, VIP stateroom, a twin cabin, and 10 double cabins.
It can also hold a crew of up to 52, as well as on deck jacuzzi, gym, tender garage, seawater swimming pool, two helicopter pads, lift, cinema and even a submarine hangar.
The Palumbo dockyard is used for luxury craft, handling over 50 yachts a year, but it is undeniable that the Serene was boating on a whole other level and an inspiration to many.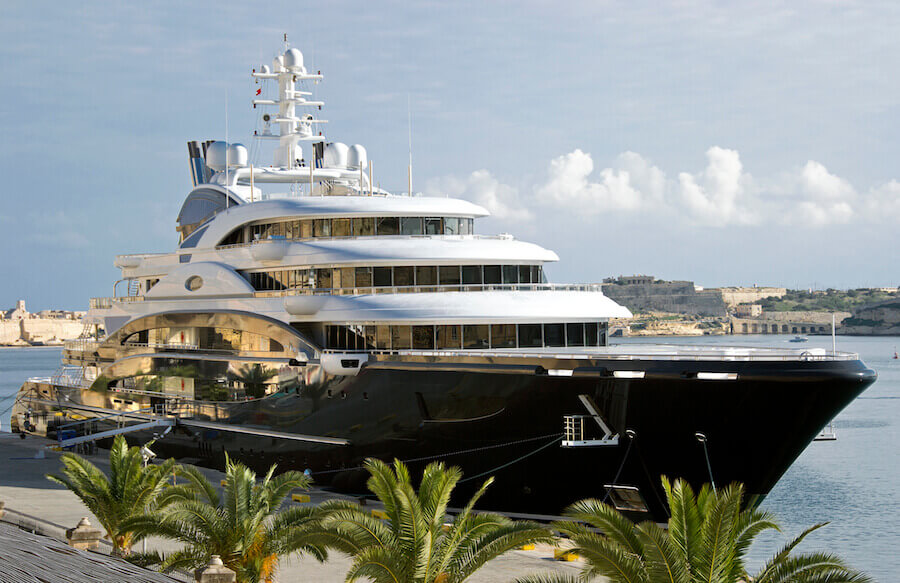 Image Source: charterworld.com
2. Martha Ann
Another noteworthy addition is the Martha Ann.
Of German origin, it shares its exterior design with its sisters Saint Nicholas and Titania, all of whom were ordered from the shipyard by one client.
Like the Serene, the Martha Ann owes its design to Espen Oenio and offers a luxurious space for entraining and relaxing, and a perfect background to any event.
The 70m craft can accommodate 12 guests in its six luxurious staterooms, including a full master cabin and VIP suite.
It can also hold a crew of 20 in four double cabins on the lower deck.
Martha Ann is also decked out with a full range of facilities, including wifi, jacuzzi, lift, gym and exercise facilities, and combines luxury and performance with a cruising speed of 13 knots, a maximum speed of 15.5 knots and a range of 6,000nm from her 43,300-litre fuel tanks.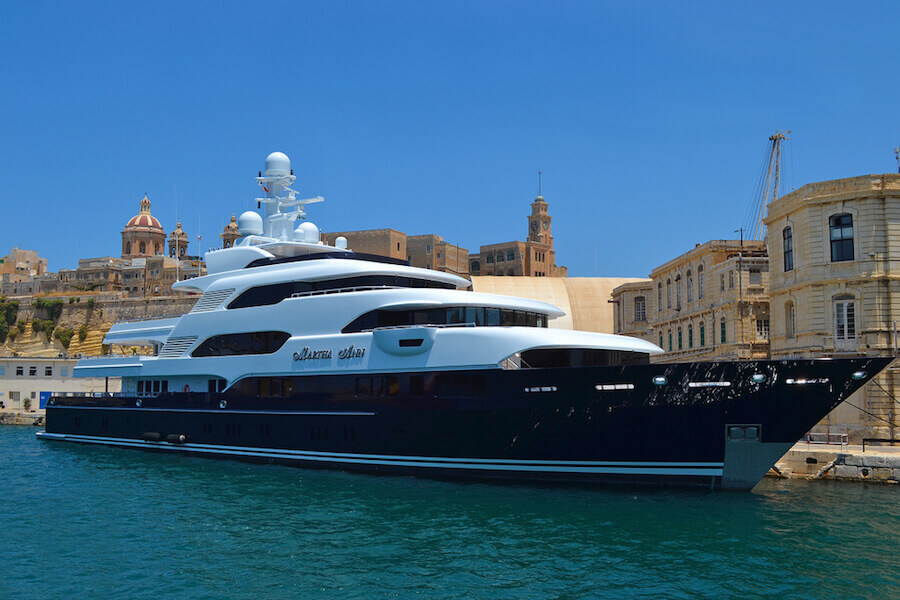 3. Solandge
Another beauty spotted in the waters of the Mediterranean is the Solandge, a stunning 81.5m superyacht.
Launched in June 2013, the vessel left Lurssen's Rendsburg yard in November 2013, and headed to Norway, before making her way around the world's oceans and docking in Malta.
A glory of steel and aluminium, the Solandge is still a relative newbie in the world of charter fleets and can house 12 guests in her 8 cabins, with a deck dedicated to the owner.
She also boasts the ability to hold 29 crew members in her 15 cabins, ensuring that everything runs smoothly on board, and allows her passengers to relax in casual elegance with the unique interior.
Designed by Aileen Rodriguez, the contemporary finish combines classical touches and tradition with rare materials, which include 33 types of exotic wood and 49 stone selections, to create comfortable and stylish surroundings.
The Solandge is more than merely a pretty face, however, with the ability to reach a cruising speed of 12 knots, and a range of 6000 nautical miles at this speed, and a top speed of 18 knots creating a combination of practicality and elegance.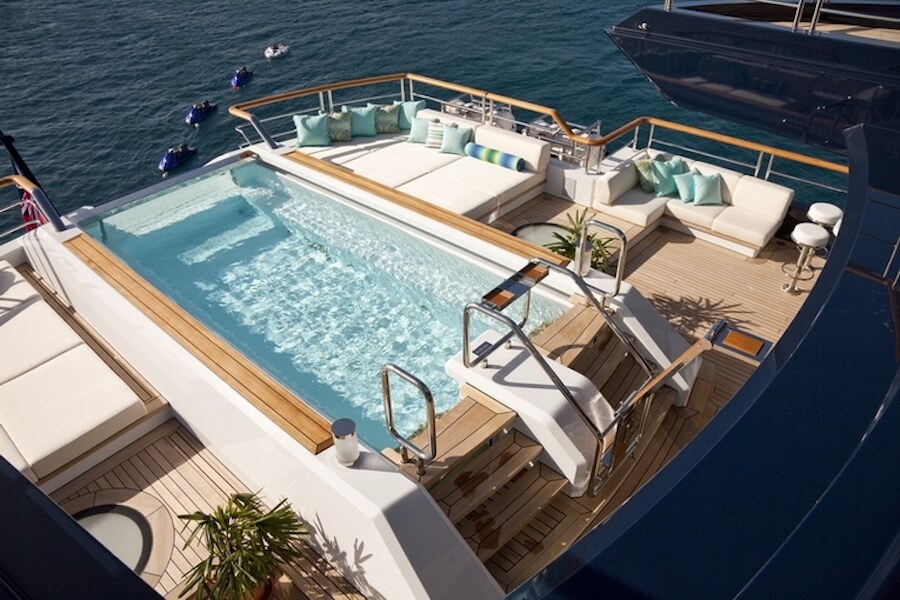 Image Source: am-charter.com
4. Maltese Falcon
It wouldn't be an article about superyachts in Malta without mentioning the famous Maltese Falcon.
Built in 2006, she was created in the Italian shipyard Perini Navi and was iconic at the time thanks to the groundbreaking and revolutionary sailing system, the 'Falcon rig,' which changed the perception and mechanics of charter yachts and made the vessel a household name.
At 88m long, the Maltese Falcom can hold up to 12 guests in its 6 luxurious double cabins, including one master suite and two specially designated VIP rooms.
Beautifully designed throughout, a trip on the Falcon is truly a remarkable feat and was a sight to behold when it pulled into Malta's Grand Harbour in 2009.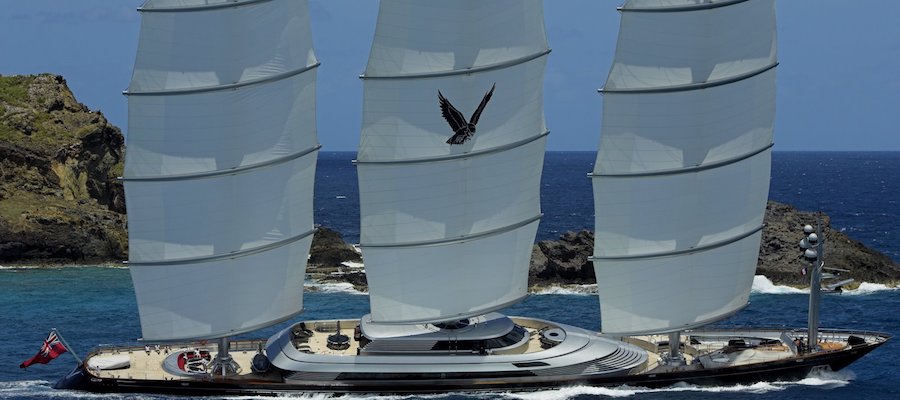 Image Source: prodevtips.com
Malta is an ideal location for yachts of all shapes and sizes, and as an added bonus, offers a chance to experience and observe some of the biggest and most luxurious super yachts from all around the world.
The Grand Harbour plays host to over 150 vessels a year, and as technology increases, the boats keep getting bigger, grander, and ever more luxurious.
To insure your boat or yacht head over to the GasanMamo website.