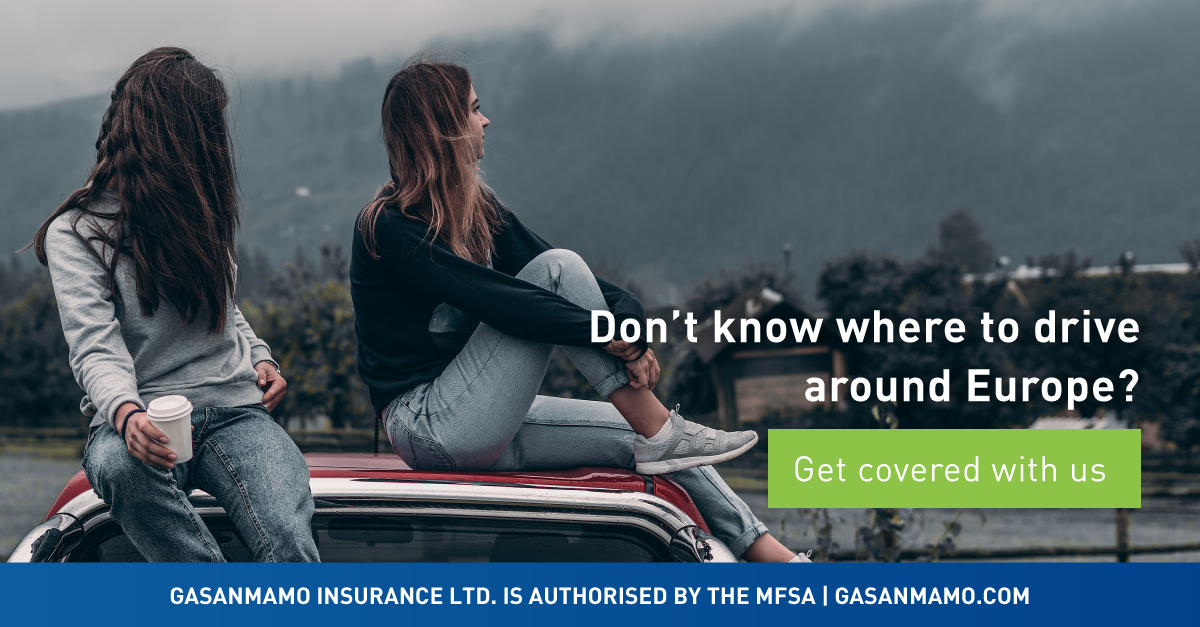 It's summer, the perfect time to relax and explore some of the best roadtrips in Europe. Especially when going on a holiday by car has many advantages for travellers.
After reaching your holiday destination, you have full freedom to explore the surrounding area whenever you feel like doing so.
Would you like to make a lovely trip to Europe in your own car? We made a list of the best roadtrips in Europe including some great destinations for you to explore by car.
Italy, Greece, Norway, and others; pick your favourite!
Italy: the sizzling region of Umbria
Take your car out for a ride through Umbria, famous for the saints who came from this region: Francis, Benedict, and Sancta Rita of Cascia.
Visit the place of pilgrimage of Assisi and walk in the footsteps of St. Francis on the holy Monte Subasio. These holy grounds will give you a full Italian experience and allow you to submerge yourself in the religious culture.
Nothing is more characteristic of Umbria than the rolling hills covered with grapevines and olive groves.
Visit one of the authentic vineyards in the region and engage in a wine-tasting tour to discover the wide variety of different 'vino': from white Orvieto to red Torgiano.
Obviously, while enjoying local fresh bread and high-quality olive oil.
Norway: The pristine nature of the Lofoten islands
Discover all the beauty that Norway has to offer impressive glaciers, deep fjords, spectacular waterfalls, and vast fields.
All of these can be found all over Scandinavia, but one of the most beautiful spots lies in the North of Norway: the astonishing Lofoten Islands.

The Lofoten Islands are an archipelago in Norway, about 300 km above the Arctic Circle.
A visit to these islands is unforgettable. Just like the (car) and/or a boat trip to the islands as you will encounter vast landscapes with untouched nature.
The Lofoten are one of the few places in Europe where nature is the leading actor is nature and not people. Definitely worth the trip!

Croatia: a melting pot of cultures in Istria & Kvarner
For most people, Croatia will not be the first place that comes to mind when choosing your next holiday destination. Completely unjustified, however, because Croatia is versatile and offers beautiful landscapes.
Tour through the green Mediterranean heart of the Adriatic, surrounded by an azure sea. See the beautiful coastal towns of Opatija and Rovinj and the pastoral, hilly interior.
Medieval towns along the way are Eagle's Nest Motovun, walled Oprtalj, artistic Groznjan, and Glagolytic Hum.
Sail through the beautiful island of Krk to Cres and Losinj for snorkelling, hiking or watching griffon vultures. Great views, high-quality hotels, and amazing food are guaranteed!
Portugal: The sunny south of Alentejo & Algarve
This experience will allow you to taste the unspoiled, rural Alentejo, in combination with the spectacular coastline of the Algarve.
Stay away from the touristic and crowded Lisbon and head down south instead.
There you will find Portugal's less well-known (but definitely not less beautiful) Alentejo region.
Its vast plains full of silver-coloured olive trees and cork oaks, forgotten villages and megaliths will charm you in an instant.
The region is perfect for you to travel by car to get the most out of the gorgeous scenery and the dazzling nature. Make your way to charming towns such as Évora, recognized by UNESCO as World Heritage Site.
The Algarve is a popular holiday destination, thanks to its breathtakingly beautiful coastline and mild climate.
Visit the fortified towns and rich cultural treasures of the Alentejo and travel through the wide, agricultural area.

Greece: Find the classics in Peloponnese
Greece offers many possibilities for an active car tour that is a feast for all the senses!
There are few regions with such historical richness and such a wide variety of landscapes as the Peloponnese.
The snowy peaks of the Taygetos are close to the rustic beach of Kardamilli. The deep Lousios Gorge leads you to idyllic villages and monasteries.
The wealth of flowers and fruits that can be found will amaze you. While walking, you will see famous excavations such as Olympia and Delphi from a different perspective.
Read up on the classics in Greek mythology while visiting and seeing them with your own eyes!
Lastly, we recommend discovering the many wine estates Peloponnese has to offer and tasting the atmosphere in one of the villages.
You will find the most interesting places to stay in historic buildings in which you will feel part of ancient Greece yourself!

Drive Safe with Us
Safety first, so make sure you carry out a thorough check-up before your holiday.
Review and test your tires, oil level, and coolant before you go on a long trip.
Avoid unnecessary defects and get the most out of your relaxing holiday!
In addition, if your car does break down, you don't want to pay any more than you already did for your holiday.
Have a look at our private comprehensive car insurance policy and find out what coverage suits you best!
Read our previous article about what to do if you put the wrong fuel in your car.
GasanMamo Insurance Ltd. is authorized by the MFSA