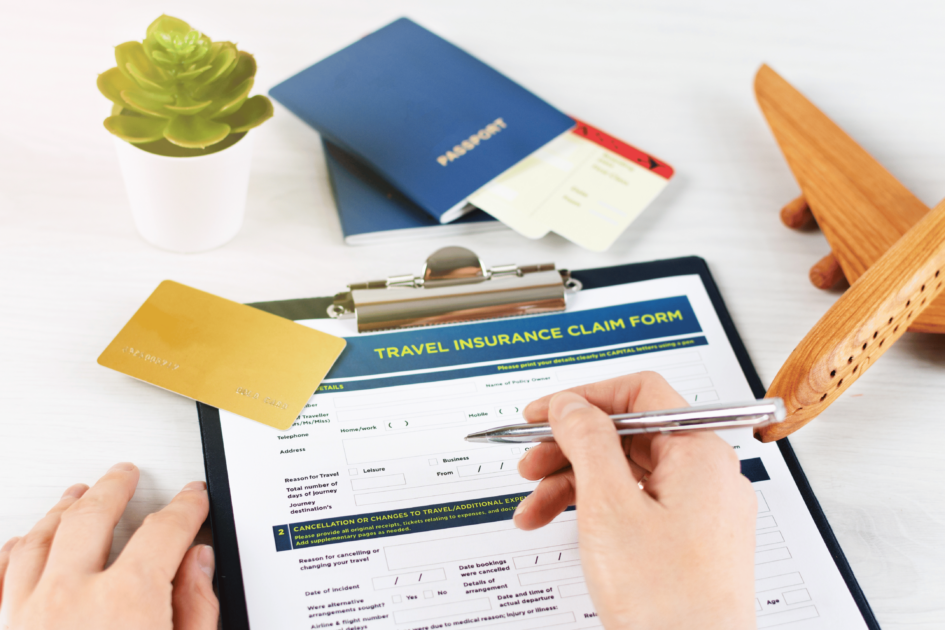 Once an insurance policy has been agreed, many travellers just focus on the holiday ahead. After all, who wants to be thinking of potential accidents when there's sun, sea, and siestas to think of?
However, if you have to make a travel insurance claim, it pays to know your policy. This includes your insurer's processes and the kind of evidence required. Should you need to collect on your insurance, follow our steps to make the procedure as stress-free as possible.
Contents
· How Do I Claim On Travel Insurance?
· What Information Do I Need When Making a Claim?
· How Long Do You Have to Make a Travel Insurance Claim?
· Does Travel Insurance Cover Everyone on The Trip?
·   Conclusion
How Do I Claim On Travel Insurance?
All travel insurers have their own means of operation. But, for best results regarding claims, it's worth contacting them as soon as an unfortunate incident occurs. Your insurer will be able to give you the most accurate information regarding their methods and ensure the correct steps are followed.
Check the terms of your travel insurance policy
Knowing the terms of your policy will help you see if you're entitled to make a claim. This includes any potential compensation you should look to receive. For example, if you've had a bag stolen, insurance cover may potentially be limited per item. Or, some contents may not be covered, depending on your specific policy.
Putting in a claim is a waste of time if an incident has occurred your policy does not cover that. All insurers have both maximum insurance limits plus other policy limits to be aware of. This is why getting to know your own plan is a must.
Gather necessary evidence
A failure to provide sufficient evidence that proves your case is a major factor in insurance companies failing to pay out. Medical instances will likely require doctoral or hospital proof, and instances of theft will likely need the original police report. If a flight is delayed or cancelled and you pay for an unplanned hotel stop plus food and drink, keep your receipts. This is in case your policy covers any extra expenses.
Before putting in an official claim, speak with your insurer to establish if anything is missing regarding the evidence you have. It's much easier and faster to make a successful claim if you and your insurer are on the same page.
What Information Do I Need When Making a Claim?
Information will differ according to your insurance provider and the incident in question. Certain incidents will require different evidence, so check the finer points rather than relying on an assumption.
Medical incidents can be complicated and one of the most complex areas of insurance when it comes to making a claim. You must collect evidence for every step of a medical incident, from call-out fees, medical treatment to medication and any transport. According to the National Accident Helpline, treating a broken leg in the USA could cost you £25,550 in medical expenses. You must be sure to document the whole of an incident, or risk having to pay for specific fees.
If a bag or wallet has been stolen and you can claim it, you'll likely need a police report. If the theft has occurred within your hotel or during a tour, you may need additional evidence from a hotel or tour operative.
Loss of personal belongings, like lost luggage due to airline mishaps, are often dealt with differently. You'll likely need to report the loss to the airline and provide evidence.
For an in-depth account of this sphere of travel insurance, read our article on Does travel insurance cover lost items?
A study shows that 36% of claims are down to trip cancellations. If your trip is subject to delays, cancellations or curtailment caused by your airline or travel company, you'll need them to provide evidence regarding their responsibility. They may be able to provide this in paper form or send you an electronic version. It's also worth keeping any previously-issued tickets you've been unable to use through no fault of your own.
Cancellations for personal reasons will usually require different documentation. For example, you'll need a doctor's note if you have to cancel a trip due to ill health. If you can no longer travel due to unemployment, you'll need evidence from your last employer.
How Long Do You Have to Make a Travel Insurance Claim?
Although not all companies set a strict time limit, getting any claim processed quickly is highly advisable. Your policy will clarify how long you have to make a claim. A longer claim time can be confused by shifts in memory or lost documentation required for evidence.
Does Travel Insurance Cover Everyone on The Trip?
This depends on your policy and the terms set out by your insurer. For example, with GasanMamo, you can specify single or multiple travellers. Generally, age limits and personal circumstances will be considered when receiving a quote.
Remember, if you're a UK national living abroad, any existing health insurance policy may not cover subsequent trips elsewhere. Learn your rights with our article on Living abroad: do I need travel and health insurance?
Conclusion
Knowing how to make a travel insurance claim can save you heaps of time. It will also provide you with a better idea of its outcome. Remember to keep in close contact with your insurer throughout any claims' process. By doing so, you can meet any requests for further information if necessary.
GasanMamo offers both single and annual-trip insurance for all travel starting or ending in Malta, so take a look at our competitive and comprehensive benefits, optional extras, and annual offer on our travel insurance page.
GasanMamo Insurance is authorised under the Insurance Business Act and regulated by the MFSA.