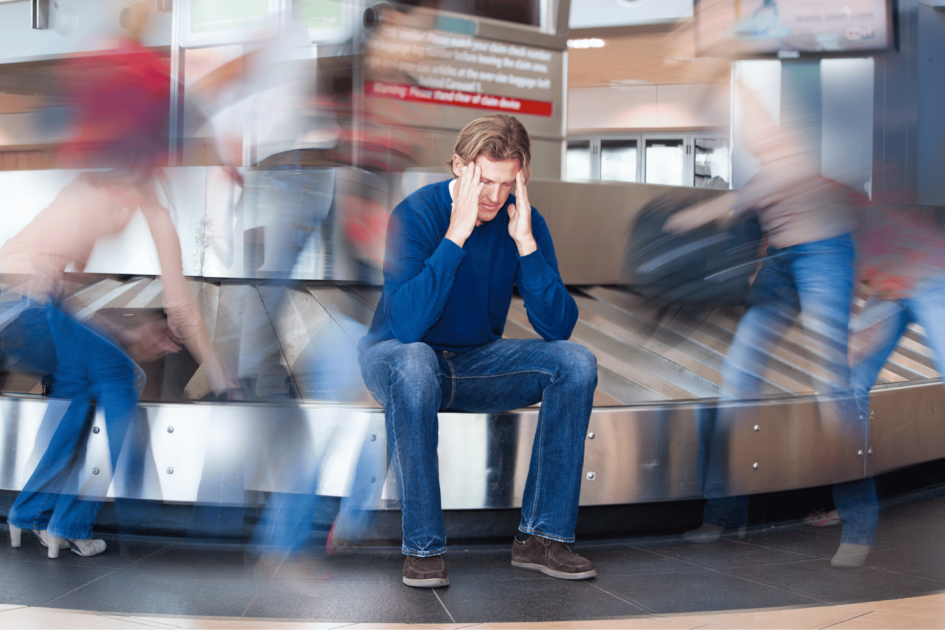 Studies show that a whopping 80% of people lose, misplace, or have an item stolen whilst on holiday. Just half of these people are lucky to see their things returned. Lost items can be a major cause of consternation for travellers, be it an airline's fault, an expert thief, or the owner themselves.
Thankfully, insurance for lost baggage and other items is included in most plans. However, as we'll detail below, its limits, terms, and specifics can all differ from one policy to the next.
Contents
Does Travel Insurance Cover Lost Items, Including Luggage?
Filing a Claim for Travel Insurance for Luggage or Lost Items
What is Baggage Cover Insurance?
Conclusion
Does Travel Insurance Cover Lost Items and Luggage?
Travel insurance will cover luggage in many situations, but not all. More than 33% of travel insurance claims deal with the theft of personal property, but the key word here is 'responsibility'. When you buy travel insurance, you will likely be covered should the following circumstances occur:
If an airline misplaces your luggage or loses it completely, you'll usually be compensated for the value of its contents. However, your baggage limit will likely cover the cost of 'regular' clothes and not any high-level items.
Don't bother packing jewellery or designer labels unless you've discussed these in advance with your insurer. Most insurance will also cover you for any damage to baggage that's not your fault.
If a bag is snatched or a wallet pick-pocketed, you'll likely be able to claim insurance for bank cards, including credit cards, a specific/maximum amount of cash, and the cost of the bag itself. You'll need a police report number, and if it's happened in a public place, it's also worth advising the restaurant or bar owner.
You can claim insurance if your room has been broken into and your items were locked in a safe. Likewise, if you've hired a car and locked personal items in a glove compartment, you should be insured in case of any break-ins.
It's unlikely you'll be covered in the following circumstances:
Losing items whilst drunk or high
Forgetting to pick baggage up from the airport
Leaving items unattended
Leaving items with a stranger or recent acquaintance
Leaving items in a hotel room but not in its safe
Leaving items in a car but not in its locked glove compartment.
A study showed that 20% of people hardly do any research regarding travel insurance. With 5% of people avoiding research completely. To claim theft or loss as speedily as possible, it's well worth researching and understanding your policy's terms intimately.
How to Claim Travel Insurance for Luggage or Lost Items
Before you travel, ensure your policy covers any high-value items you'll want insurance coverage for. The likes of sports equipment, musical instruments, and digital gear can be very expensive. If an item is not stipulated in your policy, you may not be able to claim it, should it go missing.
Assuming that's all done, a baggage insurance claim is best completed using the following steps:
1. Check your policy
Lost or stolen baggage can sometimes be a complex insurance issue to resolve. You should double-check your policy to find out what you're entitled to. In certain circumstances, it may be an airline's responsibility to compensate you instead of your insurance company. You should study the finer points to see how much you're entitled to file a travel insurance claim, and from whom.
2. Make a report
Let everyone know about the incident. This may mean informing an airline, a public place such as a restaurant, your hotel, and the police. It's a good idea to speak to your insurer as soon as possible – they'll be able to advise precisely what you need to do from here on in.
3. Collate evidence
Depending on what's happened and where you'll likely need several types of evidence. To avoid any confusion, clarify what's needed from your insurer.
For a general overview regarding claims, read our post on How to Make a Travel Insurance Claim.
What is Baggage Cover Insurance?
As its name implies, personal baggage cover insurance protects you against unforeseen events that may occur to your luggage. Different providers will offer different levels of coverage. But, in general, baggage insurance will cover lost, stolen, or damaged gear, although it will only compensate you for high-value items if stipulated in your policy.
If you aren't planning to take high-value items away, then it's worth pointing this out to your insurer. Some travel insurance plans may insure a bag's contents for thousands when your clothes are only worth a few hundred. Why pay a premium if you don't need to?
For an in-depth summation of what every traveller should know, find our blog post, Worldwide Travel Insurance: A Beginner's Guide.
Conclusion
None of us want to think about our possessions being stolen or even mislaid. Should it happen, it's reassuring to know that insurance for lost baggage can cover many eventualities. Get to know your policy's finer points, and be responsible and vigilant at all times when it comes to looking after your gear. A small move, such as locking a wallet away in a safe rather than merely in a drawer, can make all the difference in making a successful claim.
GasanMamo offers both single and annual-trip insurance for all travel starting or ending in Malta, so take a look at our competitive and comprehensive benefits, optional extras, and annual offer on our travel insurance page.
GasanMamo Insurance is authorised under the Insurance Business Act and regulated by the MFSA.