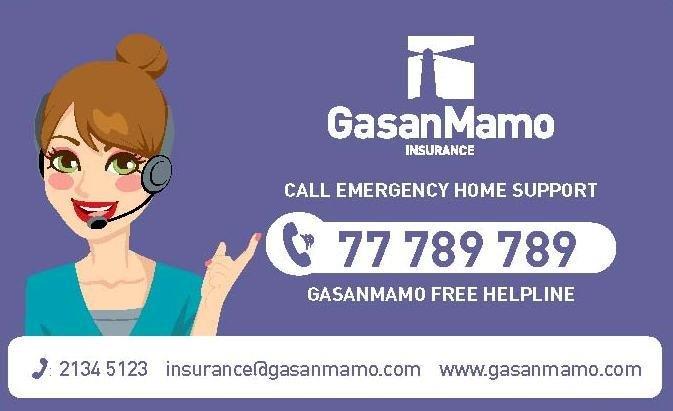 Isn't it everyone's right to have peace of mind when buying a new home or when going out and leaving the home unattended? A house is the biggest purchase anyone can ever make and people tend to guard it with their life. They expect full protection, and with the introduction of a 24/7 emergency home support service for all home insurance policyholders, GasanMamo Insurance will give you just that. All home policies with GasanMamo which include buildings cover will automatically be extended free of charge and at no additional cost to cover sudden and unforseen events requiring emergency temporary repairs.
Constantly Looking to Innovate
"We are always looking for innovative ways to serve our customers immediately and when the need arises," said Leslie Causon, General Manger at GasanMamo Insurance . "Through this new service we will provide our customers 24/7 immediate assistance and with the prompt attention that they require at a time when they need us most."
24/7 Service
The GasanMamo 24/7 emergency home support service will cover policyholders against specific events including the sudden or unexpected breakdown or damage of pipes, blocked drains or leaks from sanitary fixtures and fixed water installations ; complete failure of the electricity supply within the home resulting from damage to the internal electrical installation; loss of all keys which precludes the insured from entering his home and broken or damaged external windows and doors that result in a security risk.
True Ease of Use
Using GasanMamo's 24/7 emergency home support service is very easy. Those policyholders who wish to avail themselves of the service can call GasanMamo's 24 hour help desk on
77 789 789 where they will be provided with the assistance required. When calling, policyholders will be asked to identify themselves by providing some basic details including their ID card number, insurance policy number and policy expiry date. Further information can be obtained by calling 2134 5123 or by logging onto our Home Insurance page.