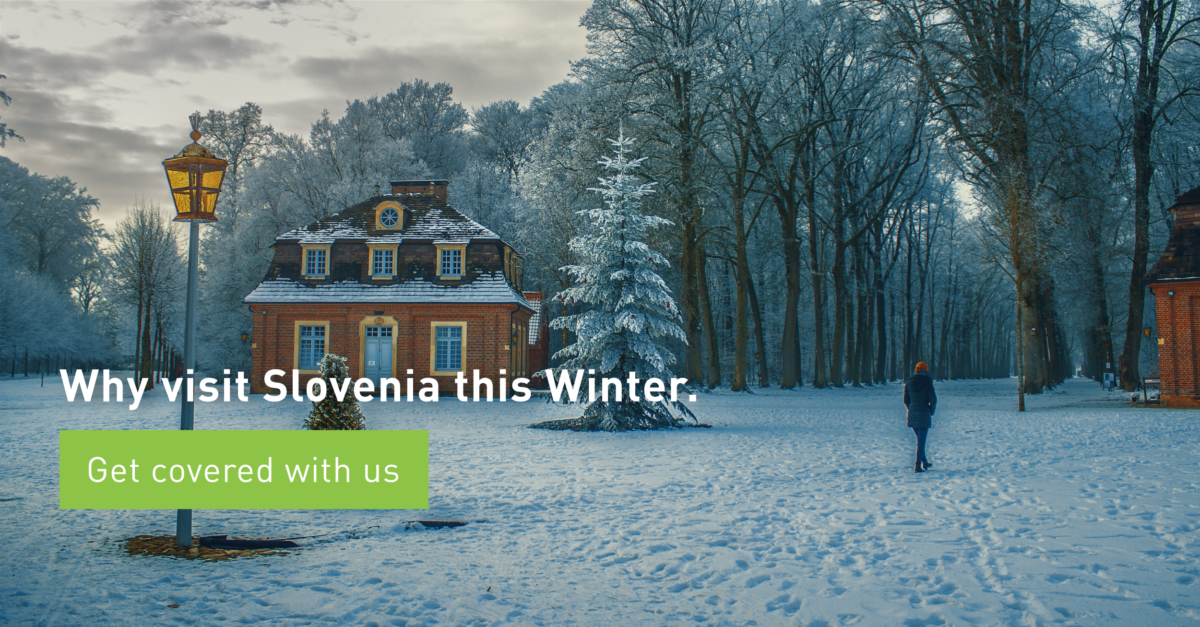 Despite being one of the most beautiful and rich countries which Europe has to offer, Slovenia still remains off the radar for a lot of travellers. Whether you are looking to spend a few days or considering spending a few weeks, there is always something to do with these places to visit in Slovenia in Winter.
It is easy to visit many of the country's highlights without feeling like you are in a rush, especially if you ensure to plan accordingly and be prepared for anything.
This small yet diverse country offers something for everyone. Slovenia is home to beautiful nature, a vast and rich history, and plenty of delicious food.

Nature
Despite being such a small country, Slovenia has quite a diverse natural landscape, with various terrains which one can explore. With numerous mountains and hills for all levels of hiking, there is always something to discover.
In winter, snow covers the mountains and officially opens the Slovenian ski season. For anyone who would much prefer warmth over the cold,
Slovenia's seaside offers beautiful and charming old towns which are sure to transport you back in time. If you are a cycling enthusiast, the Prekmurje lowlands are perfect for such an activity. Whether you are looking for an active vacation or a relaxing escape, Slovenia is the perfect place to be.

Half, if not more, of Slovenia, is covered with trees, and hiking in the forest is one of the most exciting things you can do in such a country. A walk among the trees can help you to relax your mind and recharge.
The oldest forest is called Rajhenavski and has been growing for around 500 years. Most tourist agencies offer day trips to the area, so do make sure you pay a visit!

History
Slovenian history is extremely rich and vast. They gained independence in 1991, and before that, Slovenia formed part of multiple different empires, countries and kingdoms.
You can easily spend a day or two visiting different medieval castles and letting your imagination run free. A feat of amazing courage during World War II is still standing to this day.
Hospital Franja is a secret partisan hospital. If you are a history enthusiast, Slovenia offers a wide array of indoor and outdoor museums which make it an interesting location for one's own edification.

Caves
If you're into exploring caves, then look no further for your next adventure, as Slovenia is packed with them! Twenty-two caves are open to the public, and each cave reveals something beautiful and unique.
With around 600,000 visitors per year, Slovenia's caves have proven to be an extremely popular tourist attraction. Besides caves, Slovenia is also famous for being home to the olm, an aquatic salamander and the only known exclusively cave-dwelling chordate animal to live in Europe.
The olm is a small blind animal which is the colour of human skin and lives in water caves. Locals refer to it as 'human fish'.

Food
Every cultural trip has to include food, and Slovenia is no different. Traditional foods like Kranjska Klobasa, which is a type of local sausage, are very popular all over the country.
They also have a very specific type of stew which is found only in Slovenia called bograč. Slovenians are also known for their hospitality and love to prepare traditional food for their visitors. Balkan food is also very popular among Slovenes.
A very popular street food in Slovenia is called 'burek' which actually originated in Bosnia.

Seaside
The Slovenian seaside is one for the books. The coast offers something for everyone. One such coastal town is Piran, an old town which charms visitors with its beautiful and amazing architecture, art, cafes and restaurants.
The seaside is the perfect place to unwind, relax and calm down. Not to mention that it is the perfect place to enjoy traditional food and wines.

Places to Visit in Slovenia in Winter – To Conclude
Travelling is essential, to discovering another part of the world, exploring new cultures and meeting new people. With these places to visit in Slovenia in Winter, we hope your horizons have broadened even further.
Make sure that you plan well and always be safe. GasanMamo offers travel insurance for those looking to have ease of mind when they travel. Slovenia ranks amongst the most beautiful countries that Europe has to offer, and it is slowly gaining the traction it deserves.
As one of the most historically rich countries, this place is truly a haven for any history buff. Nature is also an essential part of the country. The government gives massive importance to its forests and seeks to protect its caves, vegetation and wildlife.

GasanMamo Insurance Ltd. is authorised under the Insurance Business Act and regulated by the MFSA.