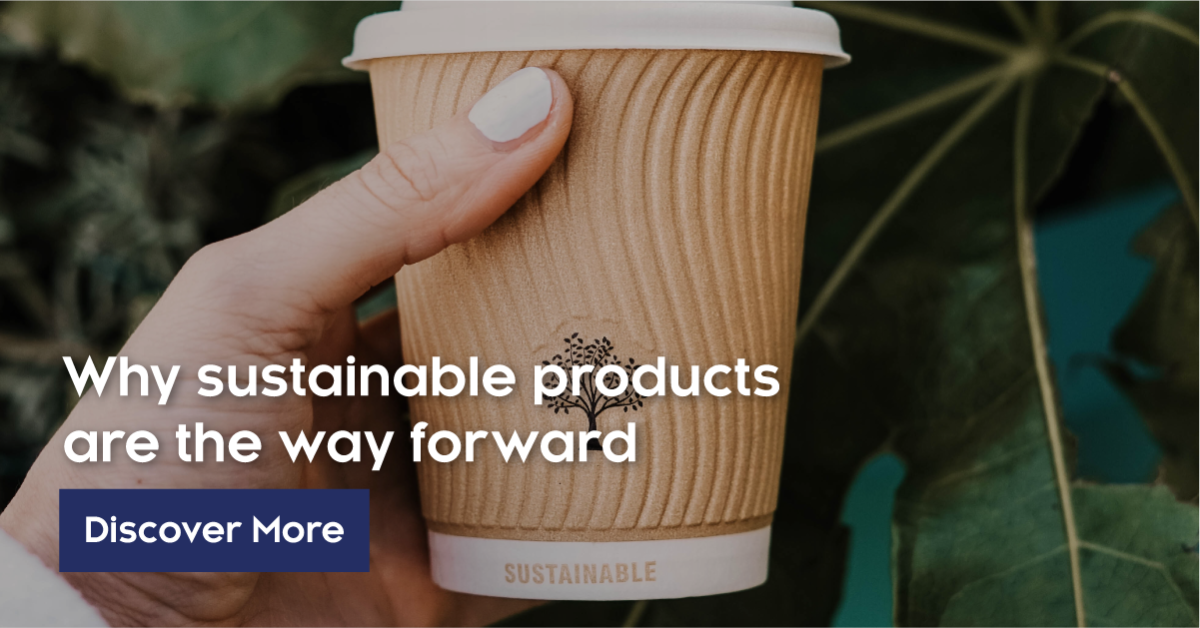 Sustainable products are those products that contribute to environmental, social and economic benefits all whilst protecting public health and the environment. From the collection of raw materials to the processing of transportation of the products. In recent years, the word 'sustainability' has been circulating around at a steady pace. With global environmental issues on the rise, many people have come to realise one truth: sustainable products are the way forward.

There are numerous examples of sustainable (or eco-friendly) products that businesses have started to sell. They are making the planet a better place just by what they're made of, and how they are made.

Firstly, clothes made from recycled fabric are the new favoured sustainable product. Fashionable clothes are made entirely out of recycled material. What's more, brands adopting a sustainable way of life opt for the most environmentally beneficial manufacturing methods possible.

A lot of coffee shops and home decor stores are also switching to selling reusable coffee cups. Sadly, single-use coffee cups amount for a significant amount of waste. Reusable coffee cups, in turn, are generally made out of silicone, while also being far more sturdy than the common paper coffee cup that generates too much waste.

Some home decor stores are also switching to eco-friendly products that benefit the environment and also customers. Organic bedding is being made, where bedding options are sourced from sustainably farmed cotton that's manufactured responsibly. Similarly, people have also started to opt for all-cotton organic towels, also derived sustainably.

When it comes down to it, many businesses have switched to organic and sustainable products – but there is a lot society needs to do to begin a complete switch to sustainable goods. For the sake of the greater good, sustainable products are the way forward, and we'll explain why.

They are extremely beneficial to the environment

As it stands, there is an unfortunate yet ever-increasing number of environmental issues at present. Climate change threatens the survival of millions of people, plants and animals. Excessive waste production in landfills is filling the air with methane. Deforestation is increasing all around the globe. Acid rain is killing living creatures, lowering biodiversity – and the list goes on. In a world where the environment is fragile and depleting, producing and selling sustainable products will do a lot of good.

Sustainable goods reduce the waste sent to landfill since eco-friendly products are made from recycled and reusable goods. By reducing waste to landfill, harmful methane emissions are also substantially decreased.

Natural resources are also saved with sustainable goods, where the making use of products and services that use recycled goods and materials as raw resources are put into force.

Socially, sustainable products are also beneficial to workers of all communities, By creating more jobs for local suppliers and purchasing fairly traded goods, the working and living conditions of these communities are significantly improved.

They greatly improve your business

Sustainable products aren't only great for making the world a better place, helping out the environment and also many people worldwide. They are also beneficial for businesses in many ways.

As a business, selling, utilising or purchasing sustainable products will improve your reputation among your staff, customers and the public. Nowadays, leading or being a part of a sustainable, environmentally respecting business is something to brag about. It will earn you a lot of admiration – and perhaps even new business partners. When making new business connections, some larger companies and public sector organisations may ask how your business is currently handling environmental impacts, or else to meet certain sustainability standards.

Promoting and adopting the use of sustainable products may even help you qualify for business support and loan schemes when buying energy-saving equipment.
Moreover, selling sustainable products as a business can even generate sales. Indeed, there are several factors people consider before making a purchase – the environment and what your business is doing for the well-being of the world around us as well as your workers may very well be one of those key considerations.

Turning environmental will not only expand your market options but also provide you with an additional way of marketing your business. It has the potential to generate revenue as well as an interest in many environmentally conscious customers.

Insure Your Business

It is extremely important for your business to be environmentally friendly. Adopting and making use of sustainable products for the greater good is crucial, but so is protecting your business for the benefit of your company and all its workers.

Insure your business today to have a well-rounded business experience you can only benefit from. For more information, have a look at our business insurance to find out how we can help you.

GasanMamo Insurance Ltd. is authorised under the Insurance Business Act and regulated by the MFSA