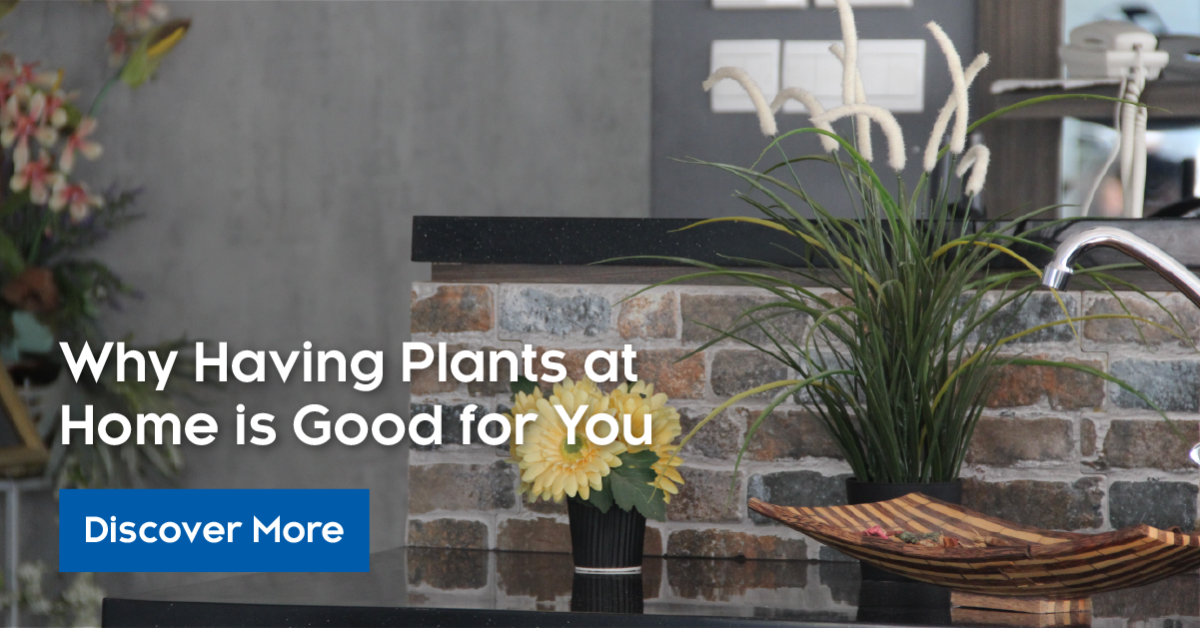 Why Having Plants at Home is Good For You

When it comes to home decor, we can all say that there are a few things that can take the aesthetic appeal of your house to the next level. This may be a personalised piece of furniture, an intricate bookshelf and perhaps most of all, a few indoor plants. Indeed, indoor plants aren't only said to create a charming style in a home, uplifting its appearance greatly. They also have numerous features that anyone in the family can benefit from, especially when it comes to health.

If you're intrigued by the idea of filling your home with plants but find yourself needing that extra push, we've got you covered. Here's exactly why getting indoor plants is good for you – and which ones you may prefer to seek after.

They Purify the Air

Plants essentially do the opposite of what we do when we breathe; they release oxygen and absorb carbon dioxide. This is said to freshen up the air, whilst also getting rid of any harmful toxins present. According to NASA research, houseplants can eliminate up to 87 per cent of air toxins in 24 hours. While modern climate-controlled, air-tight homes tend to trap harmful air toxins inside, plants play a large role in removing them. The NASA research also found that plants are able to purify the air by pulling contaminants into soil, where root zone microorganisms convert toxins into food for the plant.

They Boost Healing

Plants as medicine? While taking over a plant to a loved one in the hospital may be a respectful gesture we don't really think twice about, studies have shown that this actually improves the patient's health.

Research by Kansas State University concluded that hospital patients having plants in their room endured an improved experience when compared to patients who did not have plants in their room. This is because the former patients ended up requesting less pain medication, having lower heart rates and blood pressure and experiencing lower levels of anxiety and fatigue. Ultimately, patients with plants in their hospital rooms were sent home before patients who didn't have plants beside them.

In addition, a workplace study was conducted by the Dutch Product Board for Horticulture to find out of any benefits coming from plants in the workplace. Indeed, the study found that adding plants to an office setting decreases fatigue, headaches, colds, coughs, sore throats as well as flu-like symptoms. Another study by the Agricultural University of Norway concluded that sickness rates fell by more than 60 per cent in offices with plants.

They Add Liveliness and Comfort

Walking into a room that has a touch of nature will automatically feel like walking into a lively place. Indoor plants add colour and vitality to the decor style of home and tend to change the physical aspect of an environment in pleasant ways. Plants also help in reducing noise, screening unattractive areas of the room and even moderating room temperature by shading a bright, sunny window. If you'll be decorating a new room, make sure to take some time and think about how a plant will help you achieve a particular style that you're after.

They Sharpen Your Focus
A number of studies with both students and workers reveal that working or studying in the presence of plants can actually have quite a significant effect. Just like simply being around nature, being surrounded by plants improves concentration, productivity and even memory. A study at the Royal College of Agriculture in Cirencester, England proved that students demonstrate 70 per cent greater attentiveness when they are taught in rooms that have plants in them. In the same study, it also happened that attendance was higher for lectures given in classrooms with plants.

Meanwhile, being in an environment that has plants can increase memory retention up to 20 per cent, according to a University of Michigan study. Have a big exam or work presentation you need to get just right? Situate yourself in an environment that has plants and you'll find yourself doing far better than expected, with an increase in concentration, productivity and memory retention.

Which Plant?

Now that you're convinced you should get yourself a couple of plants at home, what should you start with? Firstly, the best plants for air purification are the Spider Plant, the Snake Plant, the Pothos, the Peace Lily and the Gerbera Daisy among others. Moreover, some of the most ideal plants for a low-light environment are the Bird's Nest Fern, the Philodendron, the ZZ Plant and the English Ivy.

Insure Your Home

Making sure your home is designed to have the best features possible for all the family is important, but so is insuring your home. Start doing more to maintain the upkeep of home by insuring it today.

GasanMamo Insurance Ltd. is authorised under the Insurance Business Act and regulated by the MFSA