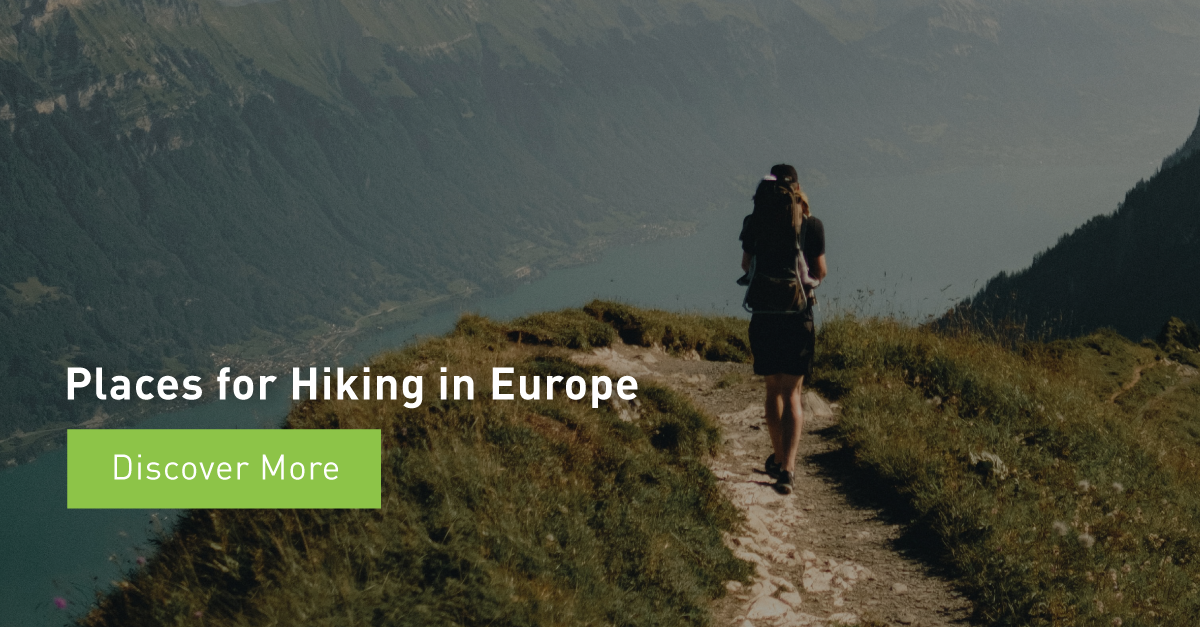 Europe is the home of high culture – stunning natural landscapes, an abundance of historical architecture, amazing wine, and wonderful people dating back more than three millennia spanning over 44 countries. Every country is incredibly different from the next. That being said, it is also safe to say that Europe is definitely not lacking in the hiking department.
That is, there is an endless list of countries with a large variety of immaculate areas for hikers to lose themselves. These areas include views of picturesque landscapes, snow-covered mountain tops, and vibrant, neon-coloured fields. 
It would take a lifetime to visit all the amazing places there are to see in Europe. So, if you have to trim down your list, here are our picks of the top four places to hike in Europe.
The Plitvice Lakes National Park, Croatia
This National Park is a Unesco world heritage site consisting of sixteen lush emerald green, and turquoise lakes, inter-connected by a series of cascading waterfalls, and set in deep woodland. This wonderful place can be experienced through four different hiking trails, seven routes through the park, and two different entrances.
This park is a spectacular place to visit all year round as the different seasons see it take on many different hues, whether that's vibrant greenery in spring/summer, the rich autumnal colours, or the ethereal scenes in the snow. Around every bend is a breathtaking scenic view.

The Fjords, Norway
It is no secret that the most frequent association made with the country known as Norway is the Fjords. In fact, the fjords have been awarded first place in the prestigious list of the National Geographic Traveller magazine. 
There are over 1,000 fjords dotted along the Norwegian Coastline, each with its own unique characteristics. The good news is, if one is planning to visit Norway, it's actually rather tricky to visit Norway without seeing at least one of these beautiful geological features.
Some of which are the longest, deepest, and most beautiful fjords in the world. Hence, there are a vast number of walks for all types of hikers, so take your pick.

The Canary Islands, Spain
The Canary Islands consist of 7; Lanzarote, Fuerteventura, Gran Canaria, Tenerife, La Gomera, El Hierro and La Palma.
These islands are highly diverse, going from dry islands in the east to the green, and rainy islands in the west part of the archipelago. Navigating through them means navigating through the dense forests, past winding sand dunes, and remote beaches, as well as under steep volcanic cliffs formed from the dormant volcanoes on every island. There are few places more spectacular and inviting than the Canary Islands whose landscapes are a hiker's paradise by virtue of the numerous adventures that they offer. Have you got your boots on yet?
The Laugavegurinn, Iceland
The 55km zigzagging route passes through a very colourful, varied landscape: from rainbow-coloured hills to black volcanic deserts, neon green valleys to ice caves.  It's no coincidence that this hike was chosen as one of the "World's Best Hikes: Epic Trails" by National Geographic.
The landscape is also fascinating in itself, due to its ever-changing nature. This is because, the geothermal activity below the surface of the trail results in the movement and crumbling of hills, as well as the frequent occurrence of landslides. Perfect for first-time visitors, as well as those returning to a country as diverse as this.
These are just a handful of places one might want to visit. Europe offers a wide variety of travel experiences for both long and short visits. One can make their mind up based on the vast array of landscapes, and climates. Whether the itinerary includes numerous stops or is focused on a single location, a journey through Europe provides memories to last a lifetime.  

Places to Hike in Europe – Final Words
Above all, regardless of which of our top four places to hike in Europe you decide to visit, it is of utmost importance that you make sure you are always prepared, be sure you have everything and that you are covered with travel insurance.
You will never know what can happen, what you might need and what you might come across. At GasanMamo, we have travel insurance plans that are accommodating to all needs, from one-off adventures, or to frequent travellers, offering you the peace of mind you need to let loose and free your mind of worries.
GasanMamo Insurance Ltd. is authorised under the Insurance Business Act and regulated by the MFSA