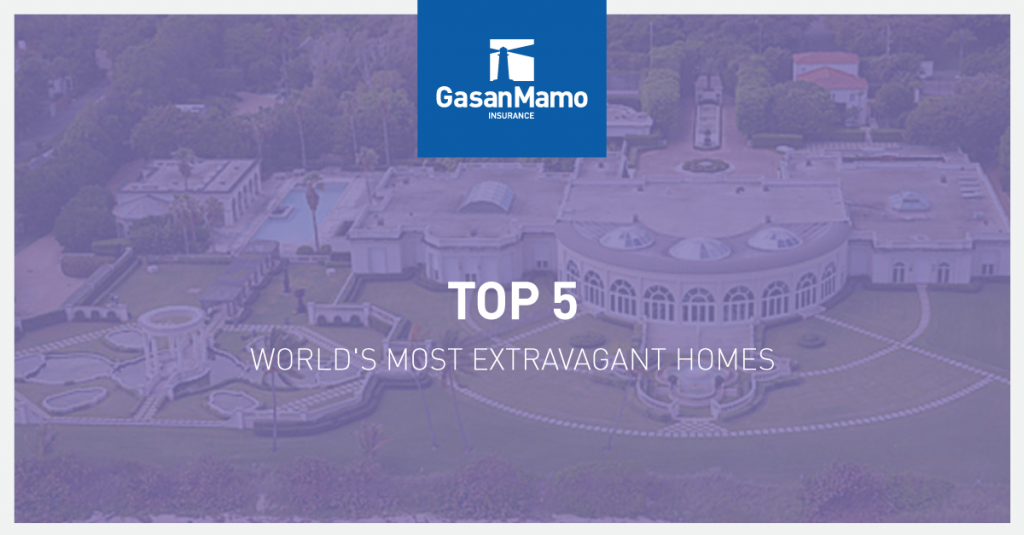 This is our top 5 list of the world's most extravagant homes owned by private individuals. Royal palaces and such were omitted from this list due to them being owned by royalty.
Xanadu 2.0, Washington, USA
It is to be expected of the world's richest man to have one of its most extravagant homes. Bill Gates' hideaway from the world of big business is chock-full of high-tech gadgets, such as pins for guests to wear which in turn set temperatures, lighting and music according to personal preference upon their entrance to a room.
The house, which required 300 workers including 100 electricians to build, also has an underwater music system and digitally-interchangeable wall artwork.
Interestingly, the house also boasts a garage which can accommodate 23 cars, while there are 24 bathrooms – perfect when having a 23-strong party of driving guests over for dinner!
Antilia, Mumbai, India
The home of Indian business magnate, Mukesh Ambani, is a 170-metre tall skyscraper located in downtown Mumbai, India, which is named after a mythical island. It is reportedly worth over 600 million Euros and needs 600 employees to keep it maintained.
Antilia has 27 floors with ultra-high ceilings – in fact if the ceilings were of a regular height, the skyscraper would be able to house 60 floors. Its multi-storey garage can take up to 168 cars, whereas three helicopters can land on its roof simultaneously.
A lobby containing nine elevators, a ballroom and a theatre also features. Ambani and his three children are said to live on Antilia's upper floors due to better exposure to sunlight.
Villa Leopolda, Côte d'Azur, France
This villa deserves a spot on this list because it is the most expensive villa in the world. Russian billionaire Mikhail Prokhorov lost 50 million Euros on a deposit for the property alone after he backed out of a deal to buy it.
Villa Leopolda's name comes from King Leopold II from Belgium who had it built for one of his mistresses. It is registered as a French monument historique due to its role in the First World War – it served as a military hospital for Allied troops.
It also has some Hollywood history, having been the backdrop for Alfred Hitchcock's 1955 film, To Catch a Thief.
The Manor, California, USA
The largest mansion in the Los Angeles County, which was initially constructed for now-deceased uber-producer Aaron Spelling, recently held the record for the most expensive real estate listing in the United States of America, when the asking price was $150 million.
It is currently owned by Petra Stunt, nee Ecclestone, the daughter of Formula 1 racing magnate Bernie Ecclestone. The home is actually a pop culture fixture, with pop songs making references to it due to its size and price. It has been derided in the past due to its ostentatiousness and environmental impact. The Manor has no less than 123 rooms.
Maison de l'Amitié, Florida, USA
La Maison de l'Amitié was formerly the home of real estate magnate Donald Trump and sits on a prime beachfront location in Florida's exclusive Palm Beach. Gold and diamond-encrusted features adorn the home, complemented by a garage that can take up to 50 cars.
Some 15 full bathrooms and a further eight half-baths are spread throughout the property, along with 18 bedrooms, guest cottages and a tennis court. There's also a 30-metre-long swimming pool with a sea view.
Donald Trump more than doubled his money on the property in the space of just four years when he sold it to Russian billionaire Dmitry Rybolovlev in 2008.
These top five most extravagant homes leave us in awe of the possibilities that wealth and creativity can bring to architectural design. From sprawling estates to breathtaking island retreats, these residences redefine luxury living on a global scale.
At GasanMamo Insurance, we understand the significance of your home, and our comprehensive Home Insurance plans are tailored to safeguard your cherished abode and prized possessions. Don't leave the security of your home to chance – take the first step towards protecting your haven today!