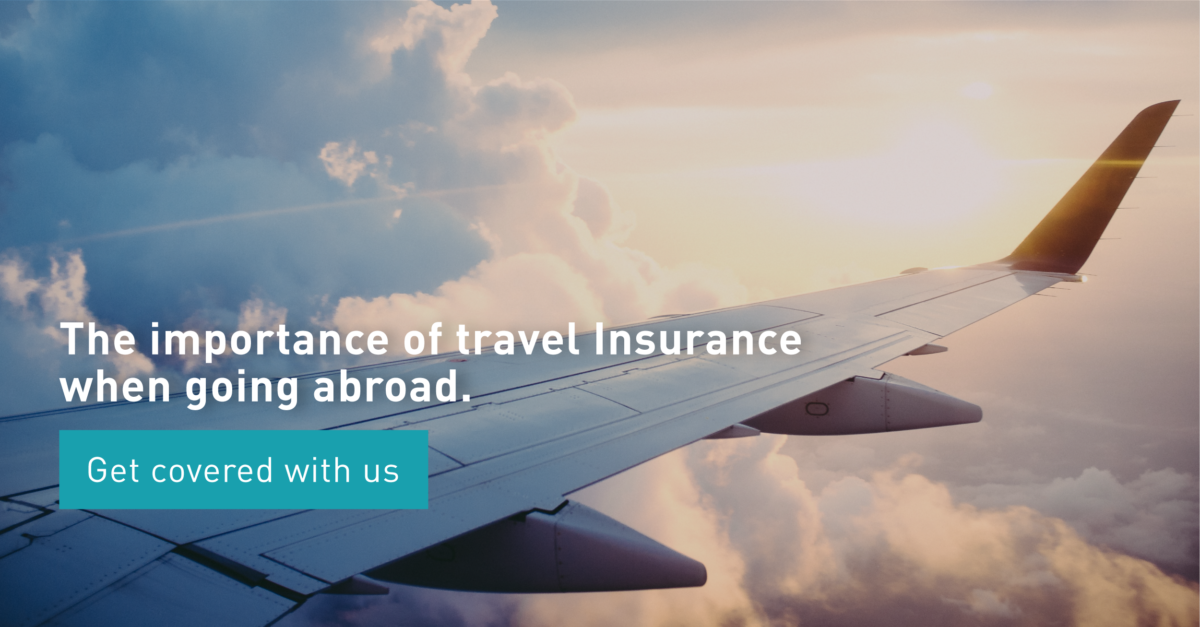 Travel is a beautiful escape; it is an opportunity to take a break and get away from the routine of life. Whether you are going abroad for a week or two, or for a longer duration, each trip will carry its own experiences and memories. Cherish the time you have abroad with your friends and loved ones.
Always be prepared for the unexpected. It is important that you have travel insurance! Insurance will provide you with peace of mind knowing that if anything goes wrong, you are covered by a comprehensive insurance policy. Travel insurance covers both medical and associated expenses whilst you are abroad. Prior to issuing a policy, it is best to carry out some research to make sure that you get the right policy. Typically, besides medical expenses cover, a travel insurance policy will offer a wide range of covers including loss of or damage to baggage; loss of money; personal accident; cancellation and curtailment; personal liability, delayed or missed departure and cancellation of service in the event of adverse weather conditions.
This blog highlights a few examples of why travel insurance is an essential part of your trip!
Getting sick or injured during your holiday or business trip
Often people think that the European Health Insurance Card provides full compensation for medical expenses, which is not the case – it only covers certain incidents. You may need to visit a private hospital or buy medication abroad, which would only be covered under a travel insurance policy. Even though you may be away for a short duration of time, you can still run the risk of getting sick, or getting involved in an accident which would require emergency medical attention.
Cancellation or curtailment of your trip
Should your trip be cancelled or curtailed due to unforeseen circumstances, such as death or injury of a close relative, or if you are unwell and unfit to travel; a comprehensive travel insurance policy covers you for the refunds of any deposits or amounts you have to pay in respect of:
unused travel and accommodation;
concert and sports tickets;
holiday tours and excursions.
Loss of money or theft of your belongings
Losing your personal money or belongings whilst you're abroad is an unpleasant experience, a living nightmare. A travel insurance policy will reimburse you for any lost or stolen money, personal belongings and documents.
Travel insurance is something essential to have. The likelihood of any of the scenarios shown is minimal, but there is still a possibility which you should not underestimate. If any of these unfortunate circumstances were to happen, it would truly be a horrible experience, so it is essential that you get everything sorted out as fast as you can; so that you can enjoy your trip without worrying about the "what if's. Travel insurance is a small expense to pay to travel with ease of mind, and it is well worth the money knowing that if the worst were to happen, you are covered for it! Always be sure that the insurance policy that you are going to take out is the right one for you. Make sure to look at our travel insurance plan if you are looking to rest easy when going abroad.
A Travel Insurance policy provides you with peace of mind during your holiday, allowing you to focus on fun and relaxation in the knowledge that in the event of most unexpected events, you are insured.
GasanMamo Insurance Limited is authorised under the Insurance Business Act and regulated by the MFSA