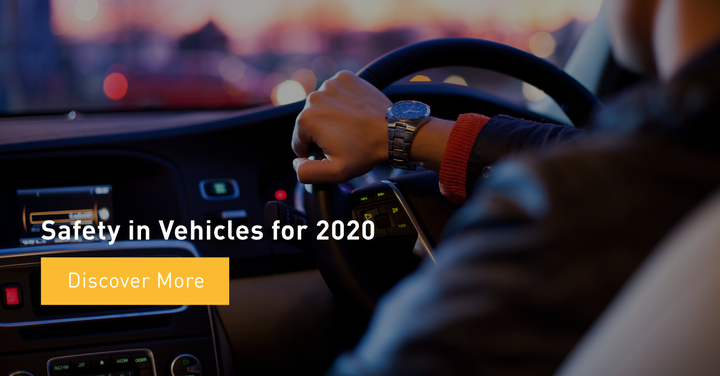 We may not have flying cars as yet, but with the rate at which vehicles are evolving, this 'flying car' idea envisioned by the sci-fi of the past may be getting closer and closer to becoming a reality. Although this kind of development may seem terrifying to say the least, fear not, flying or not, there are a number of new state-of-the-art vehicle safety systems which provide assistance to drivers in order to reduce the likeliness of vehicle accidents. These will be discussed below.

Collision-avoidance and Lane related Assistance
A collision-avoidance assistance is a vehicle safety system which sends a warning to the driver when they are approaching another vehicle, be it a stationary one or not. This becomes very important in a number of emergency situations. 

Some circumstances include a front collision when two vehicles travelling in different directions have a head-on collision. Another common situation is a side crash situation, where a vehicle fails to stop at a stop sign, and strikes another vehicle on the side. 

There are also systems such as parking, and lane keep assists, which provide warnings. These lane-related warnings are usually buzzed to your seat or steering wheel to inform the driver that they are crossing the white line or leaving their lane. This also goes beyond just a warning, it will make the necessary corrections in order to keep the car in the right lane, such as a minor steering correction. The systems which provide blind-spot warnings often appear as small orange or yellow lights. 

Increased Vision
Nowadays, newer vehicles use systems that have a variety of technologies that they use as "eyes", such as cameras (a rear-view camera, and a backup cam), and radars, to see what's happening on the roads around them. These are extremely useful because they process the information gathered using computers that can often respond faster than a human driver, when a crisis situation may happen.

The night vision features that come with this type of recognition software are exceptional to say the least. These can warn drivers of approaching bicycles, and pedestrians on dark streets at night, and use smart headlights that lower their hi-beam automatically towards oncoming traffic

Adaptive Cruise Control
Adaptive Cruise Control regulates and maintains the speed set by the driver, as well as slowing down or speeding up according to the speed of the vehicle in front. Some more complex and expensive systems have a number of sensors which provide assistance with short- as well as long-term ranges while also keeping track of adjacent vehicles. The driver just needs to set the maximum speed, and the sensor which is installed behind the grill of a vehicle, watches for traffic ahead. These controls help the driver by reducing stress levels.

Vehicle Safety Exists Assist
These kinds of assists have existed for quite some time now. However, the recent changes have resulted in a more refined version of them. They can sense oncoming bicycles, and vehicles that are coming from behind, and temporarily stop kids from opening the back doors. This is potentially to become the most sought-after feature for families consisting of parents who have young children.

Traverse Buckle
This safety feature literally makes it impossible to start driving until the driver, and all the passengers have buckled their seatbelts. Simplicity aside, this is a feature that no car should be allowed to do without. Additionally, the radio also stalled as well. So, this means there will be no music, or driving until every person is safe and secure. 

Stay Safe with Us
Whether you decide to invest in this kind of technology depends on your lifestyle, environment, as well as your personal preference.
Eventually, we will be investing in vehicles that drive themselves. In any case, regardless of the technology your vehicle has, malfunctions can happen, and the same can be said about accidents. So drive slowly, and worst-case scenario, turn on your good old-fashioned hazard lights and rest assured that you are covered by a top insurance agency. 

Speaking of coverage by a top insurance agency, have a look at our private comprehensive car insurance policy and find out what coverage suits you best! 
GasanMamo Insurance Ltd. is authorised under the Insurance Business Act and regulated by the MFSA