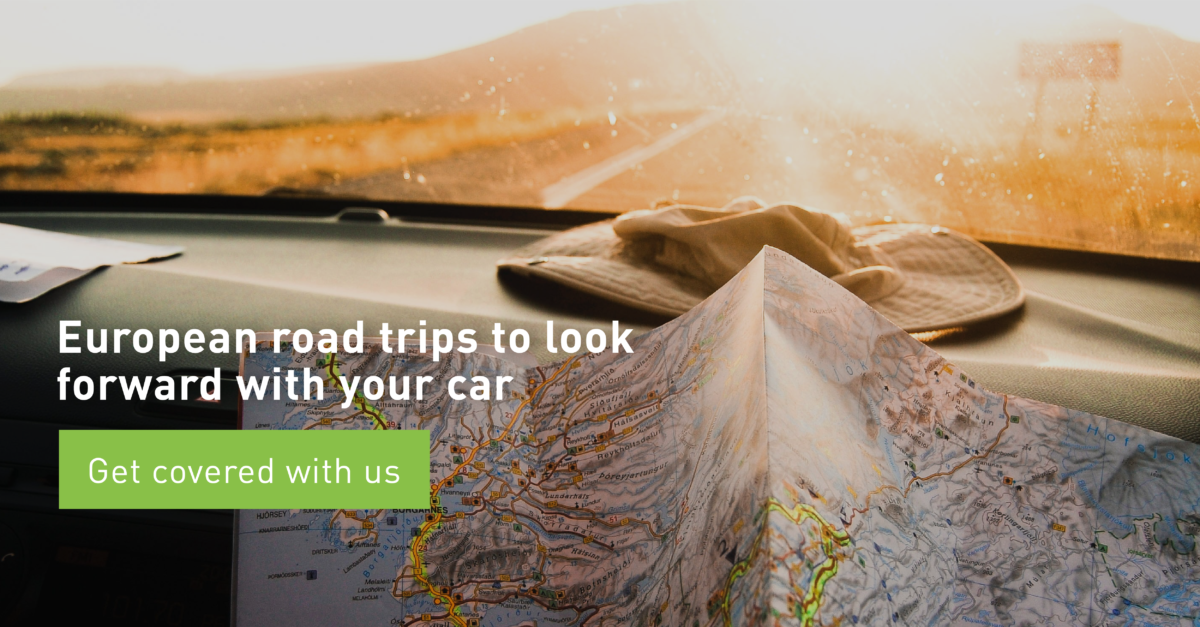 If you love to travel whilst also sharing a passion for the open road, for driving, this article is perfect for you. Today we'll be taking a look at the best European road trip routes the continent has to offer. After all, a road trip is an exciting way of visiting the country, especially the countryside.
Since you will be travelling from city to city, you will be passing through a lot of the countryside, which can be a truly relaxing and peaceful experience. If you are considering embarking on this journey, make sure you do so with peace of mind, and that you're covered with a comprehensive travel insurance policy.

Florence
If you love the Italian culture and countryside, the trip from Florence to the Amalfi Coast will be your cup of tea. From Florence to Siena, Rome, Positano and ending in Ravello, a total of 600 km. Start by taking in the beauty of the ancient city of Florence, the birthplace of the Renaissance. The drive through the Tuscan hills will be an experience, with the beauty of the open planes creating scenes which are unrivalled. Eventually, you can spend a few days in Rome, taking in the sites and all the tourist attractions. Italy is one of the most culturally rich countries in the world. From the Vatican and the Catholic religion to the Renaissance and the Roman Empire; there is surely a lot to take in when visiting this gorgeous region.
The Amalfi Coast is one of the most beautiful coastlines in the country. Gorgeous views across the coast are paired against huge cliffs. This trip should take around two weeks when taking into account all the stops and detours that you will surely make in order to experience the country in more depth.

Scotland
The northern coast of Scotland is an amazing coastal trip that will take you through the highlands of Scotland. The trip would consist of Bealach Na Ba – Applecross – Ullapool – Dunnet Head Lighthouse – Inverness. To start with, Bealach Na Ba is a mountain pass with plenty of bends and stops where you can just relax, take in the vista and continue driving. At the beginning of the journey, you will find yourself looking at a lot of ruined castles and a variety of wildlife. Make sure to take your time, you are in no rush. This is a relaxing time, so take stops and go for walks also! 

Iceland Ring Road
Make sure to carry tents, and sleeping bags, with you to make use of various campsites along the route. We advise doing this for the majority of your road trips because you will never know when you feel like camping under the stars.
Iceland is a truly beautiful, green and clean country. Starting from Reykjavik, the route will take you as follows: Vik – Hofn – Fjalladyrd – Heioarbaer – Hvammstangi – Skjol. The whole trip can be achieved in eight days, and you will cover around 1,332 km. Bear in mind that you won't spend that much time in cities, as you would do in Italy; therefore you can cover a much longer distance in a shorter time frame.
The perfect time for an Icelandic road trip would be between the months of June and August, as this is when the weather will be at its best. Much of the ring road is still foreign to tourists so going there in high season should not be that much of a problem. Plenty of towns are small and will offer a truly authentic Icelandic experience. This is where you will get the most out of Icelandic living. However, do bear in mind that since some of the towns don't see a lot of tourists, they do not cater much for outsiders – although this does offer the benefit of having truly authentic cultures preserved.

Conclusion
Driving through the country provides a different way of viewing it, a new perspective. You will spend a lot of time in the countryside, away from all the hassle and chaos that city life brings with it. Always be sure to go prepared, and make sure your car and travel insurance are ready just in case something unplanned might occur. A GasanMamo policy can offer you much-needed peace of mind so that you can truly make the most of the experience!

There are other European road trip routes, make sure to look at some in your favourite country so you can enjoy it tenfold. There is beauty and peace in crossing a portion of a country in your own vehicle, stopping where you want and just taking a break. Camping is also possible with legal campsites set up along most travel routes. Plan from beforehand when and where you want to camp so you will never be caught off guard!

GasanMamo Insurance Ltd. is authorised under the Insurance Business Act and regulated by the MFSA