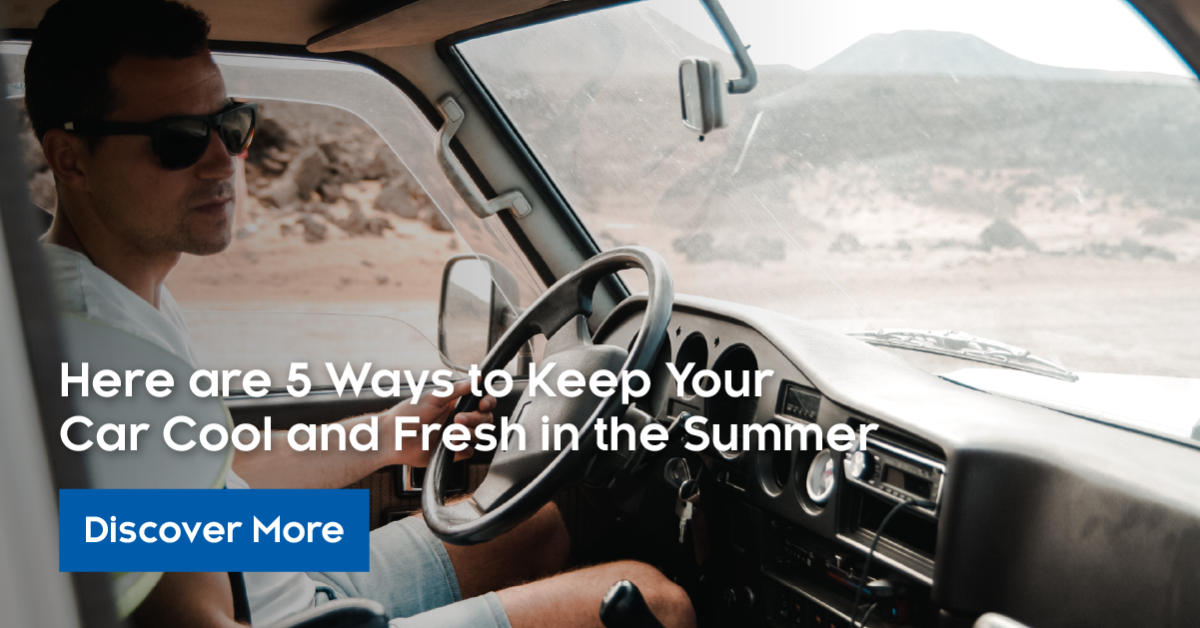 Situated in the middle of the Mediterranean, Malta's climate is characterised by dry, hot and humid summers with mild and wet winters. Needless to say, Malta's heat has inevitably turned into a big part of Maltese people's life. From the majority of the country persistent on installing air-conditioning in homes to the inability to wear warm fashionable clothes for fall, especially in the months of September and October. This also includes an urge to keep cars cool so to combat the heat whilst driving.

If you're tired of dealing with the scorching hotness of the summer and also happen to not have an air-conditioner in your car, this article is just for you. We've compiled a list of tips and tricks anyone can follow to keep their car feeling refreshing in those hotter days when you just need to survive the high temperatures.

Use Sunshades

Seems obvious enough? In actual fact, many people tend to find it tedious to stick sunshades and visors to car windows right after they park the car. Skipping to do so when you're running late is understandable, but the less you make use of sunshades and window visors, the hotter your car will feel in the morning. Using these widely sold items will prevent the greenhouse effect from taking place in your car, hence keeping its interior as cool as possible.

Cover Your Steering Wheel with a Hand Towel

Your steering wheel is one of the things that absorb the most heat in the car, especially if it has a black colour. Covering it with a small hand towel (that preferably has a light shade) is an excellent way of preventing yourself from touching a piping hot steering wheel before sunset when the car is at its hottest after a day in the sun.

Keep Your Windows Slightly Open

While it's not always the best idea to crack your windows open when you're away from your car, should you feel like you're in a safe area it might benefit you to keep your windows slightly open. This makes way for the air coming in and out of your car to be circulated and feeling more fresh. Ideally, make sure that by leaving your car windows open you will be leaving less than enough space for a hand to fit through.
Get Yourself a Solar-Powered Fan

Cheap and convenient, solar-powered fans are especially suitable for Malta where sunlight is present all throughout the year. Paired with cracked windows, a solar-powered fan can make your car feeling fresh and cool, even on the hottest of days. These devices work to expel heat from your car and can be an essential tool for drivers who do not have an air-conditioner in their automobile.

Cover Car Seats

Covering your car seats with a beach towel or blanket can go a long way in eliminating heat. While draping these items on your car seats won't do much for keeping the air in the car cool, you will at least find a seat that's not piping hot to the touch when you sit on it. This is especially useful for cars with leather seats, which are more fabric sensitive.

Park in a Garage

When possible, park your car in a garage so to leave it out of the sun. A warm garage is always better than the street, as your car will hardly be exposed to direct sunlight. Apart from the benefit of having your car be in near-constant shade, a garage is safe and shields your car from any harm that may befall it due to the natural elements – or other.

Open the Doors

One of the quickest and most efficient ways of removing the hotness from the interior of your car is to leave your car doors open for a minute or two before you start driving. This will quickly circulate the air, leaving your car feeling fresh and cool no matter how hot it is outside. You can even opt to 'fan' the inside of your car by opening and closing the driver's door several times in a row. Sure, you might look a little bit silly to your neighbours when doing this before driving to work, but many people swear by this trick that makes your car cooler.

Insure Your Car

Cars are valuable possessions, and the better you maintain them the longer it is likely to last. YOu can take care of your vehicle in many ways – including protecting it from the heat. If you'd like to set up or renew your motor insurance, have a look at our car and motor insurance packages to get a full insight into what we offer.

GasanMamo Insurance Ltd. is authorised under the Insurance Business Act and regulated by the MFSA