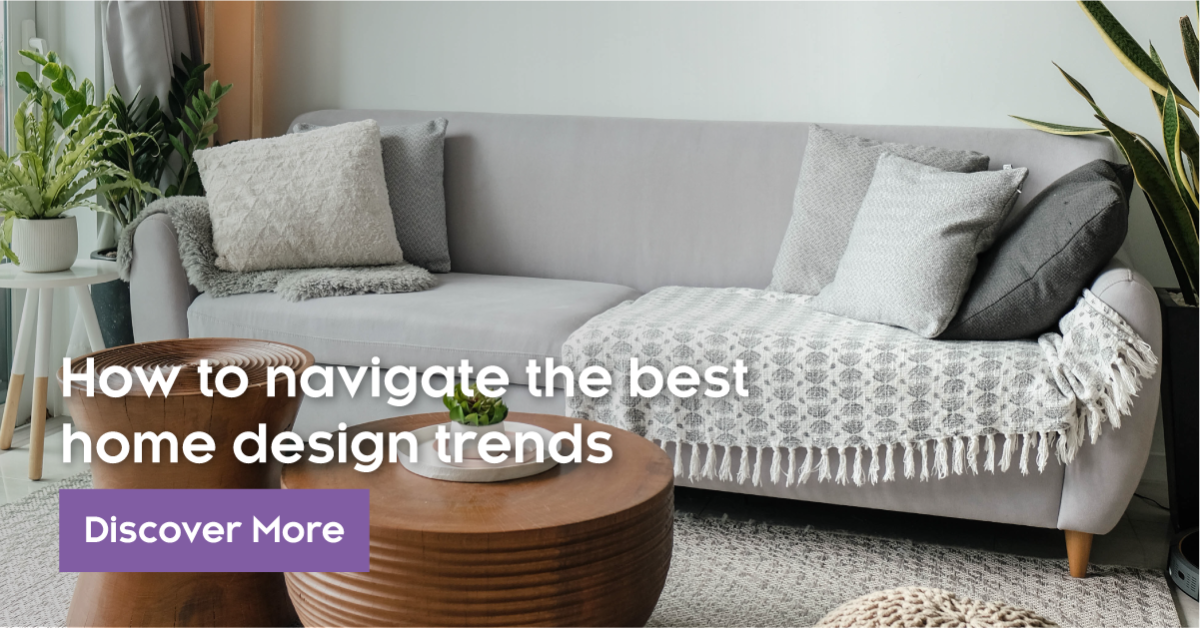 HWhat is the first thing that pops into your mind when you see someone's home for the first time? You might be greatly unaffected by the design of it, merely noticing the colour of the tiles. You might also happen to have an eye for the tiniest of details, including noticing the placement of appliances and the placement of the sofa pillows.

If you happen to need to redesign your home, navigating through the myriad of home design trends, old and new, can be intimidating. However, keep in mind that designing your home entails patience and the will to go to lengths to discover all your options before settling on one. Apart from that, every room is different.

There are a large number of home design trends available to you out there. To help you navigate and make your selection with a little more ease, we're providing you with a list of our favourite tips and tricks for charming and convenient home design.

Colour Says It All

More often than not, the colour palette of your home sets the entire tone. If you have a specific home design style in mind, colour is by far the right way to bring it out. Colour is striking and affects nearly all of the elements found in a house – getting it right is simply a must.

As one might expect, the first thing you need to decide on before picking a colour palette for your kitchen is what style you'd like to go for. There are countless types of home design styles, but don't get intimidated! A little bit of research goes a long way in helping you decide what exactly it is that gets you excited about your dream kitchen. To put you in the picture, the most popular home design styles are:
Modern, Mid-Century Modern, Industrial, Nautical, Mediterranean, French Country, Transitional, Scandinavian, Rustic and more.

After falling in love with the right decor style, move on to matching the matching colours. For instance, if you'd like to go for a design of modernity and luxury opt for light and muted primary colours such as charcoal, cream, champagne, white, silver, black and gold. These colours flaunt the modernity of your home, while also automatically making it appear more expensive.

If you're into the timeless French Country style, opt for soft, light colours such as baby pink, pastel brown, mint green, white and more. This brings out the elegance and pure daintiness of the French country style.

Details

Making sure that all of the house details are up to scratch will take your kitchen from being mediocre to looking like it could go in a magazine. Indeed, a little perfectionism is needed to get that perfect design.

Do you have any gaps that need to be filled? How far from the ceilings are your cabinets or wardrobes? They need to be either far enough to enable you to clean the dust that forms there with ease, or either be designed to be floor-to-ceiling so to make the most out of the space.

Does Your Home Have Personality?

You can have the most expensive and trendy furniture – if your home doesn't have that special item or feature that makes it yours, how can your decor have a personality? Give your kitchen that extra character by including something different that reflects who you are.

This could include hanging family photos on the wall, choosing window curtains that have been passed down for generations, picking kitchen wallpaper designs that may have meaning to you, hanging up carved children's hand or footprints on the wall, and more. Sometimes, it's not about expensive items, but about character.

Showcase Your Best Items

Spending a little extra money on the fancier things in life is good, and why shouldn't you flaunt them off in your own house? To add style, wealth and character to your home, make sure to showcase your best items by keeping them in front of things. These items include your expensive stemware, China plates, art pieces and more.

You can utilise your open front shelves, glass-front cabinets or countertops by placing these nicer items there.

Lighting is Key

Lighting is an integral part of daily activity, so you'll want to make sure that you get it right. Warm lighting adds to an overall cosy, country-like mood. However, if you want a sleek and modern look, avoid them and go for bright white lights instead.

Insure Your Home

Making sure your home is designed to have the best features possible for all the family is enjoyable and important but so is safeguarding your home. Start doing more to maintain the upkeep of home by insuring it today.

GasanMamo Insurance Ltd. is authorised under the Insurance Business Act and regulated by the MFSA