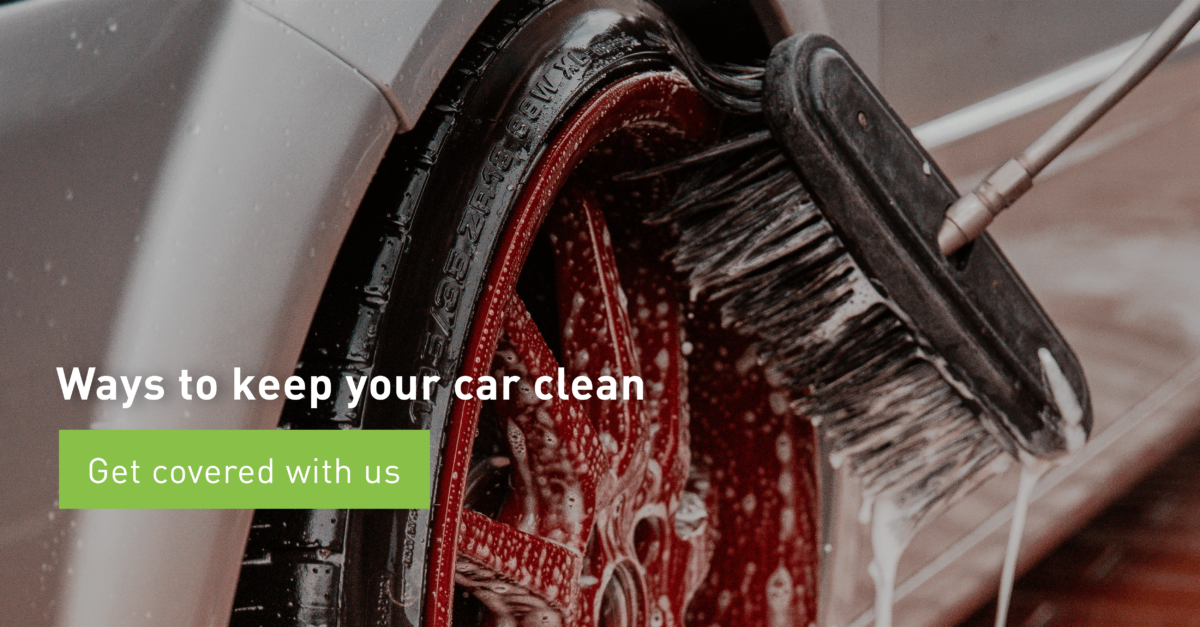 We spend so much time in our cars on a daily basis, stuck in traffic, running errands, and driving from point A to point B that our cars often become an extension of our homes or offices – but we so often neglect to pay attention to how clean our cars are. Knowing how to properly clean your car is something which several people seem to struggle with, due to the simple fact that life is often fast-paced, with cleaning the car not taking priority on your to-do list.
The reality is that most of the time, the driver is the sole person in the car, so it becomes easy to fall into the routine of thinking that messes don't matter.

In this article, we will be discussing different ways and life hacks to maintain upkeep easier in your car.

Rubbish Bin
A lot of garbage might accumulate in your car, whether it is from food, drinks, wrappers or anything of the sort. The way to solve this problem is simple, with a  small rubbish bin which can be attached to the back of the seat.
This will help to centralise where waste is discarded rather than simply allowing the waste to accumulate in the back.  Having said that, it's best-made use to collect paper or plastic waste (which can then be recycled) – organic waste which may start to decompose in the greenhouse created by a closed vehicle should be removed immediately to avoid any unsavoury smells.

Air Fresheners
This is a very cheap and underrated way of keeping a car smelling clean and feeling fresh. You can buy different ones with different scents, but be sure to buy one that won't bother you after a while.

Wet Wipes
Just in case you spill anything or make a mess, having these readily available will come in handy for sure! You can easily just place them in your glove compartment, and when the time comes, take them out.

Organisers
You can attach the organisers to the back of your seat. This is a simple way of having everything conveniently located in one place. Very easy to set up, and very cheap to buy; having organisers will help you to keep your car tidy, knowing where your items are at any given moment. Car organisers come in many different sizes, so depending on your needs, you can buy accordingly.

One great hack for storing loose change for parkers is to take a small plastic bottle, cut it in half, and keep it in a cup holder to store any coins, readily available when needed!

Keep Your Shoes Clean
If you are walking in mud or water, make sure to stomp them out a bit to knock a bit of the dirt out. It is also advisable to shake out your mats regularly, to prevent dust and dirt from accumulating.

Vacuum Regularly
Vacuuming is essential to keeping your car clean. A lot of dirt will get into places which you will never be able to reach unless you have a vacuum cleaner.

Clean Your Car Regularly
If you take some time once a month to clean your car, it will help you immensely. If you keep consistent with once a month, then dirt won't accumulate, and your car will ultimately maintain its cleanliness.

Conclusion
Treat your car with the respect it deserves and learn how to properly clean your car! If you are going to use the vehicle every day, you want to stay in an environment which is clean. If you have to go in a car filled with rubbish and smelling horrible, it will ultimately ruin your drive completely.

Always be ready and be clean, GasanMamo has a car insurance policy in case anything should happen to your vehicle. Being safe is something that should not be understated, and one should always drive with ease of mind. Be mindful of how you travel, and always try to maintain the upkeep of your car.

GasanMamo Insurance Ltd. is authorised under the Insurance Business Act and regulated by the MFSA