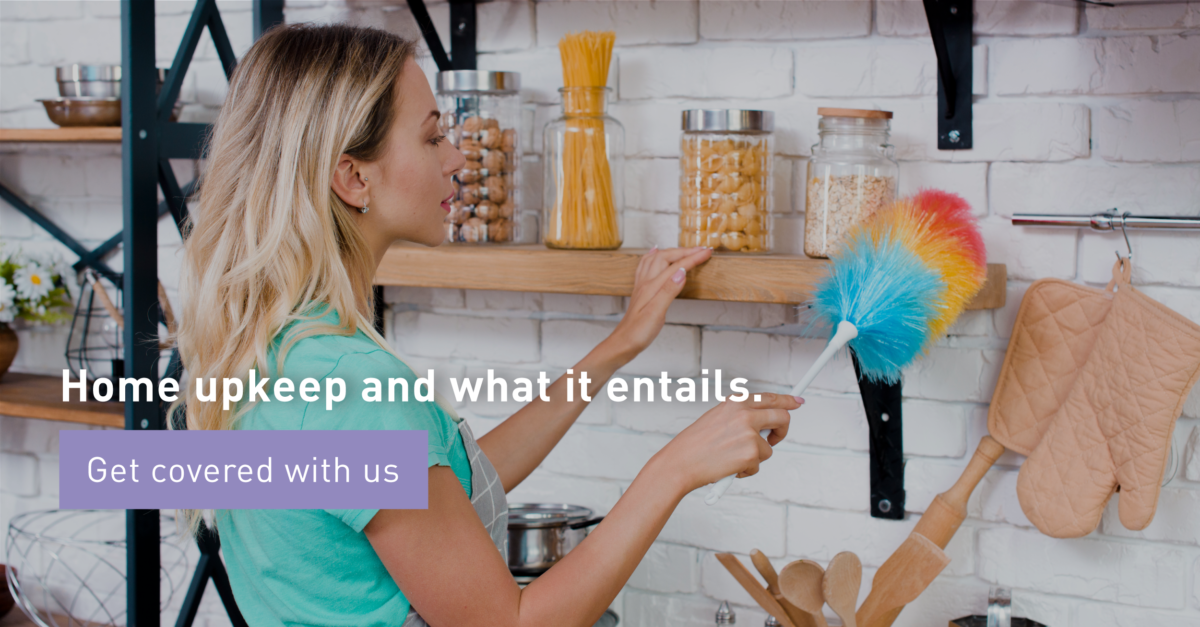 Buying your own house is an investment but maintaining your house is a whole other story, especially if you live with other people. If you do not constantly keep up with your house, things may start getting out of hand, with personal belongings accumulating and things will start to get messy easily. If you are constantly checking and maintaining things around the home, then your house will function like clockwork!

Building a home maintenance calendar is a quick, simple suggestion to save a lot of hassles and arguments down the line. The main benefit is that it will help you to remember whatever household chores need getting done, whether there's anything that needs fixing, as well as reminders about your routine monthly check-ups. It is always better to prevent a problem rather than to solve it, so a calendar will help you do just that, with a quick set of to-do's for you to do every week/month in order for you to stay up-to-date with everything that's happening in your household.

Home upkeep is all about organisation, so the first thing to do is to get organised! Figure out what's what, see what things usually give you trouble, see what doesn't, check-up on mechanisms and electronics, and always be ready to tackle something before it becomes a problem. Here are some suggestions on things that you might want to work on/ check-up.

Regularly test out smoke and carbon dioxide detectors. Your detectors usually have a 'test' button, if not always contact your provider to see how you can check these. If they do not work, replace the batteries immediately, do not stay waiting and procrastinating, you need these to be ready to work 24/7, so always be prepared.
Also check out the expiry date on your fire extinguishers. Fire extinguishers have a lifespan between 5-15 years depending on what sort of extinguisher you have, so it is always best to ensure that your equipment is up to date. If your fire extinguisher has expired, make sure to get it replaced immediately.
If you have any guest bathrooms, make sure to check the toilets, sinks and showers. Check out running water in unused or less frequently used places. Check if there is a build-up of some type of bacteria or grime. Regularly running a bit of water will help prevent this from happening.
It would be smart if every six months, take one day off to give your house a really good clean up. Clean everything from top to bottom, from appliances to windows, fridges, freezers, anything you can think of. Clean every corner of your house. While doing so, it may also help you to organise and clear out any clutter. This will benefit your house by staying in tip-top shape.
Always check your air-conditioners before the summer, make sure the filters are clean and the A/C works perfectly, if not make sure to have it serviced or get a new one if need be!
Clear any form of dead plants from your house. This will just help your house look clean.. Make sure that there are no roots or anything growing under any cracks of your house because this will eventually cause massive problems. Always check the exterior of your house and be sure that there is no threat of anything growing underneath.
Inspect all the doors, locks and garages. Especially if your garage door is automatic, make sure that everything works fine.
Always check the plumbing. It would be wise to go around your house checking any drainage for any potential pipes getting clogged. Check for leaks and anything that might cause a problem. Nothing will look too severe in the beginning, but never underestimate a small problem because it will quickly grow into a big one.
A big problem in summer is the insects. Check out any bug problems which may arise, any ant or cockroach infestations will be horrible to have, particularly in the middle of the summer heat; so always make sure that no critters and creepy-crawlies are dwelling in or around your house.
Do not neglect the garage. Do not pile junk in it and leaving it unchecked forever. Always be sure that it is clean and everything is stored neatly and well organised, just in case you might need it in the future.
Conclusion
This list is far from exhaustive, this is just the tip of the iceberg, but it is always a good idea to keep these in check. As mentioned prior, if you have a calendar and check your tasks once a month or once every six months, however, you deem fit; it will certainly be better than doing everything at one go, or having to fix 4 different things in one day. So always be on top of these situations.

Home upkeep can be quite a tiring job, if done all at once, but keeping tabs will surely help you in having an efficient household. It is imperative to never keep things too late because that is where problems start piling up and becoming a hassle to fix and repair.

Look at our home insurance to protect your hard-earned investment.

GasanMamo Insurance Limited is authorised under the Insurance Business Act and regulated by the MFSA