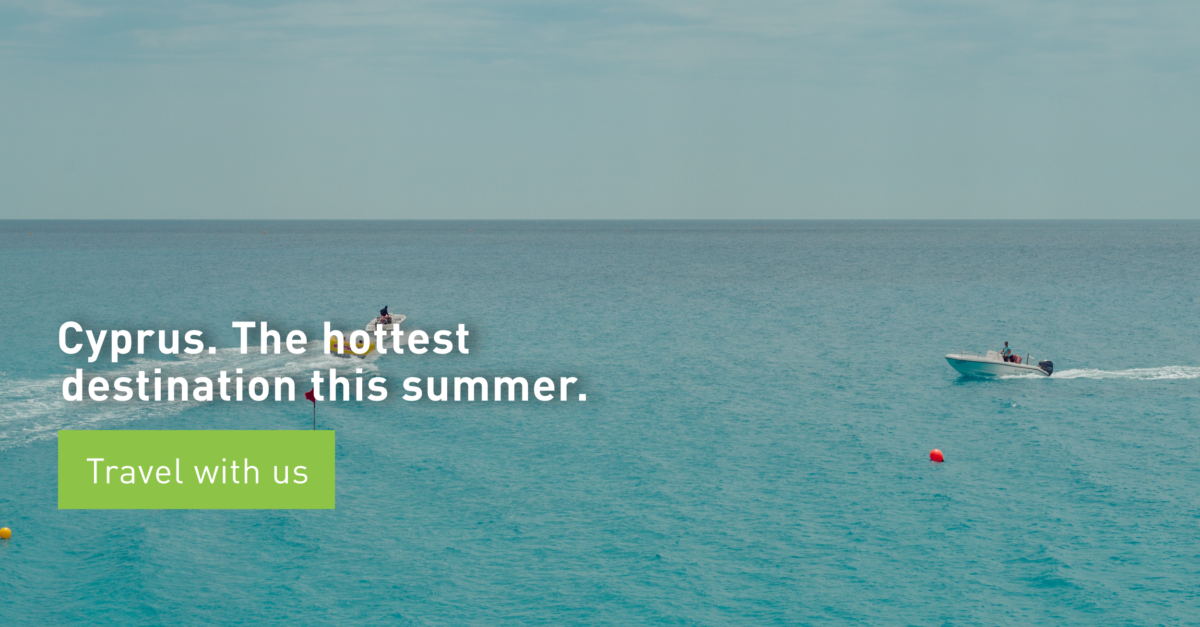 Summer is a time to relax, enjoy the sun, the beach, people and events. Summer is the time when the harsh winter conditions can take a backseat to the warmer comforting weather. And there's no secret that Cyprus holidays are one of the hottest destinations for Summer.
Do not waste this time, as it will fly by and you will regret it at the end of summer. Always try and be proactive, plan and enjoy your time. Go swimming as much as you like, go out for a walk along the bay, party and go abroad.
Summer gives you an opportunity to fly abroad at reasonable rates where you can assume that the weather won't be horrible.
What's better than enjoying the sun in a different place, with new adventures and people around every corner?
Legend has it that Cyprus is the birthplace of Aphrodite, so you know there is a special charm which comes with the place.
Cyprus holidays are known for having amazing weather, beautiful beaches, a vibrant nightlife and amazing history.
This country is truly a place where you will be stunned with the stories and history around every corner.
In this article, we have curated some of the top activities and places you can do when visiting the magical land that is Cyprus.

Visit the Beach!
This should be on your priority list! Since Cyprus is an island, you can rest assured that there will be a wide variety of beaches with which you can visit, and you will surely not be able to visit them all in one day.
Allocate at least two days from your trip for beach days because you will not regret the energy and life that comes along with this sort of trip.

A few of our personal favourites are:
Nissi Beach – Arguably one of the most famous beaches in Cyprus, this beach has amazing crystal blue waters and it comes filled with a lot of energy and vibrancy. This beach will be filled with residents and tourists looking to enjoy the amazing view and clear waters.
Lara Bay – This bays falls on the quieter side of things. It is a near-deserted beach, where one can enjoy some peace and quiet while walking along the shore and swimming. Having said that, there is a reason for such peace, and a price to pay if you want to experience this tranquil beach. The only way to reach Lara Bay is by using a 4×4 or you have to be really enthusiastic about hiking.
Don't be put off by a bit of an adventure – the pay-off is worth every minute of it!
Aphrodite's Rock – Legend has it that this beach is where Aphrodite was born. This place is completely enchanting. You can revel in Greek mythology while swimming in the beautiful sea and enjoy the heat.
Ayia Napa
Cyprus is also home to one of the best nightlife locations in the world. Here you will find residents and tourists all coming together to enjoy a good time.
Filled with a plethora of bars, parties/ beach parties and clubs, you will surely not get easily bored of this place. Famous DJs play music until the early hours of the morning, you definitely will not be disappointed.
Boat Rides

Cyprus being an island, there are many beaches and interesting spots which would be difficult to reach without the help of a boat!
Going on these boat rides will allow for such exclusive beach experiences where the water will be clean, clear and the area will be nothing but peaceful and quiet.
There are dozens of boat companies to choose from, so all you have to do is find one which suits your fancy. Obviously, some boats have more of a party vibe to them than others, so be sure to be wise with your selection.

Historical Sites
Cyprus has an intensely rich history, sitting in the Mediterranean sea, whilst forming part of Greek culture and being in such a strategic position; it was used as a resting place for trade routes, a market place, and a fortress along with other things – sound familiar?
If you're a history buff or just a curious person in general, there are a lot of sites to visit to revel in the history of Cyprus.
Places like the Makronissos tomb – a series of tombs that date back to the Hellenistic and Roman periods or for example Ayia Napa's historic monastery, built around 15,000 AD. This place holds the Virgin Mary of Napa which was once hidden in a cave under the monastery. Part of the monastery is underground so the architecture should not be overlooked.

Travel with Us
Always be safe when going abroad! As fun, as Cyprus holidays can be, it never hurts to be a bit more prepared than usual.
If you are looking to go abroad, we offer a great travel insurance policy, for you to be completely at ease when travelling and not having to worry about anything.
Cyprus holidays have an amazing life around, with a great nightlife, beautiful beaches, a rich history and tasty cuisine you can safely say that your stay there will be nothing but great and fun.
Always be prepared and get ready to enjoy a trip which you will treasure forever.
GasanMamo Insurance Limited is authorised under the Insurance Business Act and regulated by the MFSA