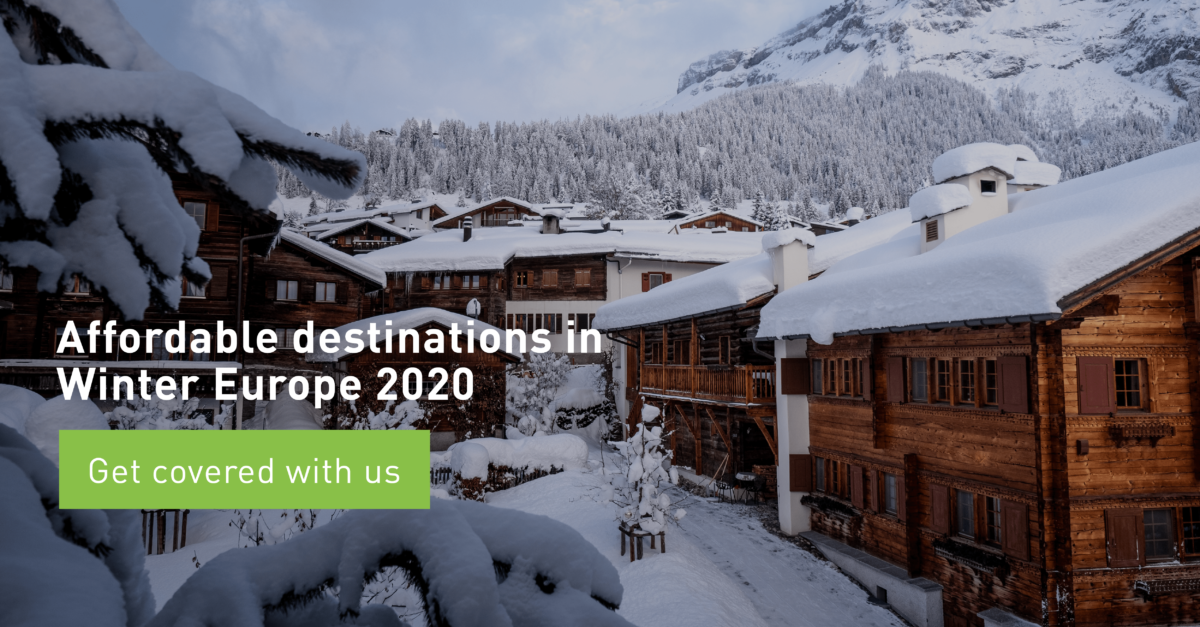 Travelling is an essential part of everyone's life. With such a big world, experiencing other parts of the world besides your birthplace is a wondrous and interesting experience. Travel is an experience which teaches you new perspectives, whilst broadening your mind and becoming more aware of other cultures and people.
Travelling in winter brings with it its own perks. For one, there won't be a tourist influx, With winter months bringing with it fewer crowds, shorter queues and easier travel, which is why some people opt for wintertime travel. That, coupled with the fact that you won't spend hours walking in the heat, makes for the perfect break.
Here we will be discussing European winter travel destinations that are affordable, and which may not have been on your travel list prior.

Slovakia
If you are a fan of skiing, Slovakia is where you should be heading next. Here you can find high-quality skiing at affordable prices. With our warm, sunny climate offering 300 days of sunshine, many Maltese people have never seen snow in their life; and if you are one of those people, then this place is most definitely your next destination! Looking at the practical side of things, it's good to know that food and accommodation are reasonably priced. Jasna or Donovaly are world-class ski resorts, so be sure to check them out!

Slovakia is also famous for its thermal waters. The hot springs in the country attract a lot of tourists since the natural thermal waters include many minerals which benefit the body in many ways. The thermal waters are an amazing place to relax and calm down after your ice skating, skiing, sledging or snowboarding activities.

While you are there make sure to go to an ice hockey match if there are any in your region. Even if you are not a fan of the sport, it would be a shame to miss out on a new experience! You can buy tickets ahead of the match and enjoy the high energy and fast sport.

Romania
This snow-covered gem is something which everyone must see at least once in their life. A picturesque country with mysterious castles and wondrous landscapes makes it look like it came straight out of a painting. 

Romania has a few towns which are also known for their thermal hot springs. Famous resorts like the Afrodita Resort or Grand Hotel Minerva are two which offer a truly amazing experience when it comes to thermal baths and relaxation. The country is filled with these resorts, so don't miss out on the opportunity for a bit of relaxation, and do be sure to research which is the closest one to the city you will be staying in. Romania also has one of the largest spa complexes in Europe. Therme is one of the best things to come out of Bucharest. Granted, it is not the cheapest way to spend your time, but you will surely remember it.

Salt mines are also big in Romania. Housing the largest salt mine in Europe, Slanic Prahova is not too far from Bucharest so visiting it won't be too much of a hassle.

Romanian cuisine is also very particular. Bohemian food will surely be new to you so make sure to try out some of their street food and delicacies.

Venice, Italy
Particularly for the carnival, visiting Venice during this renowned event is a sight to behold. People will dress up in expensive costumes, coupled with masks and everything you can imagine for a carnival. Venitian carnival is sought after by many people, so be sure to book beforehand and be prepared.
Accommodation in Venice might be steep, but you can easily find it in neighbouring towns which makes it more affordable. If you pack food and drinks, avoid buying a lot from the city itself, and you can easily make this trip an affordable one!

Final Words
Be prepared when choosing which of these European winter travel destinations for your next vacation, and be sure that you have everything and make sure to travel with insurance!
You will never know what can happen to you, what you might need and what you might encounter. At GasanMamo, we have travel insurance plans that cater for all needs, from one-off adventures, or to frequent travellers, that will set your mind at ease when travelling. 

There are many other places that you can visit in Europe during the wintertime. Make sure to carry out a bit of research of your own to go to places you will enjoy the most.
Remember, you can make most countries affordable if you travel the right way! Obviously, be sure to be smart about where you will go, but if you plan well you can make any trip an affordable one!
GasanMamo Insurance Ltd. is authorised under the Insurance Business Act and regulated by the MFSA