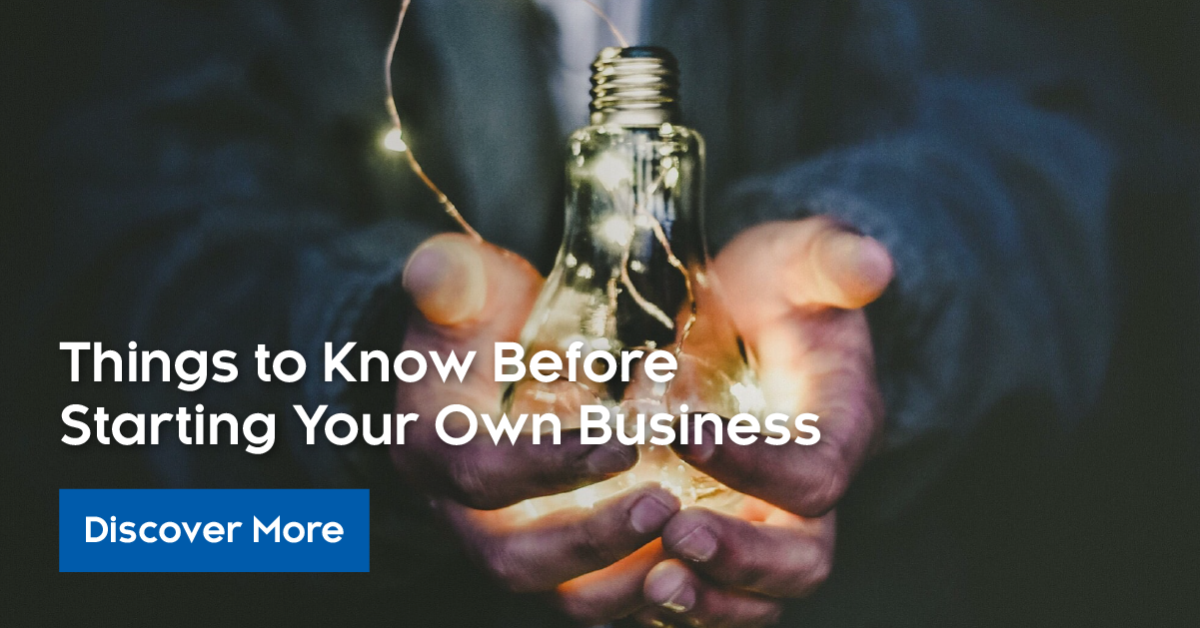 Have you ever been intrigued by the idea of having your own company? Does business spark a thrilling interest in you? Would you say that you have a flair for leadership, negotiation and problem-solving? Whether you've been dreaming about starting your own business from a young age or are in need of a spontaneous change to boost your career, it's absolutely necessary to prepare yourself before venturing out into the world of business.

Kickstart your business career the right way by becoming familiar with our helpful guide on what to keep in mind before starting your own business.

Choose your right business
More often than not, the difference between failure and success is choosing the right business for yourself. When starting a new business, timing is key and you'll need to make sure that the market conditions are in your company's favour. What's more, starting up something you're fully passionate about is key for the triumph of your business. Starting any project halfheartedly will only leave you with adequate results. In reality, to stand out with your business you'll need to give it your everything.

Choose an industry that you can feel you can flourish in if it's close to you some way or another. Be it retail, food, beauty or event organising among various other industries, making sure that you're passionate about your business is important.

Find mentors
You might very well be new business graduate that's fresh out of UNI, having been spending endless all-nighters reading the best informative business books. While this definitely means you're on the right track, it doesn't necessarily mean you couldn't do with the extra guidance you'll get from a mentor. Go ahead and find someone who has done it all before you and ask for advice. There's nothing more instructive than some one-on-one guidance from someone with experience and the right attitude.

Don't be afraid to kindly ask for monthly meetups with the best mentors you can find. Express gratitude and see yourself bloom with the added help from people who have already been in your shoes.

Get organised
If you think that the pressure and risk factor of the business world can be quite overwhelming at times; you're right. However, there's always something you can do to have your work under control. Here it is: get as organised as possible.

Make use of the myriad of online apps and websites that are designed specifically to guide you in keeping yourself organised and sorted out. You will find that apps offering to-do-lists, calendars and hourly reminders for tasks will be very much in your favour. You might even find an easy to carry notebook and pen to be of help, should you prefer tangible methods of staying in check.

Monitor your numbers
Make sure that you're familiar with the exact numbers that tell you how your business is doing and what you can expect in the future. These numbers include start-up costs, cash flow, sales, projected profits and more – depending on your business and its success.

Monitoring your spendings and earnings will help you stay on top of things and also in making informed financial decisions for your company in the future.

Don't underestimate the potential of the workforce
It is widely agreed that a trustable workforce is often one of the key elements that make up for a successful business. Constructing the ultimate team for your company means taking risks, trusting people and their skills and being patient with figuring out exactly what you're looking for. It might take you some time to realise whether you'd like a young, fresh workforce or a knowledgeable and experienced team for the ages.

Once you establish your perfect team, it's important to make sure you're taking care of the workforce. Hiring an HR manager to oversee the general workings of your employees as well as their skills and issues.

Prepare for the risk
There will always be a significant risk to take when starting a new business. Calculating, understanding and planning for risks is crucial before starting to work on your company. This means assessing your business' risks before moving forward with a business plan.

While there are significant risks in whichever industry you may enter, there is also the enormous personal risk that comes with starting a business. This is something that you'll want to be aware of before venturing out into business.

All in all, starting a business means allocating a lot of time with planning, organising all of your resources and developing a thought-out business plan that will kickstart your business career the right way. Insure your business today to have a well-rounded business experience you can only benefit from. For more information, have a look at our business insurance to find out how we can help you.

GasanMamo Insurance Ltd. is authorised under the Insurance Business Act and regulated by the MFSA