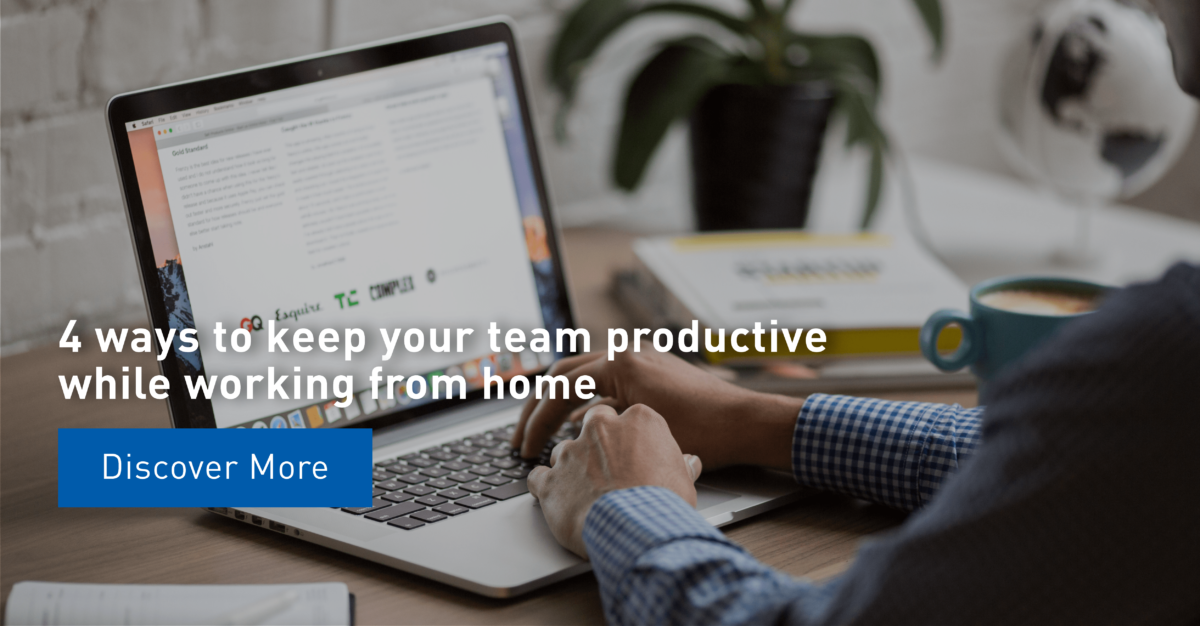 In this article, we shall be elaborating on the important topic of how to be productive working from home and being able to keep your team efficient and productive in a situation which came out of the blue.
This is because the first step in this process was the change from office working to remote working. The next step is to be able to try to adapt and retain a 'business as usual' approach. Keep reading to learn more.
Be sure to Communicate
It is very easy to get into a rut of not reaching out to your colleagues directly because you are not in a physical space together. So communication and even over-communication are key. When it comes to communication, it is also vital to establish a cadence of daily check-ins with your team so that you are on top of what everyone is feeling and also what they are working on.

So make sure to reach out over instant messaging, get on the phone with them or set up a video call. Connection is vital because at the end of the day, we are social creatures, and we need to be able to keep the feeling of teamwork going. 

Tell everyone to really engage during these meetings, by getting involved in group discussions. It is also very helpful and helps with inclusion when everyone has their camera on during a virtual group meeting so that the team can put a face to each name. It is a must more human element which helps the entire team to feel more engaged in the call. 

Using programs like Zoom are great in this scenario. It is fast and very reliable, and most importantly, it can handle a large number of people on a single call during a meeting. This program can be particularly useful as it enables everyone to put the 'gallery view' on and be able to see everyone on the call at once.
Set very clear expectations for the meetings
When setting up daily check-ins and after-work meetings, it is very important to decide on what the agenda of the particular meeting is about. This is because it helps make expectations clear and keep the meeting on track so that everyone can contribute in a positive and productive way. 

This is especially important when it comes to making big group decisions of more than two people. There can be numerous opinions and ideas being thrown around. So labelling a meeting in accordance with its importance level and subject matter can be very helpful. This will help people stay on topic and avoid any potential distractions that might arise.
Leave breathing room between meetings
Although over-managing a team is less likely to occur when everyone is remote working, when working from the office, people have the luxury of being able to walk around and socialise freely. This is less likely to occur while working remotely since the technology itself becomes the lifeline of the business and its interactions between colleagues.
So, in order to avoid giving colleagues the feeling that they are glued to the desk and screen during working hours, it is useful to allow for some breathing room between long video call meetings. This will give employees a bit of freedom to walk around, as though they were at the office. 
Decide on work time expectations
In a large number of remote working organisations, work times and individual time zones may vary. This is especially true with respect to organisations of a larger size that may span a number of countries. So since the team is not in the same physical environment, there needs to be clearly defined expectations on what the work times are, especially when people are working flexible hours. So that people are not waiting on other colleagues for answers, while they are not working.

There is a great way to do this on google calendar where you can actually set up the work time, which can then be shared so that people are aware of when they can get a hold of you. Time zones can also be set on this calendar, which is particularly useful when people are trying to keep in contact while in other countries, when there may be time differences.
Conclusion
We hope you have found how to be productive when working from home with these tips! These can be used in a variety of different businesses, of varying sizes and locations. 
However, it is safe to say learning how to be productive working from home is one thing, but security is important for the optimal peace of mind of each colleague. So check out our comprehensive business insurance packages at GasanMamo Insurance Ltd.

GasanMamo Insurance Ltd. is authorised under the Insurance Business Act and regulated by the MFSA