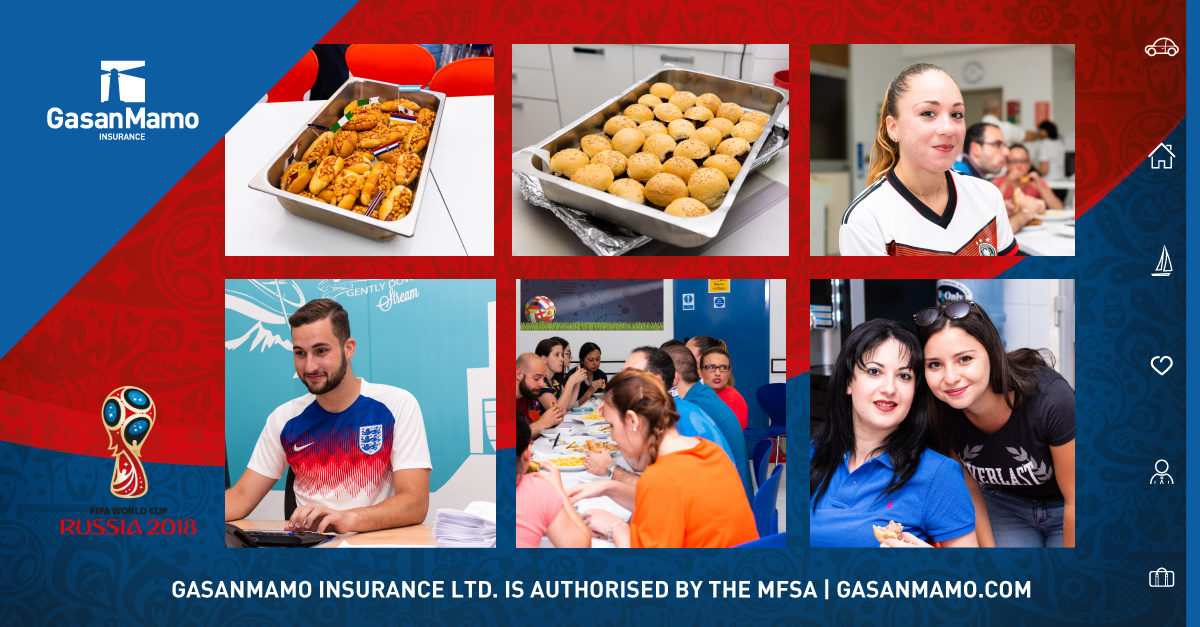 The World Cup fever is on. The world's biggest sporting event, which is taking place in Russia for the first time, is the talk of the town and whether you like it or not, since Thursday 14th June football has invaded everywhere including our workplaces. Not to mention the people who will keep up with the latest scores during working hours – ten games in the group stages will take place during European working hours. The offices at GasanMamo Insurance are filled with people that have been enthusiastically awaiting this world-wide celebration of soccer.
To celebrate this event, the management at the insurance firm organised a dress-down day on matchday two of this competition. All employees were invited to wear colours of the teams they are supporting, and the reception area at the Head Office in Gżira, has been dressed up with football décor.
"Undoubtedly an office has the direct purpose of productivity for business, but it also houses an extensive group of personalities with enthusiasm and desire for community and connection in the workplace. At GasanMamo we trust that this type of environment together with sport and friendly rivalry, not only brings employees together but also provide more opportunities for communication," said Vanessa Portelli, General Manager.
On Friday 15th June, the administration also organised a lunch for all employees, providing mini hamburgers and mini hot dogs. Moreover, throughout this special and exciting month, the company is organising a fantasy football league.  Thanks to these type of initiatives, the management at GasanMamo wants to create a high performing environment that is warm, friendly and an exciting place to be.
"Celebrating the World Cup is an effective and fun way to create this sense of comradery. Rather than viewing the World Cup as a potential distraction, you can utilize the celebration in several ways to increase office morale. No doubt this concept is creating a fun working culture for all of us at GasanMamo and enhances the concept of a close-knit family," said Olivia Sciberras.