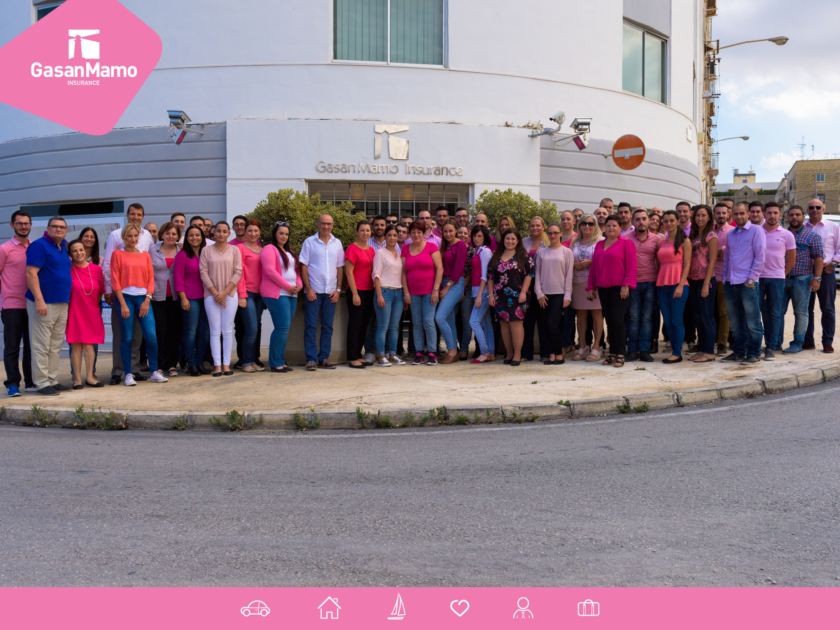 GasanMamo Insurance once again joined a worldwide Pink October campaign during the month of October in creating consciousness to help fight breast cancer. Earlier this month, the company organised a dress down day for everyone working at GasanMamo to raise money for breast cancer awareness and research while hosting pink-themed events and giving sweets treats to walk in clients and staff.
Wear It Pink Day
"We are proud to say that our dress down day, or as it generally known in other countries, 'Wear It Pink Day' has been a success at GasanMamo as all employees, including the management, stood together against breast cancer by wearing it pink. Obviously, the aim of this campaign is to support men and women, who have had or may have breast cancer and creating awareness," said Julian J. Mamo, Managing Director.
GasanMamo believes that awareness is instrumental in helping individuals take and make the necessary changes to combat breast cancer. This way, both men and women can familiarise themselves with their body and will be able to perceive any uncommon lumps that might develop over time. In reality, breast cancer in men is a rare disease as less than 1% of all breast cancers occur in men but it is very important that both men and women are aware of this cause.
GasanMamo Insurance thoroughly supports the importance in the constant effort to communicate and upsurge awareness amongst Maltese men and women, while reducing the stigma of breast cancer through information and teaching campaigns on symptoms and available treatment. It's a fact that better information has led to earlier discoveries of breast cancer in turn leading to a quicker response. Throughout this month, the company's head office facade in Msida Road, Gżira is being lit up in pink in observation of Breast Cancer Awareness. – www.gasanmamo.com