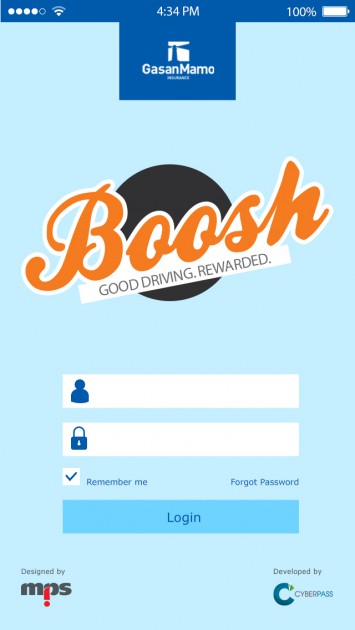 GasanMamo is launching a new smartphone app for those young drivers  who are currently benefitting from its Boosh insurance product. Boosh, gives young drivers, who are under 25 years old, an instant 65% discount on their car insurance, the independence and freedom of having their car insurance policy issued in their own name enabling them to start earning No Claims Discount from day one. With this app anyone insured under the Boosh scheme will now have in hand a user-friendly application to track their driving performance whenever they wish.
"We have always been at the forefront of innovation in the insurance industry. Through the launch of Boosh, back in 2014, and now with the introduction of this new app, we will be giving our young drivers not only the freedom of having their own car insured in their own name at a discounted premium, but also access to a very user friendly and cool app which will instantly give them details of their driving performance at all times. They can thus benefit from greater peace of mind and fully enjoy their reward for good driving," said Francis Valletta, Motor General Manager at GasanMamo Insurance.
Drivers who are under 25, and who apply for Boosh, get a 65% discount by simply installing a telematics device, which records the speed and distance covered by the vehicle. This information will be used to score driving performance which will be directly linked to the new Boosh application and all a driver needs to do is to maintain a healthy score is to drive cautiously. The current score can be accessed by the driver at any point in time via the app or via a dedicated website, and the driver will also be alerted when points are deducted.
The Boosh app will be available to download both from the Apple Store and from the Google Play Store as from the 29th January and will give users real time information on their driving performance. It includes important reminders as well as visual charts aimed at helping the driver improve the driving score. It will also give users the opportunity to search for their alerts by date and a full history on their driving performance and policy renewals. The application is easy to install, and can even be linked with Facebook, aside from offering easy access to important contact details for emergency services such as roadside assistance and the ability to contact directly GasanMamo about any problems.
More information on Boosh and Boosh app can be obtained by visiting any GasanMamo branch across Malta and Gozo or by visiting www.gasanmamo.com or GasanMamo's Facebook page.