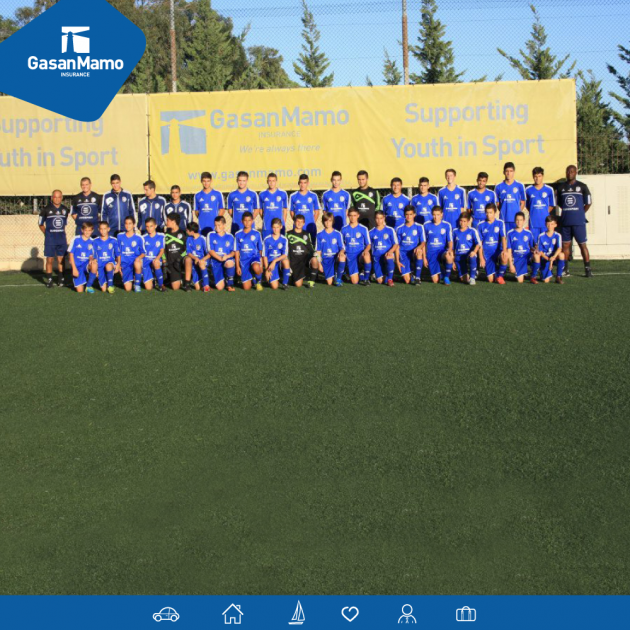 GasanMamo Insurance has been supporting the Mosta Football Club Youth Nursery for quite some years now and has continued showing its support during this season too. The sponsorship goes some way in providing financial stability for this Youth Nursery.
"At GasanMamo Insurance, we strongly believe in helping youth develop through sports and the beneficial qualities that are derived from discipline and team play. We've been committed to Mosta FC for years now and we are very happy that we provide youth with a facility and values that converge with our own," said Mark Mamo, General Manager at GasanMamo Insurance.
"Last season was one of our best seasons ever. Our Under 17 won the Youth FA Section A lleague for the first time and our Under 15 came in second in the Youth FA Section A league. We thank GasanMamo Insurance for their support which will help to continue to enhance the standard of all our players and give us the results that we work very hard to achieve," said Simon Henwood from Mosta FC Youth Nursery.
The Mosta FC Youth Nursery was founded in season 1988/89 by Architect Ludovico Micallef (now Vice President of the Malta FA) and Norman Saliba, who at the time was the secretary to the Mosta Football Club. Since its inception the Mosta Nursery had an excellent set-up and was always professionally managed. It always fielded strong teams, especially in the under 15 and under 17 years categories.
About GasanMamo Insurance
Able to trace its roots all the way back to 1947, GasanMamo Insurance is one of the leading insurance companies in Malta providing competitively priced and a different range of insurance cover types both offline and online. The insurance cover is various, including vehicle insurance, travel insurance, business insurance and private and family health insurance for both personal and commercial clients through the Maltese Islands. The company recognises the importance of customer value and ensures that it maximizes value by keeping insurance premiums as low as possible, yet maintaining the correct balance to provide service that meets the standards set by the company. The company's slogan or motto, We're Always There is something everyone abides to. The GasanMamo website offers comprehensive information to every customer and is easy to navigate so customers can get the support they need, when they need it most. Corporate Social Responsibility makes a big part of how GasanMamo Insurance goes about business. The company believes that giving back to people and communities is their duty and serves to enrich lives across the board.