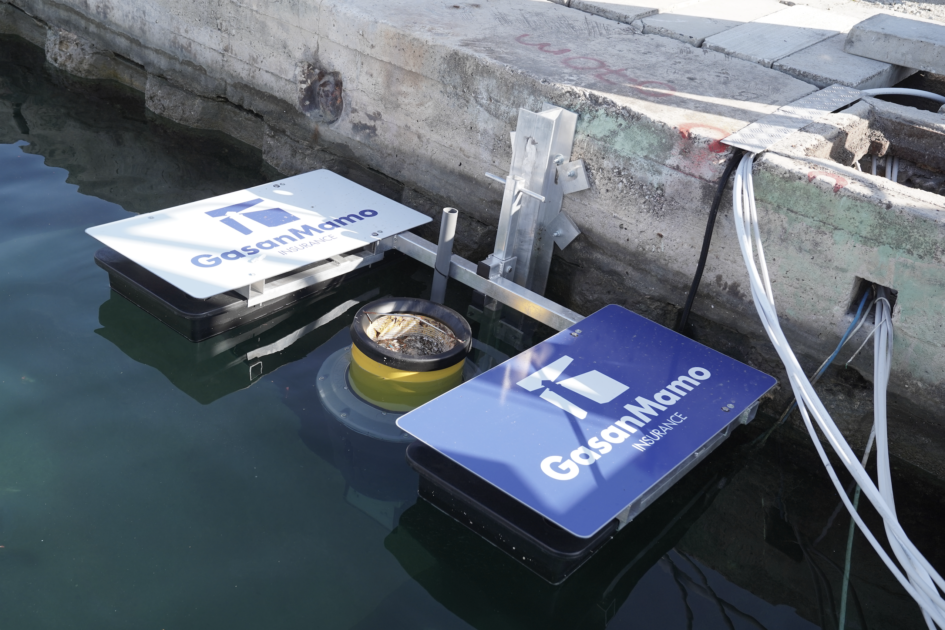 GasanMamo Insurance joins the battle against marine waste and pollution
It is no secret that the world's oceans are full of floating waste and plastic, which not only pollute the natural ecosystem but also pose a very real threat to its inhabitants.  In a bid to help the fight against marine waste and as part of their overall CSR strategy, GasanMamo Insurance is collaborating with the local NGO Zibel to sponsor a Seabin in the newly constructed Garden Marina in Ta Xbiex.
The Seabin project which originated in Australia addresses the global issue of waste affecting our oceans. The project aims at approaching the challenge from multiple angles with a key emphasis on education, research, and technology.
So how does it work? The Seabin is a floating rubbish bin that is placed in the water at marinas, harbours, yacht clubs, and ports, collecting all the flotsam and jetsam from the sea. Water is sucked in from the surface of the bin and passed through the bag filter inside it. The water is then pumped back into the marina, leaving waste and debris trapped in the bag to be disposed of properly. Interestingly the Seabin also has the potential to collect a percentage of oils and pollutants floating on the water surface which are so prevalent in busy marinas. 
"Marine pollution and plastic waste are increasingly serious issues both globally and here in Malta," said Mark Mamo from GasanMamo Insurance. "As an island surrounded by sea, we felt an obligation to put some of our CSR funds towards this environmental initiative which will help address this problem." 
GasanMamo Insurance tingħaqad fil-ġlieda ambjentali kontra l-iskart u t-tniġġis tal-baħar
Mhu ebda sigriet meta ngħidu li l-oċejani kollha fid-dinja, huma mimlija skart u plastik f'wiċċ l-ilma. Dawn mhux biss iniġġsu l-ekosistema naturali tal-ambjent tagħna, iżda jikkawżaw theddida reali għall-abitanti.  GasanMamo Insurance qed jagħżel li jagħti l-appoġġ tiegħu lill-ambjent ta' madwarna, u jgħin fil-ġlieda kontra l-iskart fl-oċejan. Dan kollu qed isir b'kollaborazzjoni bejn Żibel; Organizzazzjoni mhux Governattiva (NGO) u ma' kumpanija tal-assigurazzjoni billi tisponsorja reċipjent tal-baħar fil-Garden Marina li għadu kemm inbena, f'Ta' Xbiex.
Il-proġett tar-reċipjent tal-baħar, li oriġina fl-Awstralja, jindirizza l-kwistjonijiet globali tal-iskart li jħalli l-effetti tiegħu fuq l-oċejan. Dan il-proġett għandu l-għan li jindirizza l-isfida minn angoli differenti, b'enfasi ewlenija fuq l-edukazzjoni, ir-riċerka u t-teknoloġija.
Kif jaħdem dan ir-reċipjent? Ir-reċipjent tal-baħar huwa kontenitur tal-iskart li jżomm f'wiċċ l-ilma u li jitqiegħed fl-ilma fid-diversi portijiet marittimi, bl-għan li jiġbor l-iskart li jkun hemm fil-baħar. Li jiġri hu, li l-ilma jinġibed mal-wiċċ ta' dan il-kontenitur tal-iskart, u jgħaddi minn filtru tal-borża li jkun hemm fih. Wara, l-ilma jiġi ppumpjat lura fil-marina, u jħalli l-iskart u l-fdalijiet maqbuda fil-borża biex dawn jintremew kif suppost. 
Interessanti li dan ir-reċipjent għandu wkoll il-potenzjal li jiġbor fih persentaġġ ta' żjut u sustanzi oħra, li jniġġsu u li jżommu f'wiċċ l-ilma, u li huma tant komuni fid-diversi portijiet tagħna.
"It-tniġġis tal-baħar hija kwistjonijiet li dejjem qed isir aktar serja f'Malta u lil hinn," qal Mark Mamo, il-General Manager ta' GasanMamo Insurance. "Bħala gżira mdawra bil-baħar, ħassejna l-obbligu li npoġġu wħud mill-fondi tar-Responsabbilta' Soċjali Korporattiva (CSR) tagħna, lejn din l-inizjattiva ambjentali u li għandha tgħin biex tiġi indirizzata din il-problema."