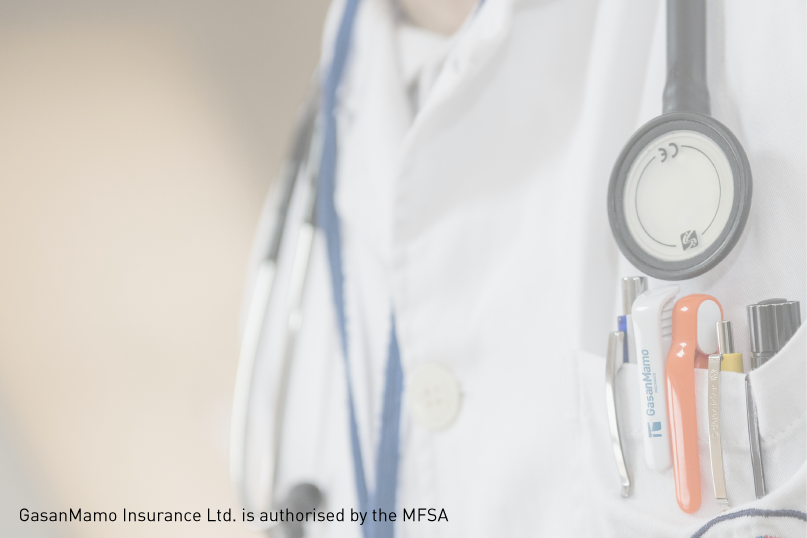 Health Insurance – GasanMamo
Private health insurance offers an alternative to the public health system; it will allow you to have medical treatment quickly in a private hospital or clinic, should the need arise.  Without health insurance, treatment in a private hospital or clinic, can be a large financial strain on the family.  Nevertheless, if one is insured, these unexpected costs will be covered by the health insurance plan. Private health insurance offers additional advantages; one may choose when the treatment will take place, the hospital or clinic where to be treated as well as the specialist who will treat you. Moreover, the privacy of an en-suite room equipped with other home comforts together with the special attention of the staff will be available. If one decides to take up a full refund plan, a direct settlement facility may be offered for day-case or in-patient treatment. This will allow the patient to focus more on the recovery, knowing that the financial side of things is being taken care of.
When choosing the appropriate insurance cover, it is important that one knows the different plans available from the insurer as not all plans offer the same level of benefits.  It is important that the insurer knows the needs to be able to help you select the right cover. The premium will vary according to the level of cover one chooses. It is important that the chosen health insurance plan has been explained to you thoroughly so disappointments will be avoided at claims stage.
Health insurance caters for both individuals and groups. When we speak about individual policies this includes the policyholder and his or her dependents. Group policies normally consist of ten or more persons generally brought together through their employment. The dependents of the persons who are covered by the group policy can also be added to the group. The pricing structure for groups and individuals is different. Individuals pay a rate according to their age whilst group rates depend on certain contributing factors such as the size, age and claims experience of the group. In group policies one can get a tailor-made plan which best suits the budget.  Employers find this very useful as they can find a product tailored around the needs and requirements of everyone including their employees.  For the employees; health insurance is an additional and useful benefit.
Claims are a crucial part of the whole insurance system and that is why good communication between the policyholder, the hospitals/clinics and the insurer is essential. This will avoid unpleasant situations like when one assumes that he is covered for certain treatment and in actual fact he is not, as the policy does not cover this.
Our aim is to settle all claims within seven working days from when we receive all the required documentation. It is important that one understands that health insurance is designed to cover the unknown. Consequently, an existing health condition will generally be excluded. One needs to state on the application form, any current illnesses or chronic conditions one may have. This is one of the reasons why contrary to popular belief, it is important to purchase a medical insurance policy while you are young and healthy.
Enrollment is easy, the application form can be downloaded from our website www.gasanmamo.com or collected in person.  The process takes just minutes to complete and no medical examinations are required. For more information or a no obligation quote, please feel free to browse our website, call or visit one of our several branches or tied intermediaries found around Malta and Gozo.