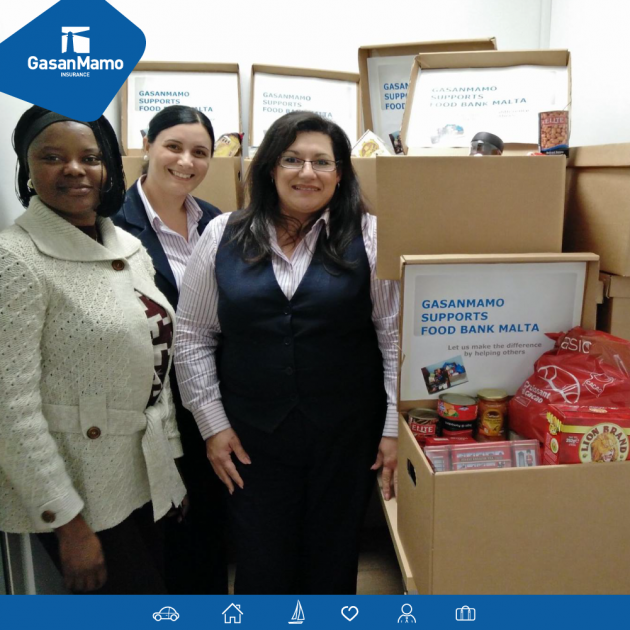 As part of their on-going effort to support great initiatives that have an instant impact on the community, GasanMamo Insurance organised an internal company food-drive, between the 18th and 24th March 2016. The food-drive was held at their office to support Food Bank Malta.
Supporting Food Bank Malta
GasanMamo employees were asked to donate non-perishable goods, such as canned goods, legumes, pasta and rice, oil and household items. These items were collected over the five-day period before the Easter long weekend. "This was an excellent occasion for GasanMamo to get involved in an endeavour that has an immediate beneficial effect on those barely managing to scrap by in our local community" said Julian J. Mamo, Managing Director at GasanMamo.
About Food Bank Malta
Founded and managed by the Alliance Foundation in 2014, Food Bank Malta's mission is simple: to act as the pantry to families within the community who struggle to put food on the table. For every eight people in Malta, there is one person who relies on Food Bank Malta, as their source of food every month. This poverty does not discriminate to any one particular locality, and is spread across the Island. Food Bank Malta's efforts over the years have seen it support those under financial strains, including the families of children or parents with disabilities, those incapacitated due to ill-health, separated women and the recently unemployed.
GasanMamo collected over 15 boxes of goods through-out the drive. These were then collected by Food Bank Malta
About GasanMamo Insurance
Able to trace its roots all the way back to 1947, GasanMamo Insurance is one of Malta's leading insurance companies providing competitively priced and a different range of insurance cover types, from car insurance and boat insurance to home insurance and health insurance for both personal and commercial clients through the Maltese Islands. The company recognises the importance of customer value and ensures that it maximizes value by keeping premiums as low as possible, yet maintaining the correct balance to provide service that meets the standards set by the company. Corporate Social Responsibility makes a big part of how GasanMamo Insurance goes about business. The company believes that giving back to people and communities is their duty and serves to enrich lives across the board.