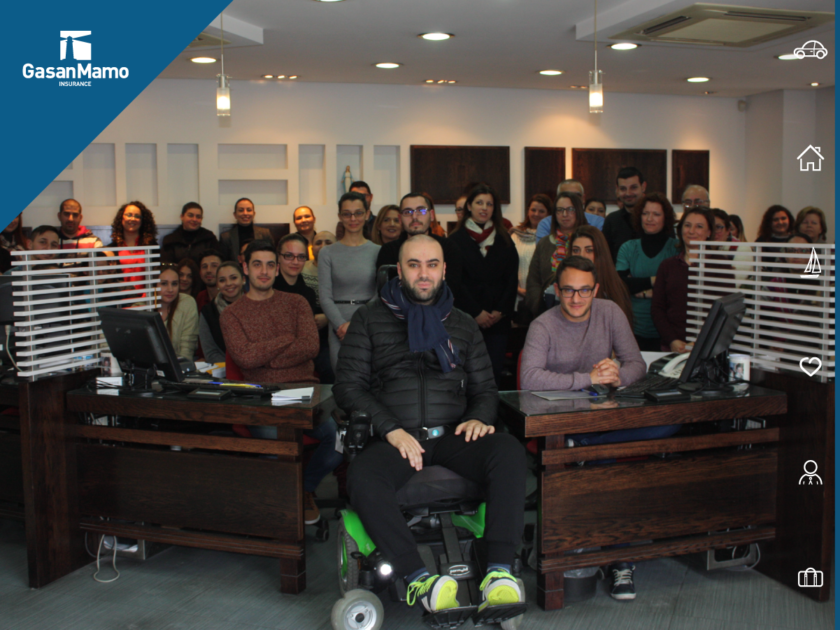 Earlier this month, GasanMamo Insurance employees welcomed Bjorn Formosa, founder of the ALS Foundation Malta, at the company's head office in Gżira. This courtesy visit took place just two days after Bjorn underwent a delicate operation to make swallowing food easier.
Bjorn is perceived to be an inspiration of courage to all those who suffer from ALS and other degenerative illnesses and the management team and employees at GasanMamo have been admiring him and following his brave and inspiring journey. As he was addressing all those present during his visit, Bjorn remarked the fact that his days are counted and the symptoms are developing at a quicker rate than expected. Bjorn said that he will keep on working hard and keep pace with his daily routine till the very end, while struggling to raise awareness and funds for ALS Malta.
"At GasanMamo, we see in Bjorn a person who is capable to teach us maturity, courage, and altruism like no one else. It's admirable to note that since the day he got diagnosed with ALS, he opted to focus his attention to help others by working on an intensive campaign all around Malta and Gozo to raise awareness and funds to fight this serious health condition. No doubt Bjorn's message represents hope and determination to fight till the end," said Julian J. Mamo, Managing Director at GasanMamo Insurance.
At the end of his visit, Bjorn was presented with a donation by Julian J. Mamo, on behalf of the management and staff of GasanMamo Insurance. The employees contributed to this donation and the management topped up the amount to assist in this good cause. Bjorn was diagnosed with ALS in 2015, and since then has devoted himself to raise funds and increase awareness of this condition.