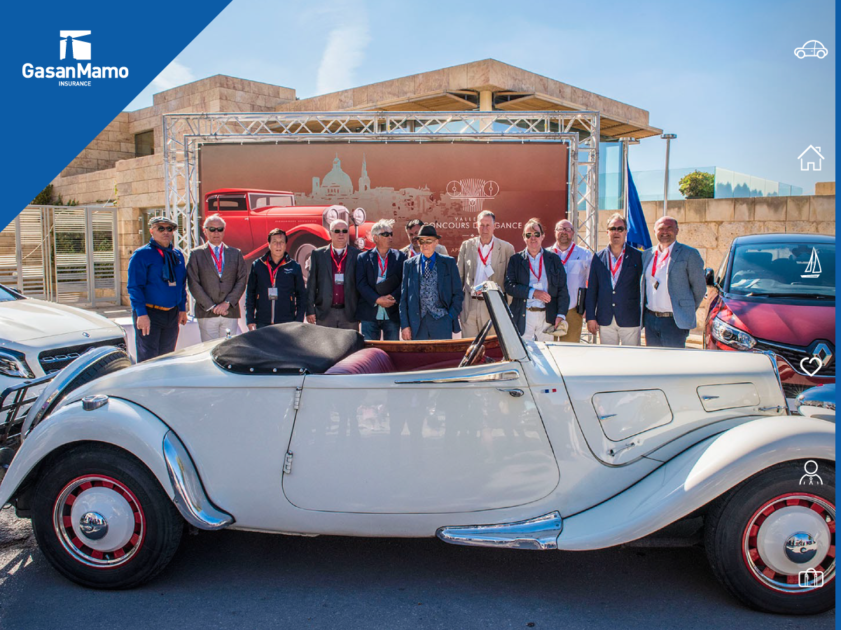 Malta's leading Insurance, GasanMamo were one of the main sponsors during this year's Valletta Concours d'Elegance which was held within the majestic scenery of Valletta on Sunday, 23rd April.  The idea behind the organisation of this event was to promote a collective love of vintage and classic cars, together with their preservation and enjoyment hence serving as an exceptional opportunity for local enthusiasts to highlight their pride and joy in an upmarket event that celebrated their passion.
The Valletta Concours d'Elegance merged automotive craftsmanship and design across several decades with the passion of classic car ownership. Local enthusiasts had the opportunity to participate in various categories of vehicles while being judged by expertise on the best entrant in each category, based on a set of criteria's which were determined prior to the event.
"It was an honour for us to support this event and to appreciate the passion shown by enthusiasts of classic cars in Malta. Such an event serves as an opportunity to notice the uniqueness and authenticity as well as the attention to design, styling, elegance, and state of preservation of all the cars that took part in this year's Valletta Concours d'Elegance.  At GasanMamo Insurance we consider our sponsorship as a sign of support to enthusiasts who spent countless hours restoring these vehicles to their former glory," said Mark Mamo, General Manager.
GasanMamo considers these cars as very valuable and like any other asset they need to be protected against the unexpected.  The GasanMamo's Collector's Vehicle policy is specifically designed to offer maximum protection to classic vehicle owners with a minimum of fuss.
The policy offers flexible premiums based on the miles driven per year and guarantees the value insured in the event of a total loss following a professional valuation.  It includes automatic coverage during car shows and when participating in club events.   It also offers competitive prices for those who have more than one vintage or classic car insured under one policy. For more information regarding this policy, log on www.gasanmamo.com