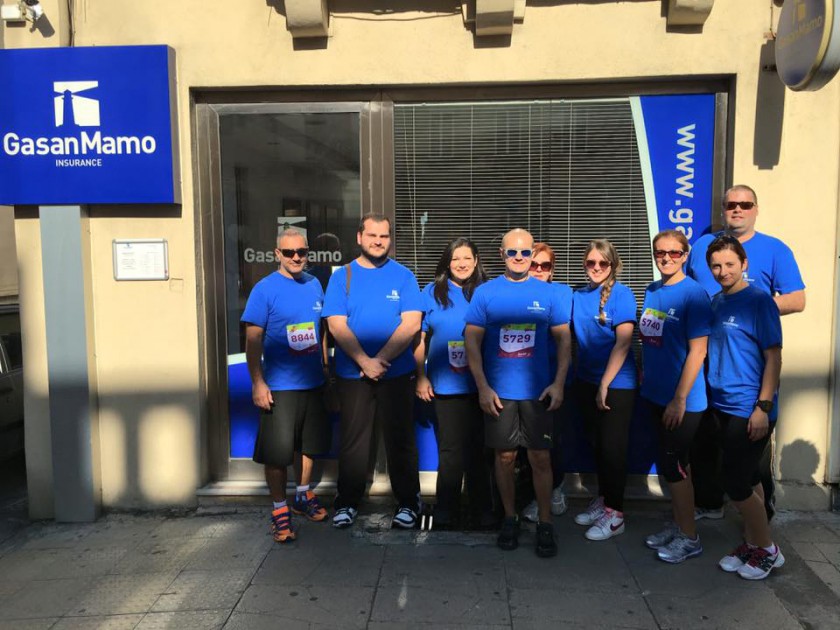 Employees join in the fun at the President's Charity Fun Run
A group of employees from one of the top insurance companies in Malta, GasanMamo Insurance, joined a staggering 16,000 participants which took part in this year's President's Charity Fun Run in aid of the Malta Community Chest Fund. The employees, who joined the President for the seventh edition of the run took off from four different points across Malta and ended up at St. George's Square in Valletta. The employees who took part in this year's edition of the fun run were Marcel Bonaci, Louise Bonello, Simon Borg, Max Borg Bonello, Josè Busuttil, Elaine Camilleri, Rachel Camilleri, Joseph Chetcuti, Giovanni Cortis, Andre Curmi, Joseph Fenech, Hubert Said, Olivia Sciberras and Maria Spiteri.
Benefits of running
Everyone has heard it before. Exercise is the best medicine. This is not just a saying, but it is the truth. Running can help decrease obesity, prevent type 2 diabetes, heart disease, high blood pressure, stroke and a number of other conditions. It can also help in the quality of your life. Here's how:
Running makes you a happy person – No matter how you feel, when you run you feel better. It can help you cope with anxiety and stress even after you are done from the run and will boost sleep quality, mood and concentration during the rest of the day.
Running helps you keep fit – While you are running you are burning calories and it doesn't just stop there. The burn also continues after you stop.
Running will keep you sharper – Running helps people defeat age related mental decline like switching between tasks, selective attention and memory.
Running adds years to your life – Even if you only do 30 minutes of physical activity 5 times per week, you will live longer.
About GasanMamo Insurance
Able to trace its roots all the way back to 1947, GasanMamo Insurance is one of the leading insurance companies in Malta providing competitively priced and a different range of insurance cover types both offline and online. The insurance cover is various, including car insurance, travel insurance and health insurance for both personal and commercial clients through the Maltese Islands. The company recognises the importance of customer value and ensures that it maximizes value by keeping insurance premiums as low as possible, yet maintaining the correct balance to provide service that meets the standards set by the company. The company's slogan or motto, We're Always There is something everyone abides to. The GasanMamo website offers comprehensive information to every customer and is easy to navigate so customers can get the support they need, when they need it most. Corporate Social Responsibility makes a big part of how GasanMamo Insurance goes about business. The company believes that giving back to people and communities is their duty and serves to enrich lives across the board.