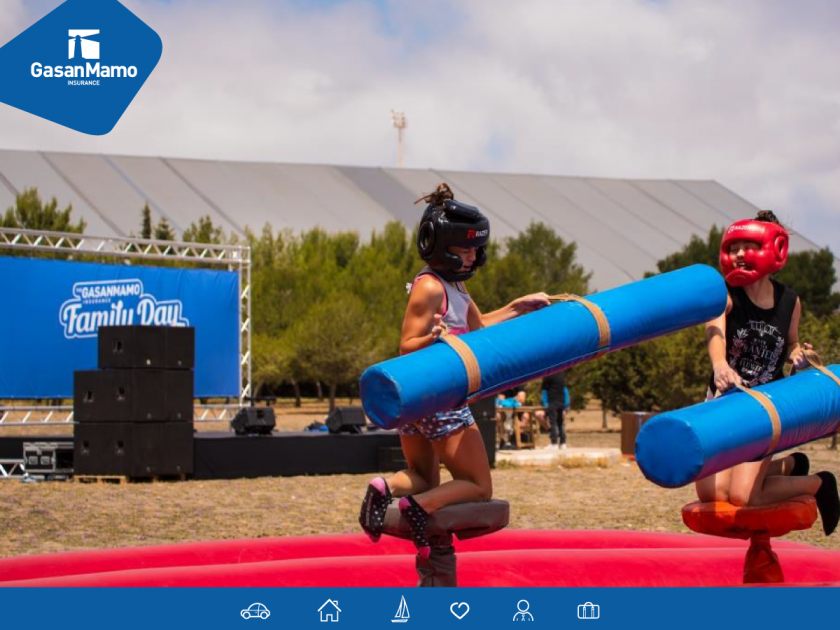 Over the past years, GasanMamo Insurance has become known as a company which embeds CSR in its' culture by repeatedly striving to support a number of good causes which leave a positive effect on the Maltese community. For the first time ever, GasanMamo organised the GasanMamo Insurance Family Day in aid of Inspire on May 15th and managed to raise €2,300 for the charity.
The GasanMamo Insurance Family Day in aid of Inspire
The GasanMamo Insurance Family Day in aid of Inspire saw several local presenters, including Larissa Bonaci and Carlos Farrugia, Christian Micallef, Tonio Darmanin and Manuel Aquilina, kicking off and presenting the event, with a number of activities for the whole family. "We are constantly trying to find new ways on how to support causes and raise awareness and understanding in our community," said Julian J. Mamo, Managing Director at GasanMamo. "We are satisfied with the response we got from the Maltese community and are very happy that we managed to collect a nice sum to go towards the great work that Inspire does to en-rich the lives of disabled people."
"We would like to thank GasanMamo Insurance for the time and effort it took to organise this event in aid of Inspire and the event-goers who contributed their donations," said Giovanna Mirabile Bartolo, Fund Raising Events Manager at Inspire. "Inspire believes in the right to equality and inclusion and we try to help everyone with a disability to achieve this. We do this by providing a number of services for disabled individuals and their families. None of this would be possible without the generous contributions such as this one."
About Inspire
Assisting over 1,000 individuals living with a disability, including those with Autism Spectrum Disorder, Down Syndrome, and Cerebral Palsy, Inspire's mission is to promote equality and inclusion throughout the broader community. Inspire provides a wide range of services, including occupational therapy, psychological services, physiotherapy, job coaching and many more much-needed subsidised programs for disabled individuals and their families. Inspire's staff and dedicated volunteer team deliver high quality support to help grow and nurture a sense of accomplishment, regardless of an individual's disability.
The GasanMamo Insurance Family Day in aid of Inspire was supported by GasanZammit Motors Ltd., MPS, V J Salomone Marketing Ltd. and Twistees. Donations to Inspire can be made by sending an SMS to 5061 8926 for a donation of €6.99 or 5061 9215 for a donation of €11.65. www.gasanmamo.com.
About GasanMamo Insurance
Able to trace its roots all the way back to 1947, GasanMamo Insurance is one of Malta's leading insurance companies providing competitively priced and a different range of insurance cover types, from car insurance and boat insurance to home insurance and health insurance for both personal and commercial clients through the Maltese Islands. The company recognises the importance of customer value and ensures that it maximizes value by keeping premiums as low as possible, yet maintaining the correct balance to provide service that meets the standards set by the company. Corporate Social Responsibility makes a big part of how GasanMamo Insurance goes about business. The company believes that giving back to people and communities is their duty and serves to enrich lives across the board.