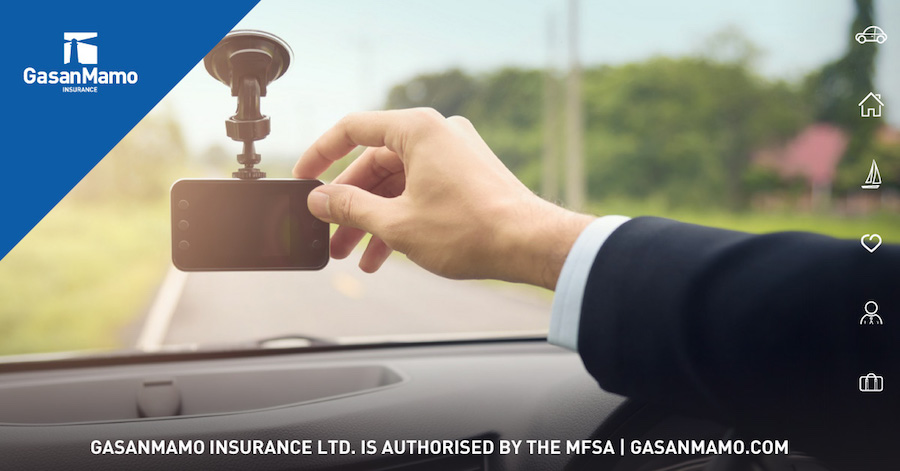 Malta's leading Insurance firm, GasanMamo teamed up with one of the largest computers stores locally, Scan to make dash cams (small windscreen mounted cameras that records a motorist's view) more accessible to motorists and to reward those drivers who provide video footage that contributes to resolving the issue of fault in a claim following a crash. According to a report published recently in the UK the sales of dash cams increased by 671 per cent in just two years (2014 to 2016), making dash cams one of the fastest growing areas of consumer electronics.
Nowadays, thanks to the social media, posting of video footage taken from dash cams on social sites like Facebook, manages to attract a lot of attention and that in certain cases, even locally, have even led to the prosecution of dangerous drivers by the police. Insurance companies, including GasanMamo, have also started to recognise the benefits of having video footage available to determine fault more quickly and to combat fraudulent claims such as those known as 'crash for cash' accidents. GasanMamo policyholders can now buy a new dash cam from Scan for a specially reduced price and can then benefit from a €50 discount on the policy excess or the next insurance premium if they present video footage with their claim.
"A dash cam can give you peace of mind in a stressful situation like a crash, it can also help safeguard your insurance premium and save you considerable sums of money as you would not lose your No Claims Discount and pay the policy excess if doubt about fault in an accident can often be quickly removed",  says  Julian J Mamo, GasanMamo's Managing Director.
Stephen Scerri, Operations Director at Scan noted: "With new innovations in the technology of dash cams coming in all the time, these helpful gadgets are becoming even more desirable to motorists. We have noticed that dash cams are one of the most frequently searched for product categories on our website."
gasanmamo.com