It was an unforgettable experience for four Maltese athletes competing in this year's Marathon desSables; a gruelling, 250-kilometre foot race through the Sahara Desert. Daniel Agius, Steve Chetcuti, Ben Mifsud and Jack Schiavone took part in an international race, which is run over six stages on successive days to raise funds for young triathlete, Jake Vella. The local athletes were supported and sponsored by leading insurance company, GasanMamo who has declared itself as to be associated with this initiative in helping Jake, who suffers from a rare condition called ROHHAD (Rapid-onset Obesity with Hypothalamic dysfunction, Hypoventilation and Autonomic Dysregulation).  
The four athletes performed well in this marathon and Steve achieved the best result, reaching his goal to finish amongst the first 100 participants in Morocco. He managed to place 75thoverall and 25thin his respective age group hence clinching a positive result.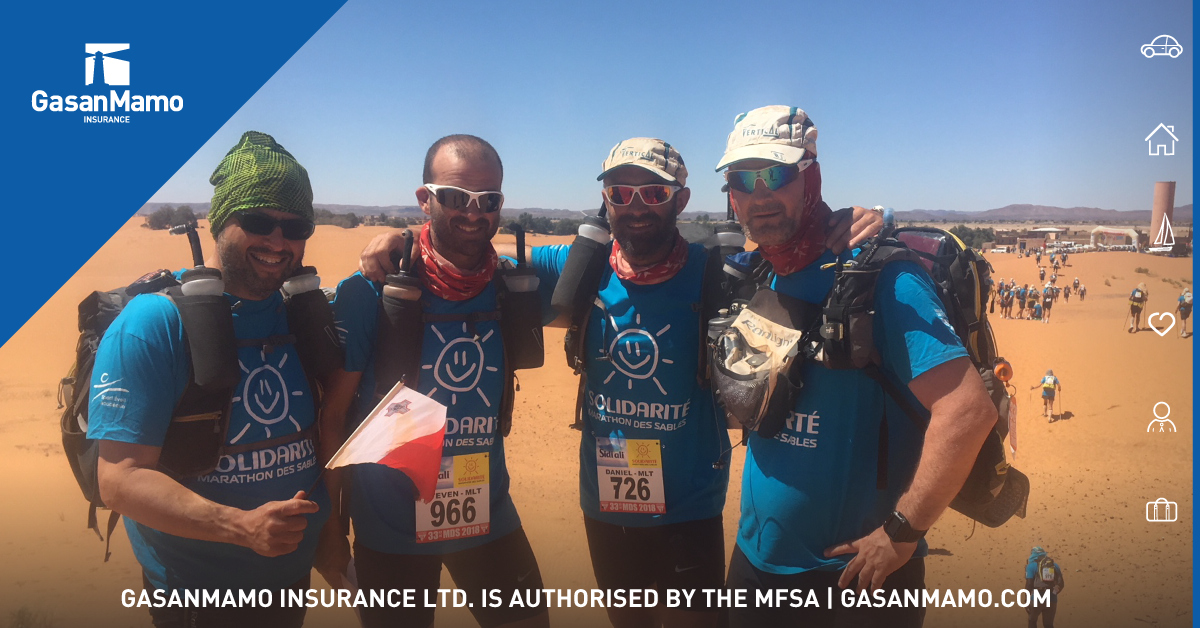 "It was my first time taking part in an event like this, so you will always have question marks in your head, have I prepared enough? Do I have enough food, etc? You must respect the desert and this marathon won't give you a chance to recover if you overdo it. It was very tough not only in the running aspect. We had to adapt to hot and dry conditions, we are used to humid and hot climates," said Steve.
The toughest moment for Steve was the last 15km in the long stage. He recalls that this stage was "dark, had my head torch on. I could see the finish line in the last 6km but it's very difficult to judge the distance. It felt never ending and I had to dig deep to maintain my place and position. I put on my MP3 player, listened to my favourite songs, and managed to pace till the end with an Austrian runner. Undoubtedly this was an emotional moment."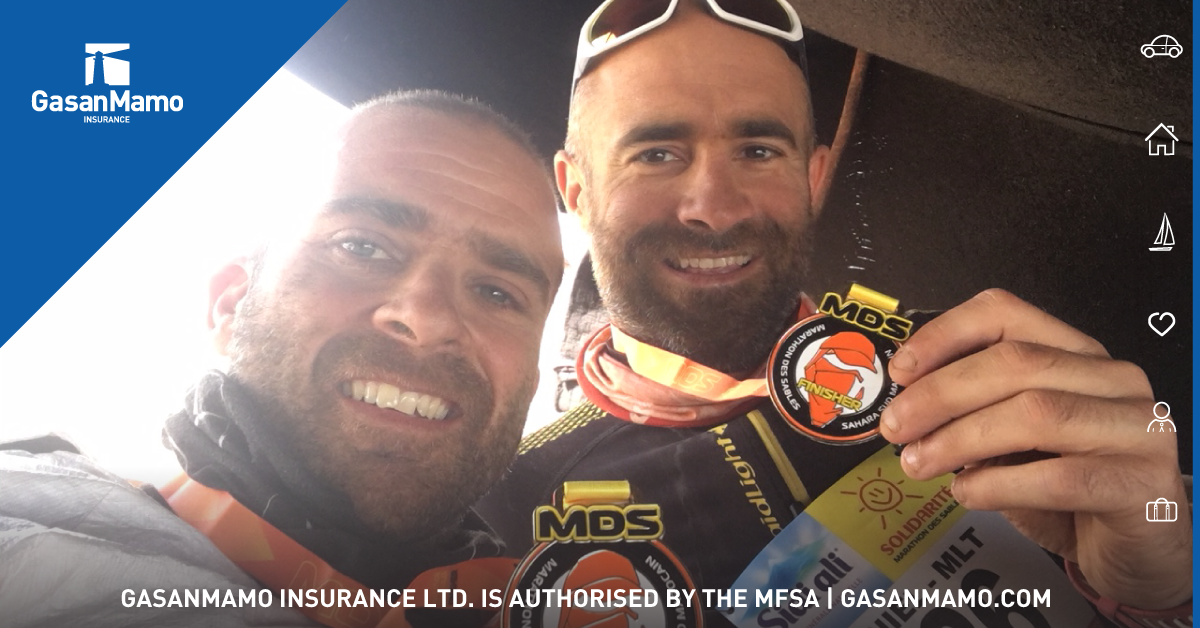 Ben Mifsud, who had started running in 2013 with the sole intention of losing 40kg in weight and manage to run a half marathon, describes this marathon as a "challenge beyond my imagination, which pushes ones physical and mental limits to conquer." For Ben, this race gave him the opportunity to be in contact with the real nature, away from the hectic routine, and put him back to basics, survival mode for a week.
"I would highly recommend the Marathon desSables to other participants, but I would not plan to redo it myself. The reason is that I would prefer to experience something similar in a new different environment like; jungle, mountain, or ice. Loads of tough challenges are available around the globe, which something is telling that I am not going to stop looking for," said jokingly Ben.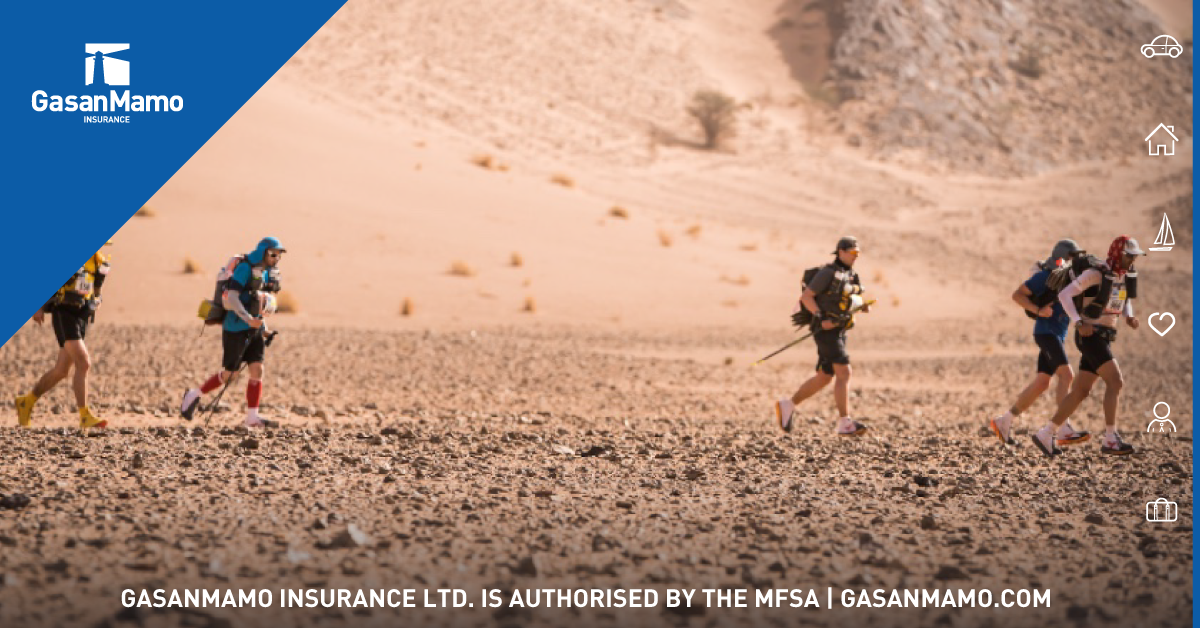 On the other hand, Daniel Agius, who has been actively participating in long distance running and triathlon races for the past seven years, said the he would "definitely" redo this marathon again describing it as an amazing experience and "a bit tougher than I imagined but, on the whole, it was a great race." For Daniel the 86.2km stage was the hardest for him but looking back, this experience was magical and unique as "the Sahara Desert is a beautiful place and met lots of nice people competing in one of the toughest marathons in the world."
Prior to this marathon, Jack Schiavone had made it clear that he will do his utmost to cross the line and to collect as much funds as possible for Jake. This mission was accomplished and Jack describes this experience as "very hard, physically, mentally and rewarding". He will get some rest and will rethink about if he had to do the Marathon des Sables again in the future.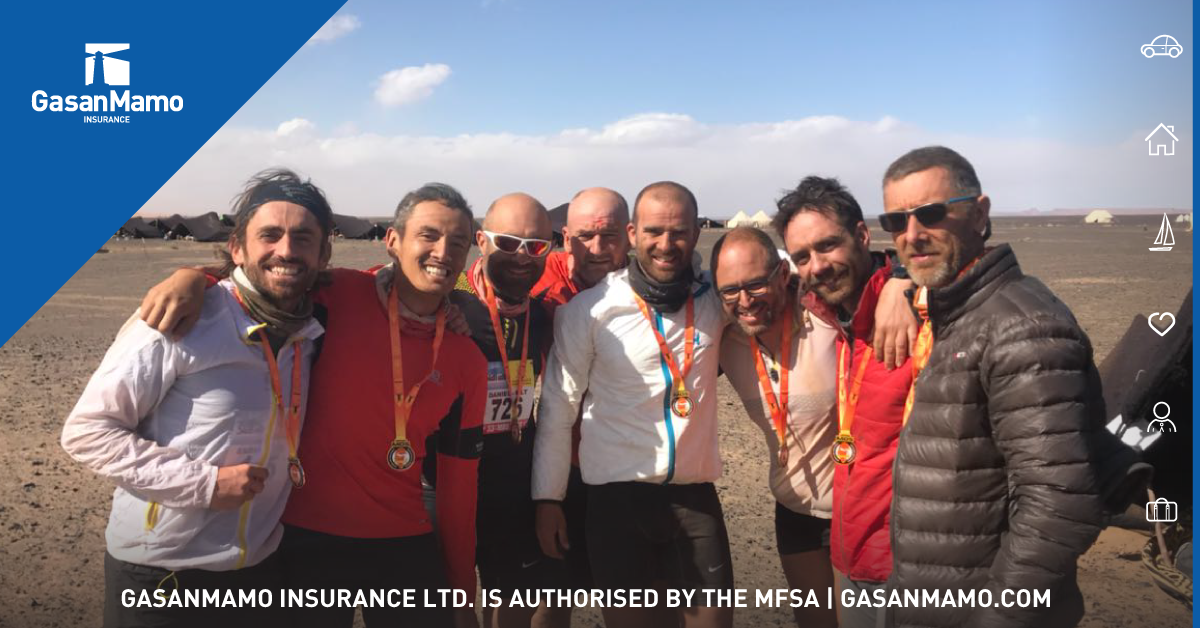 No doubt an experience like this is characterised by treasurable moments, some of them funny and to share with others. "The funniest moment was when we put a red spot on Jack's forehead during one of our sleepless nights. When we woke up we called him Gandhi all day. He noticed when a fellow runner told him why he had this spot on his head. It was a good laugh," said Steve.
Ben recalls every minute spent with Daniel, Steve and Jack under the tent after each stage. "Though we were over exhausted and perhaps in pain, we still cracked jokes continually and making fun of each other. Nonetheless, the noisy us put the rest of the tent in the sideline," said Ben.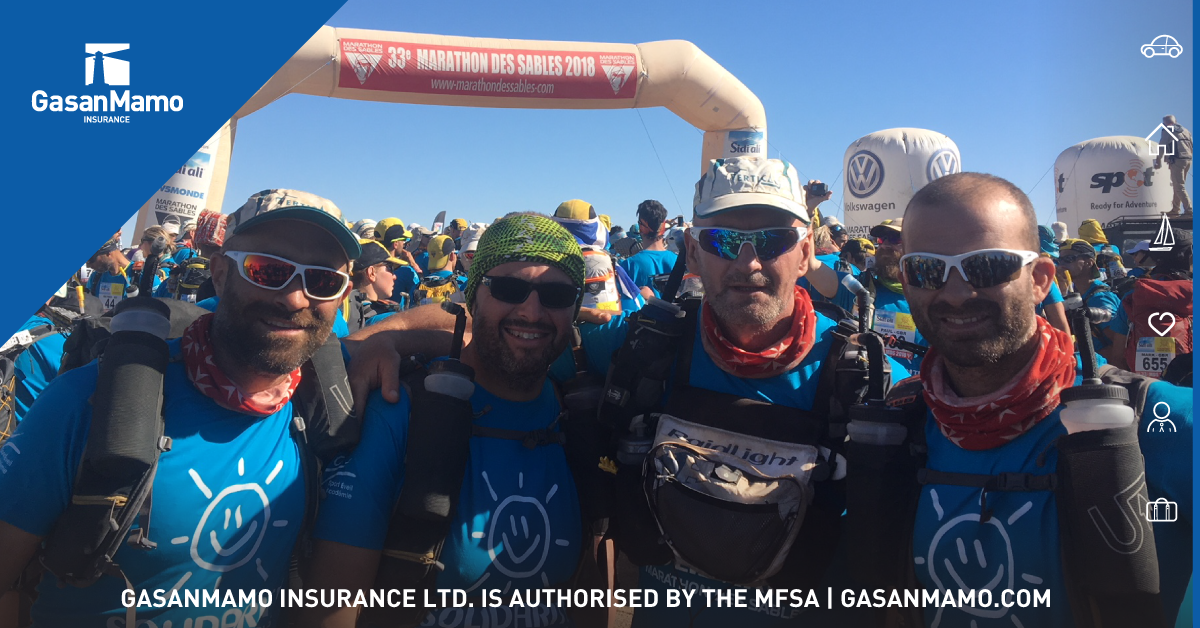 The four Maltese athletes are proud of what they did and for giving a helping hand to youngster Jake Vella. Moreover, they had words of praise for the support of local business companies, most of all GasanMamo Insurance.
"The staff at GasanMamo had the opportunity to meet Jake and the four Maltese participants prior to their trip to Morocco. Everyone at work was speechless by their determination to perform well and to support Jake to raise funds for a good cause. We are honoured to have supported this initiative and undoubtedly, we will continue to support Jake and these courageous Maltese athletes in their quest to raise more funds and awareness for this rare condition called ROHHAD. I highly think that the Maltese society should be indebted to these people," said Julian Mamo, Managing Director of GasanMamo.