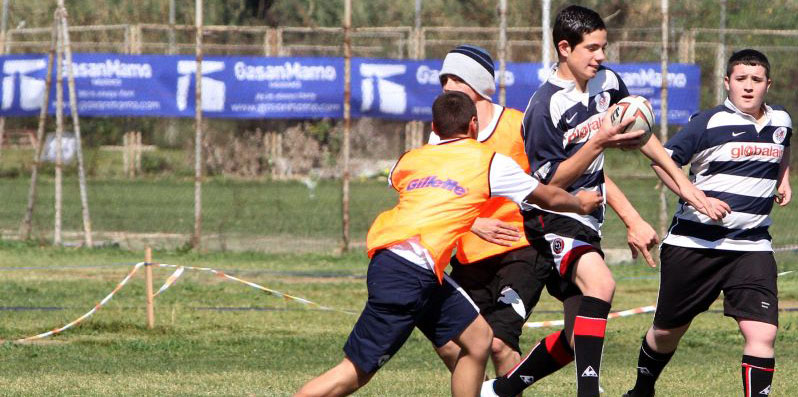 As part of its sponsorship of the Malta Rugby Federation Union, GasanMamo Insurance also sponsors Community Coaches – a programme whereby foreign coaches with vast experience in rugby encourage youth dvelopment in the sport, educate coaches, players and officials and promote the ideals of the IRB, discipline and respect.
"GasanMamo has renewed its agreement with the MRFU to support learning and growth opportunities for youth in Malta," said Julian J Mamo, Director at GasanMamo. "Throughout the years that we have been sponsoring youth rugby in Malta, we have followed closely its development and success with satisfaction. The Community Coaches Initiative is yet another landmark that will help enhancethe potential of youngsters in rugby."
The MRFU have employed four Community Coaches for this year's season, two of which decided to stay on from last year. Mark Davey, currently playing for the Malta National team and who has previously played professional rugby for Perpignan in France will be taking care of Overseas RFC. Steven Meenagh will be working with Gladiators RFC and brings back from Glasgow a great deal of enthusiasm and youth coaching experience. He played rugby from the age of 7 and recently carried out the Scottish Rugby Union's 3 year modern apprenticeship.
Two fresh faces, full of energy and commitment will also get on with the task in hand. Daniel Holliday played for the Maltese National team for several years and has previously played for the Cardiff Blues, where he was also their Community Coach for 3 years. This season, he will be working hand in hand with Stompers RFC and is really looking forward to the challenge of youth development. John Mann, a keen rugby player and who is a UKCC Level 2 Coach is also very much looking forward to getting 'stuck in' and passing on his considerable knowledge to youth rugby players and coaches in Malta. He will be working with Kavalleri RFC.
MRFU is planning on holding youth rugby competitions in schools and rugby clubs, ranging from tag to full contact, depending on age and ability with the hope of drawing more children into the sport. The School of Rugby will also continue to be held at Marsa every Sunday morning between 9.30am and 11.30am with competitions for children under 14 years of age, sponsored by GasanMamo. Last year, the school of rugby proved to be a great success and saw children as young as 5 start the sport. Parents are also encouraged to take part, leading to a fun competition between the child and the parent.
"The Community Coaches are looking forward to building on last year's success," said Martin Galea MRFU President. "A very experienced team of young men, with a bundle of energy and the willingness to promote the sport they love, should see the youth of Malta build and develop like never before!"