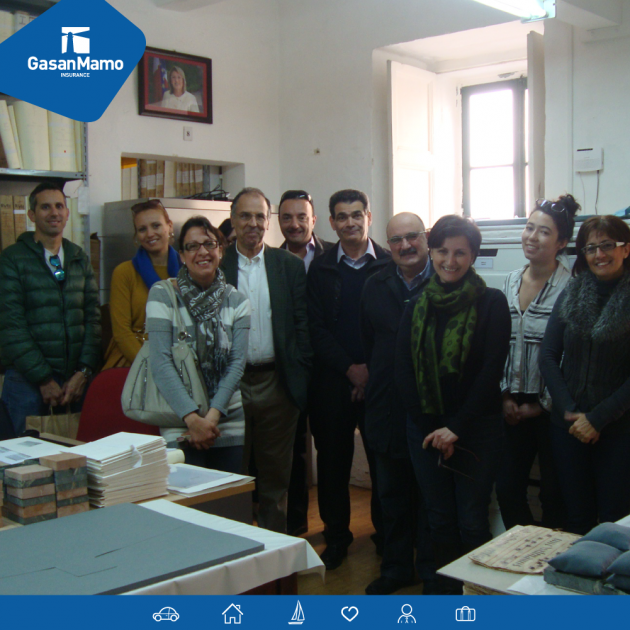 GasanMamo recently hosted clients to a special visit to the Notarial Archives in Valletta. As a strong advocate of corporate social responsibility, GasanMamo has for the past few years sponsored a long-term restoration project, which has endeavoured to preserve several volumes of deeds and documents at the Notarial Archives. These documents offer a glimpse into daily life throughout some of the most remarkable and unsettling times in Malta's history.
Established in 1640 by the Grand Master Jean Baptiste Lascaris, the Archive serves as the repository of over 20,000 registers, containing records which reveal the fabric of Maltese life throughout the past six centuries. During the visit, GasanMamo's clients were transported through time by being treated to displays of prised original documents, and provided with information about the history of the Archive, which stretches as far back to the medieval period.
A word on the Notarial Archives
"GasanMamo supports many great causes, and we are very proud of our continued support tothe Notarial Archives" said Julian J Mamo, Managing Director at GasanMamo. "We consider these visits to be a hugely rewarding experience to share with our clients. The Archive provides a rare window into Malta's past and its place in Mediterranean and European history, and our participation in this project is not only a way for us to understand our past, but a path for us to ensure our heritage is preserved for future generations."
So far the rehabilitation of the Archive has stemmed the tide of the deterioration process, and has provided easier accessibility for local and international students, scholars, historians and researcher.
About GasanMamo Insurance
Able to trace its roots all the way back to 1947, GasanMamo Insurance is one of the leading insurance companies in Malta providing competitively priced and a different range of insurance cover types both offline and online. The insurance cover is various, including vehicle insurance, travel insurance, business insurance and private and family health insurance for both personal and commercial clients through the Maltese Islands. The company recognises the importance of customer value and ensures that it maximizes value by keeping insurance premiums as low as possible, yet maintaining the correct balance to provide service that meets the standards set by the company. The company's slogan or motto, We're Always There is something everyone abides to. The GasanMamo website offers comprehensive information to every customer and is easy to navigate so customers can get the support they need, when they need it most. Corporate Social Responsibility makes a big part of how GasanMamo Insurance goes about business. The company believes that giving back to people and communities is their duty and serves to enrich lives across the board.