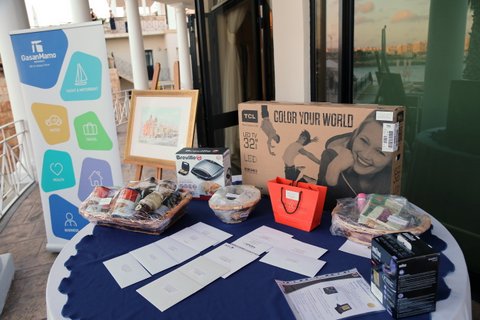 Top insurance company in the Maltese Islands, GasanMamo Insurance has supported the Malta Diabetes Association in their annual fund raising event, Dine 4 Diabetes held in June at the Westin Dragonara Hotel in St. Julians. This year's event was attended by over 350 guests from all walks of life and had the main aim to raise funds that will assist the Association in its mission. "As the leading insurance company in Malta, we feel that helping out associations such as the Malta Diabetes Association is rooted in our values. The association emphasises the importance of education in order to empower its members to deal with their day to day management and problems, a value which we also truly emphasise with our staff," said Julian J. Mamo, Managing Director at GasanMamo Insurance. The Malta Diabetes Association, founded in 1988 by Mr. Tancred Zammit is a voluntary non-profit making entity including parents of children with diabetes, persons with diabetes and paramedics as part of its committee.
About the Malta Diabetes Association
The Malta Diabetes Association was fortunate to have been led by dedicated persons who all had Diabetes at heart. These are Mr. Tancred Zammit and Dr. Antoine G. Schranz who were founding members of the Association; Professor Joseph Azzopardi and Mrs. Anna Zammit Mckeon who has been leading the Association since 2001. Their headquarters were always domiciled in Valletta, Malta's capital city, first in South Street, then within the British Legion Premises in Melita Street. Since 2012 the Association started operating in a renovated apartment situate at 74/1, Melita Street, Valletta. Our Headquarters comprises of a large conference room, administrative office and two meeting rooms.
About GasanMamo Insurance
 Able to trace its roots all the way back to 1947, GasanMamo Insurance is one of Malta's leading insurance companies providing competitively priced and a different range of insurance cover types, from car insurance and boat insurance to home insurance and health insurance for both personal and commercial clients through the Maltese Islands. The company recognises the importance of customer value and ensures that it maximizes value by keeping premiums as low as possible, yet maintaining the correct balance to provide service that meets the standards set by the company. Corporate Social Responsibility makes a big part of how GasanMamo Insurance goes about business. The company believes that giving back to people and communities is their duty and serves to enrich lives across the board.