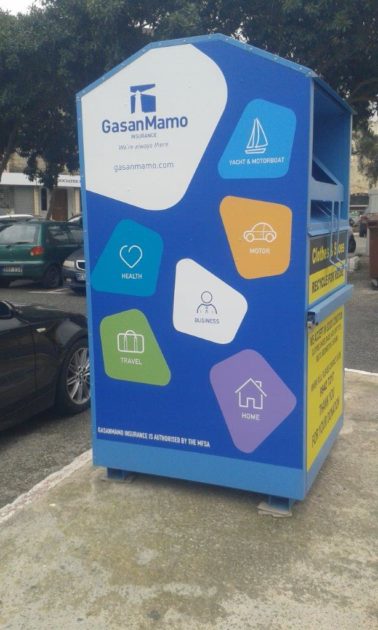 GasanMamo Insurance are sponsoring a collection scheme launched by Refab Malta. Refab collect used clothes and other textiles via their network of clothes bins.
From time to time, especially during change in seasons, we get rid of some of our clothes, mostly because we don't fit in them anymore or they have gone out of fashion. When this happens, many would start thinking of what to do with these clothes that are not needed any longer. Throwing away your old clothes is not the best solution and will surely not help the environment. GasanMamo firmly believes that together we can make Malta cleaner and invites everyone to make use of these bins.
A Word From GasanMamo
"At GasanMamo we feel the obligation to be more conscious about our environment. We consider protecting the environment as one of the most critical issues of our time. It is necessary for all of us to act responsibly and to do what we can to minimize the impact on the environment. In this regard, we are thankful at the hard work being done by Refab who are responsible for the recycling processes and support systems to collect these unwanted items" said Mark Mamo, General Manager at GasanMamo.
Refab Malta
It's interesting to note that clothes that are in good condition, are re used and given to people in need. The others are recycled and are used to produce new clothes. These recycled clothes are compressed in a safe bale, packed and loaded onto a container truck – and are ready to be shipped all around the world. Presently there are already several bins around Malta and Gozo. For further information about this campaign visit, one can visit the Refab Malta.
GasanMamo's policy is to care for our environment and this is not the first time that the company is supporting recycling projects. Throughout the year the company encourages measures which promote recycling and reduced energy consumption amoungst its employees.