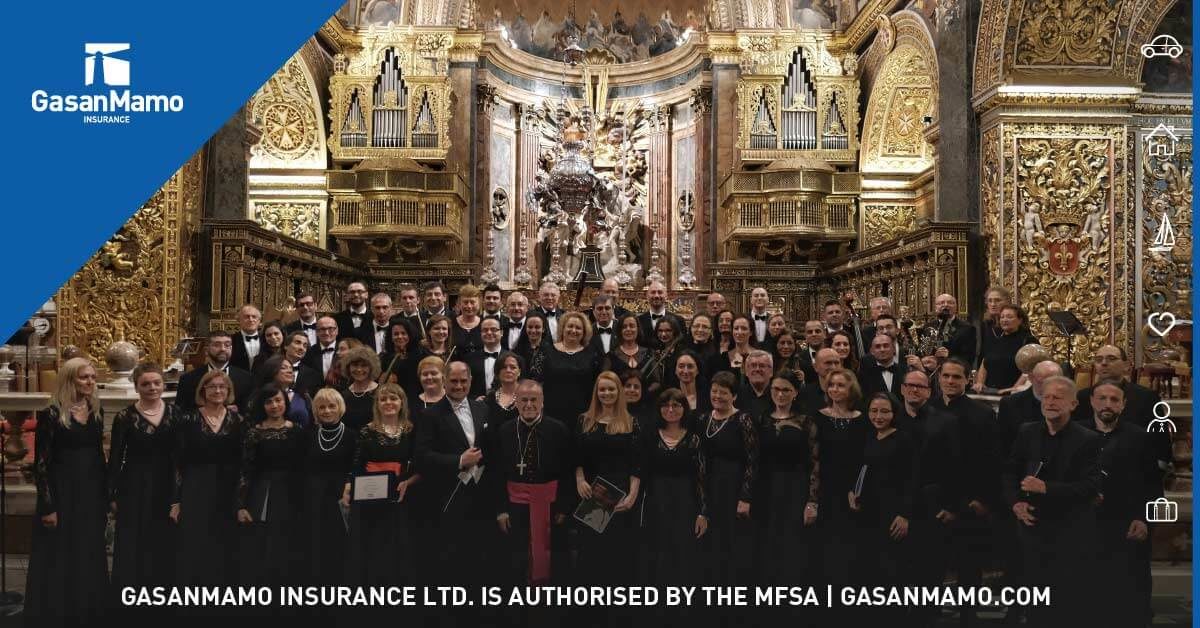 GasanMamo Insurance has recently supported the organisation of two separate and different musical concerts which were held in March, in Valletta and Mdina respectively. The first representation, which was held at St. John's Co-Cathedral in Valletta, was an outstanding rendition of Messa da Requiem performed by the St. Paul Chamber Ensemble.  The second concert La Passione di Cristo was presented by The Malta Police Band and held at the Metropolitan Cathedral of St Paul in Mdina.
Messa da Requiem took place on Friday, 16th March and it is the latest orchestral work written by HE Chev Mro Mark Agius, one of the most talented musicians and composers to emerge recently in Malta. The concert was held in collaboration with the St. John Co-Cathedral Foundation, under the distinguished patronage of Archbishop Emeritus Mgr. Pawl Cremona. The talented young violinist Eric Bugeja led the orchestra.
La Passione di Cristo was performed by the Malta Police Band on Saturday, 24th March under the direction of Senior Superintendent, Mro, Anthony Cassar. The sacred concert included reflections connected with Holy Week, and was under the distinct patronage of the President of Malta, Marie-Louise Coleiro Preca. During this concert, there was also the participation of the Amadeus Chamber Choir, the Malta Police Band, guest musicians together with soprano Ruth Sammut Casingena, tenor Brian Cefai, organist Chris Rolè and harpist Esmeralda Galea Camilleri. This concert was in aid of Id-Dar tal-Providenza.
"We are honoured to support these types of musical representations in Malta and our commitment remains the same, to offer our help and assistance to ensure that we have the highest level of excellence in music with the best participants. Besides it's even more significant to note that through these type of sponsorships, our company is also helping local entities, such as Dar tal-Providenza, that are constantly doing invaluable work to our local community and help those in need," said Julian Mamo, Managing Director at GasanMamo Insurance.