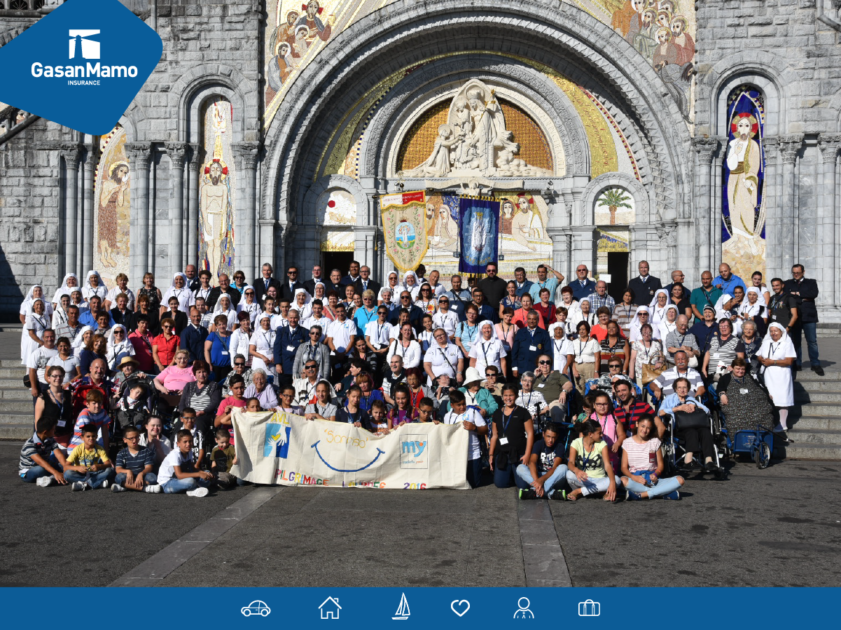 GasanMamo Insurance has recently supported the Assoċjazzjoni Voluntarji Lourdes (AVL) in their annual pilgrimage to Lourdes.
A word from Julian Mamo and the AVL
"GasanMamo Insurance has been supporting this initiative for quite a long time," said Julian Mamo Managing Director at GasanMamo Insurance. "Through AVL we help people in need and make it possible for sick people to accomplish their dream and go on this pilgrimage. Despite illness and pain, the patients still wear beautiful smiles on their faces and this encourages us so much more to keep contributing to this special cause and it also teaches us to change our perspective on what is really important in life."
"Our hard work and excellent organisation paid off," said Amata Camilleri from the AVL. "This year's pilgrimage was a resounding success and everyone expressed their gratitude and satisfaction. There is always much trepidation before leaving with so many things that can go wrong but Our Lady of Lourdes always sees us through the difficulties and helps us solve them. I cannot but thank all the volunteers and the members of the AVL for all their hard work and certainly all those generous souls who financially helped us on this wonderful experience."
About the Assoċjazzjoni Voluntarji Lourdes
The AVL is a voluntary, independent and philanthropic organisation that embraces the teachings of the Roman Catholic Church and promotes universal devotion towards Our Lady. Furthermore, AVL organises and co-ordinates pilgrimages for the sick to Lourdes and other Sanctuaries. The AVL has the aim of bringing together dedicated persons inspired by charity to voluntarily assist the sick throughout such pilgrimages.
"I became overwhelmed by the manifest deep faith and hope of those seeking divine intercession of Our Lady. The time spent at the religious functions during the pilgrimage was very profound yet the many hours of free time were very joyful. I wish to thank all those, who, with a lot of dedication worked hard to make this pilgrimage a successful and a spiritual enriching experience," said a patient who went on the pilgrimage. www.gasanmamo.com.
About GasanMamo Insurance
Able to trace its roots all the way back to 1947, GasanMamo Insurance is one of Malta's leading insurance companies providing competitively priced and a different range of insurance cover types, from car insurance and boat insurance to home insurance and health insurance for both personal and commercial clients through the Maltese Islands. The company recognises the importance of customer value and ensures that it maximizes value by keeping premiums as low as possible, yet maintaining the correct balance to provide service that meets the standards set by the company. Corporate Social Responsibility makes a big part of how GasanMamo Insurance goes about business. The company believes that giving back to people and communities is their duty and serves to enrich lives across the board.