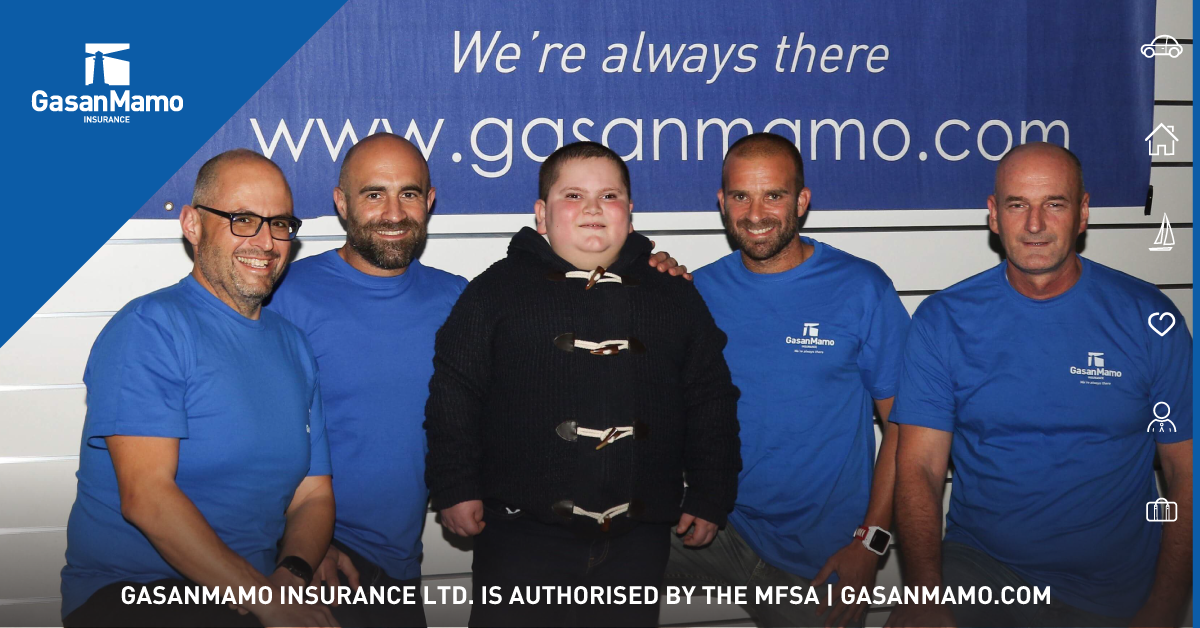 Social good is always on the agenda of GasanMamo Insurance and the company is proud to be supporting and sponsoring four Maltese athletes who will be taking part in this year's Marathon des Sables, to raise funds for young triathlete, Jake Vella. Daniel Agius, Steve Chetcuti, Ben Mifsud and Jack Schiavone will be competing in a gruelling, 250-kilometre foot race through the Sahara Desert.
Jake has been hitting the news lately as he is approximately one out of 75 people in the world with a rare condition called ROHHAD (Rapid-onset Obesity with Hypothalamic dysfunction, Hypoventilation and Autonomic Dysregulation). This condition is a rare disease where obesity is hormonal meaning that no matter how hard Jake trains or eats healthy, he cannot stop his body from gaining weight.
Jake is a regular participant in local Triathlon races and GasanMamo felt that it's the company's duty to help and support these brave men to travel to Morocco and participate in this year's Marathon des Sables. GasanMamo believes that this type of support allows companies to take active interests in their own communities and leads to a huge boost in employee morale. The company is proud that the employees are willing and eager to support Jake and the four Maltese athletes.
The race is run over six stages on successive days. Each competitor must carry their own food, water and sleeping gear and, judging by last year's race when about 10 percent of the field succumbed to the harsh conditions and pulled out, not all of them will make it. The four Maltese athletes have been training hard over the past few months and they have been constantly testing their endurance and stamina.
Last August, Steve participated in the Ironman Triathlon in Sweden, which is organised by the World Triathlon Corporation. Following that long-distance race, Daniel and himself decided to compete in another tough and exciting challenge. "Our next task on our bucket list was the Marathon des Sables. We even managed to persuade another two of our friends, Ben and Jack to join us. No doubt this time round, this race is a very different challenge to what I normally do. I have always wanted to visit and experience the desert, so it is a good way of doing it and testing my body in these hard conditions," said Steve.
Daniel has been participating in long distance running and triathlon races for the past seven years, he remembers himself sitting in a restaurant with Steve, thinking about their next long-distance test. "It only took us five minutes to decide about Marathon des Sable. No doubt training for this Sahara Marathon is very demanding and time-consuming, but fortunately, it wasn't that difficult for me as I was already used to train for long hours due to previous long-distance races. Of course, training is much different from triathlon or road running as most of it takes part on countryside trails, something I'm really enjoying," said Daniel.
Ben started running in 2013 with the sole intention of losing 40kg in weight and manage to run a half marathon and has kept going ever since. The training for the Marathon des Sables has given these athletes the opportunity to discover the breath-taking views that Malta offers.
Jack Schiavone said that what inspired him to take up this challenge was to collect money for a good cause in helping Jake. Although he hasn't trained as much as he wished prior to this exciting race in Morocco, Jack made it clear that he will do his utmost to cross the finish line and "to collect as many funds as possible for Jake."
Steve is aiming to finish amongst the first 100 participants. He describes himself as a very competitive person by nature, "I will do my best and give my all but will be very cautious at the same time as it is not going to be easy." The Maltese athletes are aware that this is going to be a tough competition for them with different types of terrain and high temperatures hence it's difficult to predict what can happen.
GasanMamo Insurance would like to extend its support to these four athletes and thank them for their dedication and commitment, which is proving to be meaningful to raise funds for young Jake. The company also believes that enthusiasm and perseverance shown by these devoted athletes shouldn't pass unnoticed and GasanMamo is encouraging and appealing for more local business companies to help and support this good cause.
For further information on how to help and support Jake, visit the Facebook Page 'Running the Dunes for Jake – Marathon Des Sables 2018' or website https://gogetfunding.com/running-the-dunes-for-jake-marathon-des-sable-2018/
gasanmamo.com