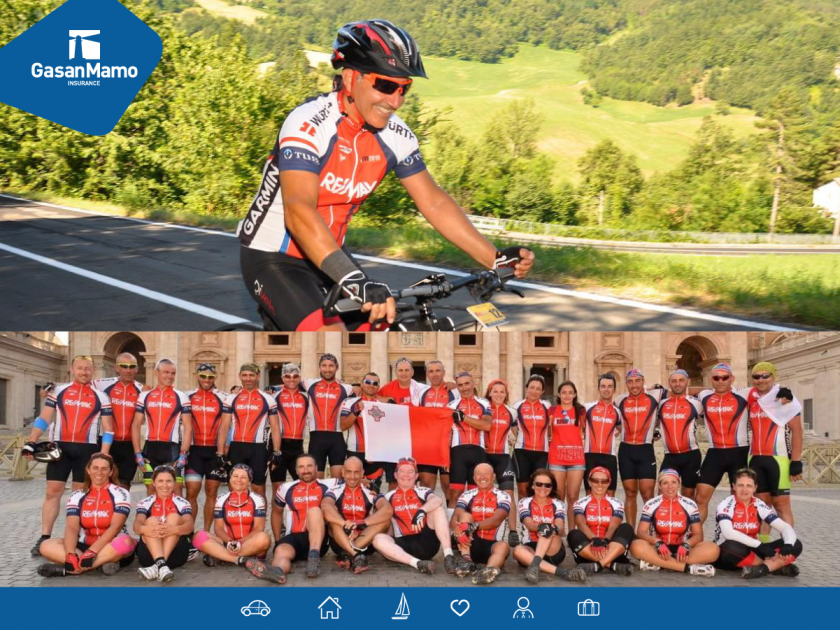 GasanMamo Insurance employees hold to the notion that by lending a helping hand to the most vulnerable people in the community they are building better and richer lives. On the 24th June 2016, Max Borg Bonello—a manager at GasanMamo—cycled 84km in support of the ALIVE Charity Foundation 2016 Cycling Challenge for Cancer. Max kicked-off his ride at 8:00am, spending the next six-hours cycling between the GasanMamo branches located across Malta, to gather support and donations from colleagues for the charity cycle.
About the Alive Cycling Challenge
The ALIVE 2016 Cycling Challenge for Cancer took place from the 7th to the 16th July. Max and twenty-eight cyclists covered 1,100km of road, an ascent of over 12,000km and five countries in just seven days to raise funds for children's cancer research. The challenge kicked-off from Zagreb, Croatia and concluded in the Vatican City. So far ALIVE has collected over €65,000 in donations.
"It's wonderful to support one of our own for such a great cause like children's cancer research." said Julian J. Mamo, Managing Director at GasanMamo. "GasanMamo believes that corporations should give back to the community by raising awareness of the issues that affect society the most, and it's satisfying to see our staff sharing this same ethos. Max had a big challenge ahead of him and he did really well. We are so proud of his achievement."
GasanMamo Insurance also organised a summer themed event on the 21st of June were all employees, including those working at the branches were asked to wear summer clothes for the day to welcome the Summer season and give a donation to the Alive Charity Foundation.
About the Alive Charity Foundation
ALIVE—a non-profit and non-governmental organisation—was set-up by a group of like-minded individuals, who wanted to raise the bar on health awareness and pioneer scientific research in Malta. As outlined on their website, "ALIVE is the first Maltese charity foundation to raise public funds with the express aim of investing in medical research being carried out in Malta". In their first two years of operating, ALIVE has managed to donate over €135,000 to breast cancer awareness and research.
GasanMamo is a big advocate of corporate social responsibility, the idea that by giving back to people they are helping to build a better community. www.gasanmamo.com
About GasanMamo Insurance
Able to trace its roots all the way back to 1947, GasanMamo Insurance is one of Malta's leading insurance companies providing competitively priced and a different range of insurance cover types, from car insurance and boat insurance to home insurance and health insurance for both personal and commercial clients through the Maltese Islands. The company recognises the importance of customer value and ensures that it maximizes value by keeping premiums as low as possible, yet maintaining the correct balance to provide service that meets the standards set by the company. Corporate Social Responsibility makes a big part of how GasanMamo Insurance goes about business. The company believes that giving back to people and communities is their duty and serves to enrich lives across the board.