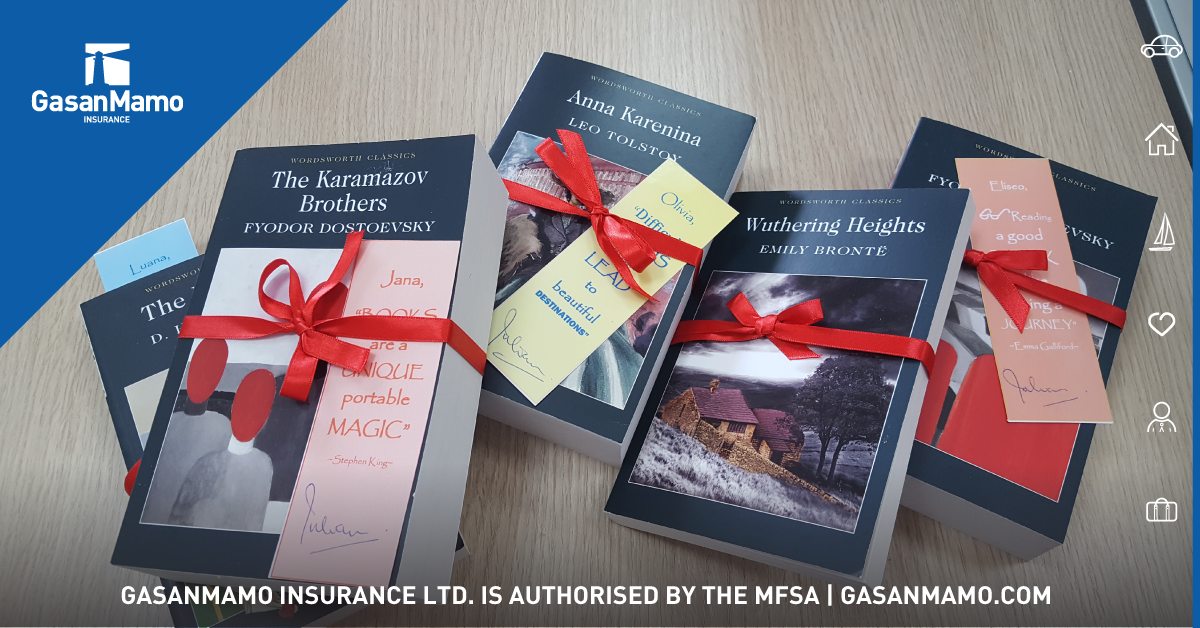 Nowadays Valentine's Day is heavily commercialised and laden with expectations. This year GasanMamo Insurance opted to celebrate this significant day by giving a simple, yet valuable gift to all employees, which will surely last longer than flowers or chocolates. On Wednesday morning, all employees were given a book from the classic collection, together with a personalised and signed bookmark by the company's Managing Director, Julian Mamo.
The concept behind this idea was to celebrate Valentine's Day in a different yet significant way. We wanted to give a stronger meaning to this day and promote reading. Books evoke emotion and carry their readers to different places, never run out of battery and most of all, a book lasts forever. For GasanMamo, Valentine's Day is not just for those romantically inclined, it is for everyone. On this day, one needs to recognize all the persons in one's life for their kindness and support throughout the year. "In times of the internet, with its disturbances and information overload, it has become harder to find the time and attitude to do such an easy thing, as opening a book. We wanted to celebrate this day in a different way, a way that can be enjoyed by everyone," said Vanessa Portelli, HR General Manager at GasanMamo.
This initiative is part of GasanMamo's CSR campaign themed "Spread the Love" launched earlier this year. GasanMamo believes that our social responsibility is not just towards the community, it must start from within and that is why the Company constantly strives to provide the best working environment for their employees. "We want our employees to feel motivated to always do better, and proud to be part of GasanMamo", continued Vanessa Portelli.
GasanMamo strongly believes that reading has noteworthy benefits for employee development, which in turn can benefit the company. Reading is related to enhanced vocabulary, general world knowledge, and intellectual reasoning abilities. Apart from this Valentine's treat, the company's head office in Gżira hosts a small library and employees can take books and read during their lunch break.
"We know that nowadays, people are more motivated to play games, chat or read on their smartphones and through this initiative we want to reinstate the healthy habit of reading. Studies around the world clearly show that reading a book can reduce stress, diminish stress, upsurge emotional intelligence, and progress communicative skills," said Vanessa Portelli.