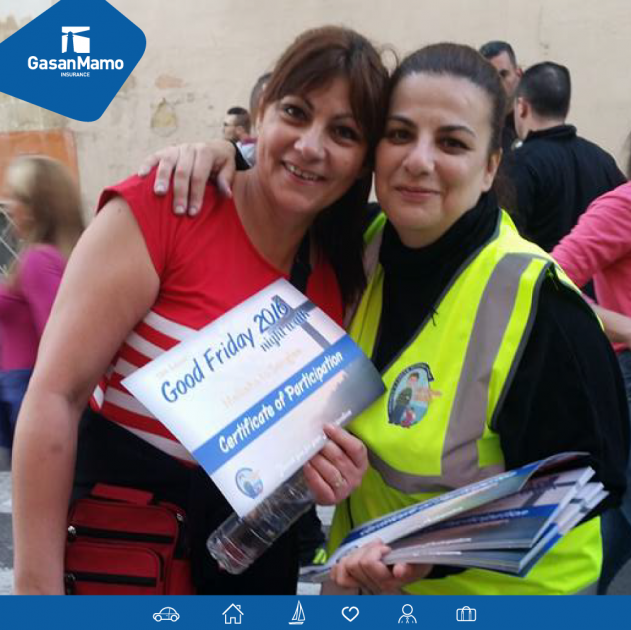 GasanMamo Insurance is constantly supporting great causes! As part of their on-going efforts to enrich the community, the company lent a helping hand in the thirteenth edition of the Puttinu Cares Good Friday walk, which took place on Friday 25 March 2016. A group of dedicated employees also participated in the walk.
It was once again an early start for this year's participants, who commenced the annual walk to Senglea, from Misraħ iz-Zjara tal-Papa in Mellieħa at 2:00am. Participants covered thirty kilometres of ground in approximately four hours. Water stations dotted the route, and refreshments were made available to give participants a well needed energy boost throughout the journey. Upon completion of the walk, each participant received a certificate of participation. Last year 10,000 people took part in the charity walk, raising a staggering €101,000 for Puttinu Cares.
About Puttinu Cares
The Puttinu Cares Cancer support group was set up in 2002. This group offers a holistic approach of care giving for families with children suffering from cancer. GasanMamo once again gave their support in this charity event, which aligns with the company's philosophy of corporate social responsibility towards the wider community, by providing quality care for cancer stricken children, and support for their families. www.gasanmamo.com
About GasanMamo Insurance
Able to trace its roots all the way back to 1947, GasanMamo Insurance is one of the leading insurance companies in Malta providing competitively priced and a different range of insurance cover types both offline and online. The insurance cover is various, including vehicle insurance, travel insurance, business insurance and private and family health insurance for both personal and commercial clients through the Maltese Islands. The company recognises the importance of customer value and ensures that it maximizes value by keeping insurance premiums as low as possible, yet maintaining the correct balance to provide service that meets the standards set by the company. The company's slogan or motto, We're Always There is something everyone abides to. The GasanMamo website offers comprehensive information to every customer and is easy to navigate so customers can get the support they need, when they need it most. Corporate Social Responsibility makes a big part of how GasanMamo Insurance goes about business. The company believes that giving back to people and communities is their duty and serves to enrich lives across the board.