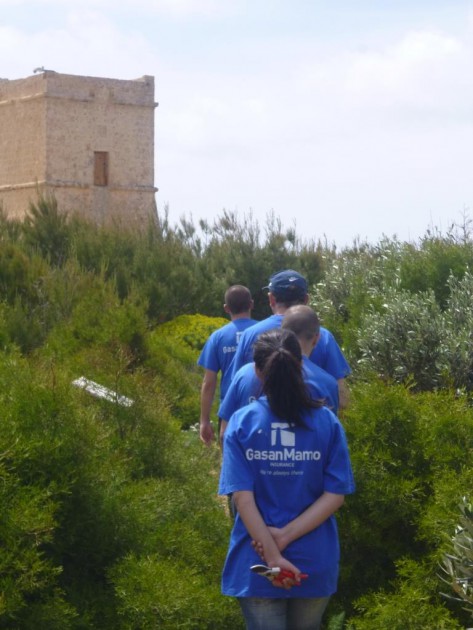 As part of its ongoing commitment in supporting the protection and conservation of the Maltese landscape, GasanMamo Insurance recently lent its support to the Gaia Foundation once again.
A dedicated team from GasanMamo Insurance gave up its Saturday morning to help members from the Gaia Foundation carry out one of their regular clean ups in the Għajn Tuffieħa area and help out in the building of rubble walls in the area. This area, which is one of Malta's most beautiful natural spots, is popular with Maltese and foreigners alike.
Once again we would like to thank GasanMamo and their staff for coming to help us with our clean up," said Dr Rudolf Ragonesi, Chief Executive Officer of the Foundation. "We are very grateful for GasanMamo's collaboration and helpful staff whose invaluable help allows us to step up in our conservation efforts to safeguard them for future generations."
GasanMamo Insurance currently sponsors one of Gaia Foundation's main projects called "Olympus" which concentrates on removing trees like the Acacia tree which is the main alien species on site. It has very strong roots, is highly invasive and prevents the native plants from flourishing. It is replaced by a number of species such as Lentisk, Mediterranean Buckthorn, Yellow Leaved Germander and Evergreen Honeysuckle, in an area that was used as agricultural land in the past.