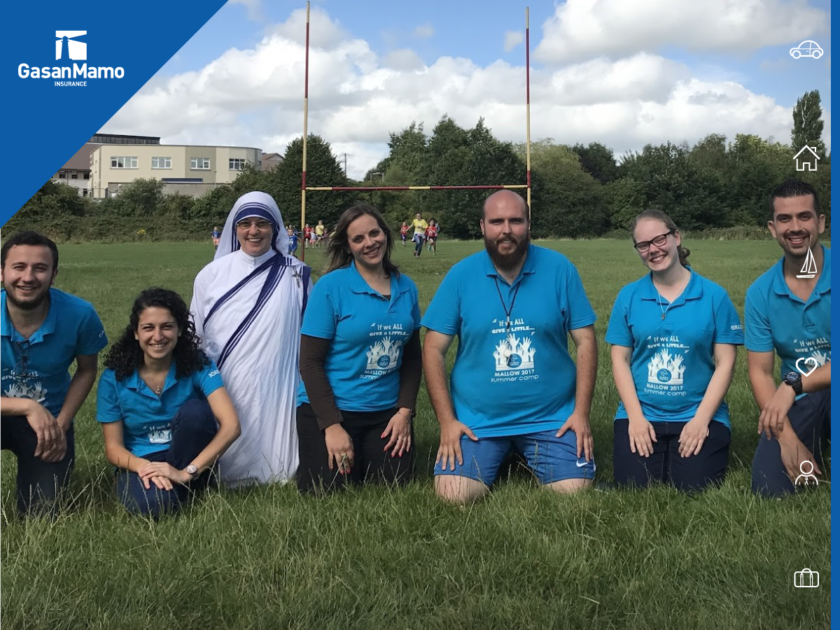 On Tuesday 5th September, the world celebrated the International Day for Charity and GasanMamo Insurance took this opportunity to commemorate this day as it highlights the significance of charity and it allows businesses like the insurance firm to reach out into the wider society, and help those that need our support. On this day remember the anniversary of the passing away of Mother Teresa of Calcutta, who worked tirelessly to overcome poverty, distress and suffering of the poorest in the world.
Throughout the year, GasanMamo Insurance supports numerous organisations and events that are constantly working to help and promote charity in our society. Thanks to the International Day for Charity, companies such as GasanMamo can raise awareness and provide a platform for charity events to take place on a global scale. Earlier in July, GasanMamo supported six Maltese youth, sent by ĊAMYouths to Ireland, to reflect Christ's love, in Blarney, County Cork – Ireland. There, these Youth worked hand in hand with the Missionaries of Charity, doing their apostolate-work in St Helen's Convent.
"Thanks to GasanMamo, we could complete our mission in Blarney and Mallow. There, our mission was mainly of LOVE: We've set up and delivered a summer camp in Mallow for around 50 children (aged between five and ten) living in a socially-deprived zone. Doing crafts, games, sports, outings, swimming sessions, songs and catechism was the daily routine for these two weeks. Besides the camp, all the Maltese volunteers did pastoral work with around 12 male youth and young adults who were following a program of rehabilitation from addiction. A couple of group sessions were done with this community, where motivation and hope to stand up again and continue living this precious life with dignity, was the main goal. Eucharistic adorations, prayers with the Sisters and self / group evaluations were a must to re-charge our body – mind – soul. Several weeks were needed here in Malta, for us volunteers, to logistically, pedagogically and spiritually prepare for this outstanding, life-changing experience", said Mark Psaila (Group co-ordinator, ĊAMYouths member, youth minister (on formation) and volunteer, of this year's ĊAMYouths' voluntary work experience in Ireland).
ĊAMYouths is an organisation of Catholic communities inspired by the charisma of the Missionary Society of St Paul (MSSP). ĊAMYouths also sends volunteers on international voluntary service. Several of its' members have been volunteers in Ethiopia, the Phillipines, Pakistan and Perù.
GasanMamo believes that these type of sponsorship and help, serve to enhance and increase social responsibility amongst us all together with solidarity, to increase the public's support for charitable causes. The Company will continue to encourage charity donations, driving education and awareness-raising activities to push the importance of charity in our society.