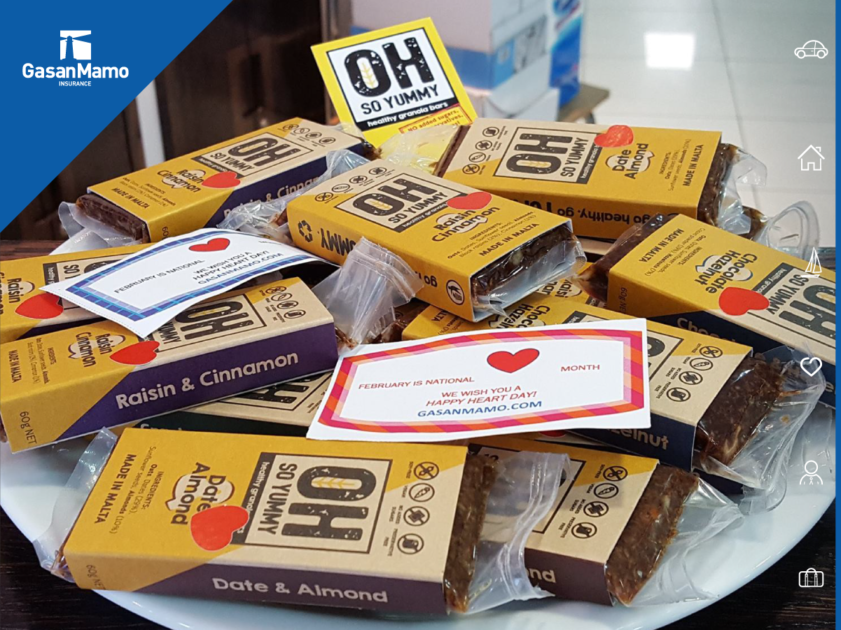 Most times Valentine's Day is portrayed as a day of amorous love. This day doesn't have to be limited to candles, roses, and romance but it can be a perfect opportunity for work places and companies to unite their team members while expressing the management's thankfulness to the work performed by the employees throughout the year. This was precisely the idea at GasanMamo Insurance who took the opportunity to celebrate Valentine's Day differently and to wish their staff members a healthy heart and a happy life because after all February is not only renowned for Valentine's Day but also a Healthy Heart month.
On Tuesday 14th February, each employee at GasanMamo found an 'Oh so Yummy' healthy granola bar.  'Oh so Yummy' is a local start-up company holding a creative food concept, which offers a selection of delicious, locally hand-made granola bars, packed and ready to pop into your lunch box or as a quick 'on the go' snack. These healthy bars were given to employees as a symbol of celebration and appreciation by the management team of the company while giving this day another approach to that of giving the staff the usual chocolates or roses.   Furthermore, all employees had a chance to be the lucky winner of a massage voucher.
This is not the first time that GasanMamo has organised these types of events within the company as this is a perfect opportunity for any business firm to show appreciation towards employees. The company trusts that employee morale is directly tied to productivity, collaboration and retention and events like these are crucial in achieving its business goals.