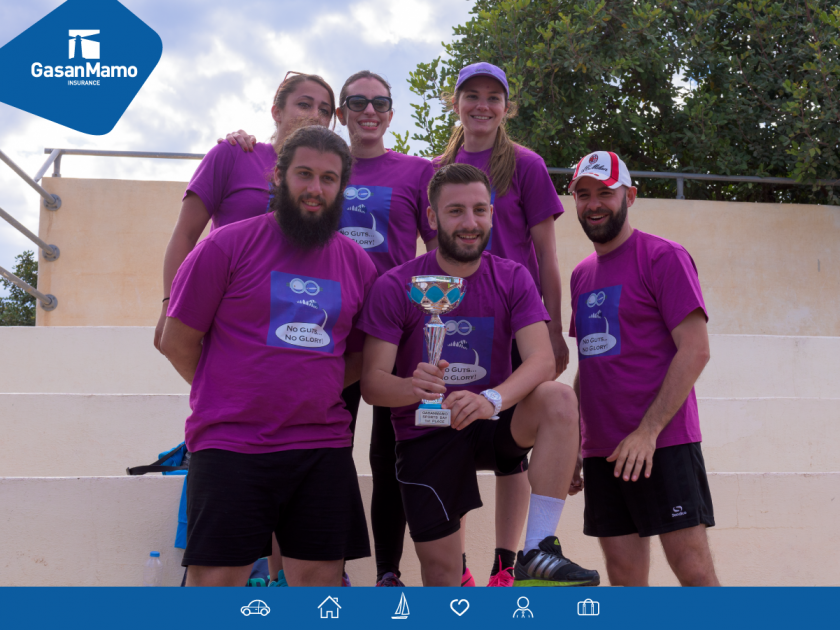 On a sunny and breezy day, a total of 64 employees from GasanMamo Insurance teamed up to participate for their annual sports day on Sunday 24th April at San Andrea School in Mġarr.
Eight different teams battled it out against each other in the different activities, including the 100 and 800 metre run, tug of war, relay race, potato race, sack race, three legged race, basketball free shots, shot put, high jump, long jump, discus and penalty shootout amongst others. The participants were cheered on by their families, friends and other employees, with the winners turning out to be the Purple Team made up of Airell Costantino, Luke Cauchi, Matthew Cumbo, Maria Agius,Carlene Bugeja and Diana Mifsud.
The GasanMamo Sports Day was organised by the GasanMamo Social Activities committee and turned out to be a fun filled day for all those who attended and participated. The committee organises monthly beyond the desk activities with the main aim of enhancing teamwork and friendly interactions amongst colleagues. www.gasanmamo.com.
About GasanMamo Insurance
Able to trace its roots all the way back to 1947, GasanMamo Insurance is one of Malta's leading insurance companies providing competitively priced and a different range of insurance cover types, from car insurance and boat insurance to home insurance and health insurance for both personal and commercial clients through the Maltese Islands. The company recognises the importance of customer value and ensures that it maximizes value by keeping premiums as low as possible, yet maintaining the correct balance to provide service that meets the standards set by the company. Corporate Social Responsibility makes a big part of how GasanMamo Insurance goes about business. The company believes that giving back to people and communities is their duty and serves to enrich lives across the board.