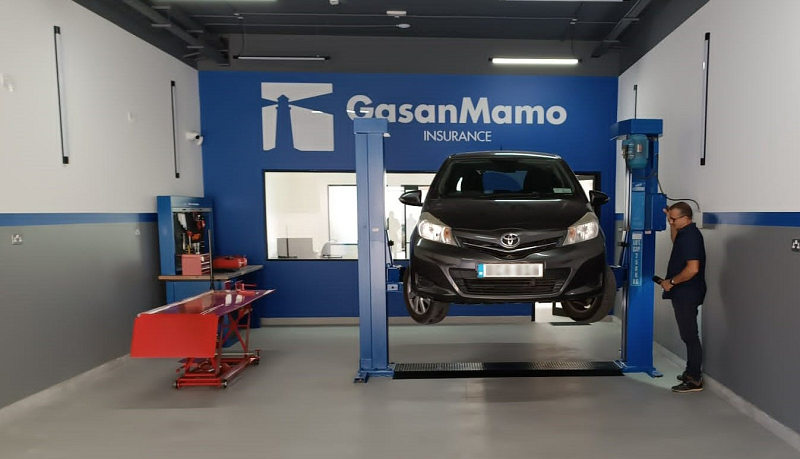 GasanMamo's Vehicles Inspection Bay –
We are pleased to announce that the GasanMamo Vehicles Inspection bay started operating in November 2022.
The GasanMamo Vehicles Inspection Bay, is located in a central area of the island in Triq ic-Cawsli, Qormi and is easily accessible from main roads.
The inspection bay is very spacious, and cars can be inspected in a safe and comfortable environment.  There is even a car lift that can be used to inspect damage on the underside of the vehicle.  At the back there is office space where our assessors can complete their estimates and carry out all their other duties. 
To book a survey at our Inspection bay, clients need to contact GasanMamo's Motor Claims Department on 2134 5130 or 2734 5130 during office hours or contact us by email [email protected].
Having already carried out a number of inspections during the trial period we are happy to note that most claimants were very pleased with the service provided, the location and with the facilities of the new inspection bay.   "We are thus very confident that the new inspection bay will help us provide an even better service to claimants", said Francis Valletta, General Manager.
About GasanMamo Insurance
Able to trace its roots all the way back to 1947, GasanMamo Insurance is one of Malta's leading insurance companies providing competitively priced and a different range of insurance cover types, from car insurance and boat insurance to home insurance and health insurance for both personal and commercial clients through the Maltese Islands. The company recognises the importance of customer value and ensures that it maximizes value by keeping premiums as low as possible, yet maintaining the correct balance to provide service that meets the standards set by the company. Corporate Social Responsibility makes a big part of how GasanMamo Insurance goes about business. The company believes that giving back to people and communities is their duty and serves to enrich lives across the board.