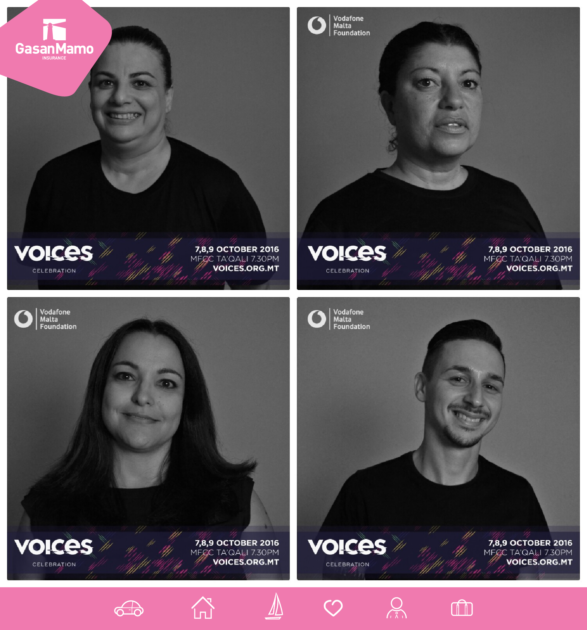 Four GasanMamo employees; Andre` Curmi, Doreen Best, Luana Fenech and Dorianne Saliba Bonello will be taking part in this year's edition of VOICES. This year marks a very special year as VOICES celebrates their 25th anniversary since the very first concert. To celebrate this milestone, VOICES will be revisiting the most memorable moments and numbers from past years in an extravaganza of music and talent.
Excited to be taking part in this special edition of VOICES, Andre` Curmi commented, "I first took part in VOICES in 2014 as part of the choir and also as a soloist with the song 'Get Lucky'. This year is the second time I will be singing in VOICES and I'm really looking forward to it. I was so lucky to have been chosen again to sing as a soloist and am really looking forward to the experience as it is something that remains in your heart forever and it`s for a good cause."
Commenting about this initiative, Julian Mamo, Managing Director of GasanMamo Insurance praised the four employees and congratulated them for their initiative. "The array of CSR activities that our employees do throughout the year is impressive. Once again, through VOICES, our employees are further emphasising our company's strong notion and belief of giving back to our community."
What is in store for these GasanMamo employees?
The four employees will be joining over 200 choir members to perform some of the most iconic and renowned songs including tunes by Michael Jackson, Queen, Adele and Coldplay amongst others. The concert will be held on 7, 8 and 9 of October at the MFCC in Ta' Qali. Tickets can be purchased from Pjazza Teatru Rjal Valletta, MFCC
Ta` Qali, Embassy Cinemas Valletta or online from http://www.ticketline.com.mt or http://www.voices.org.mt.
www.gasanmamo.com.
About GasanMamo Insurance
Able to trace its roots all the way back to 1947, GasanMamo Insurance is one of Malta's leading insurance companies providing competitively priced and a different range of insurance cover types, from car insurance and boat insurance to home insurance and health insurance for both personal and commercial clients through the Maltese Islands. The company recognises the importance of customer value and ensures that it maximizes value by keeping premiums as low as possible, yet maintaining the correct balance to provide service that meets the standards set by the company. Corporate Social Responsibility makes a big part of how GasanMamo Insurance goes about business. The company believes that giving back to people and communities is their duty and serves to enrich lives across the board.